Astronomy has captured the imaginations of people for centuries. The cosmos has been the inspiration of all kinds of people, from engineers and scientists to writers and entrepreneurs.
We all have a space enthusiast in our life. In this article, I have compiled a list of the best astronomy gift ideas for adults. As a lover of all things that have to do with the cosmos and a science journalist, I have a pretty good idea of the things that we nerds enjoy.
I have tried to find something for every budget and kind of person so you are sure to find something below that fits your need and that the person on the receiving end will be very thankful for.
Astronomy Gifts for adults
1. Visit a planetarium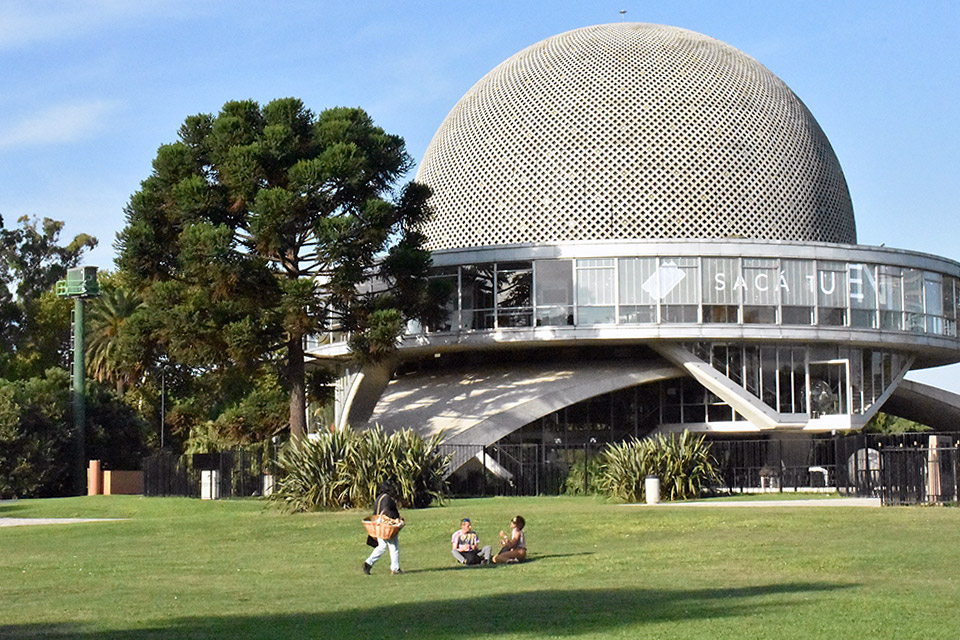 Let's start this list with a gift that in many cases can even be free. Or at least fairly inexpensive.
A planetarium is sort of like a science museum specifically focused on astronomy and space. In a planetarium, depending on its size, you will regularly find all kinds of activities, talks, and interactive exhibits. But the centerpiece of any planetarium worth its salt is the theater. Many planetariums have dome-shaped screens where they can project documentaries, simulations, and even shows guided live by a professor or someone knowledgeable in the subject.
Planetariums usually have small entrance fees, but they always have discounts for students, and children, and they even have certain days where entry is completely free.
Visiting a planetarium is a great way to spend a nice day outside and it can be a learning experience for everyone involved.
Check out our article about the best planetariums in the world to see if one of them happens to be near you. If not, big cities usually have one or two at least, just google "planetariums near me" or something similar to find the closest one.
2. A Telescope (Celestron StarSense Explorer LT 80 AZ)
This one is pretty obvious, but if you know someone who is into astronomy and doesn't own a telescope yet, it should probably be your first choice.
Contrary to what you might believe, telescopes don't have to be expensive at all. There are models available for all kinds of budgets.
A telescope is the best way for someone to learn more about the cosmos because it is such an interactive visual learning experience. You learn while looking at pretty things in the sky. How cool is that?
It is also an outdoor (or at least a backyard) activity that can get the person out of the routine of looking at a screen all day.
I have written all kinds of buying guides for telescopes that can get you started. But if I had to pick just one to recommend I'd go with the Celestron StarSense Explorer LT 80AZ. This telescope (as well as the rest of the StarSense series) comes with a smartphone dock and an app that allows you to automatically map the sky around you and guides you so you can easily point it in the direction of any planet, galaxy, nebula, or other celestial objects that are visible that night. This removes most of the pain points that a beginner has when using a telescope for the first time.
If you want more information, check my review on the StarSense Explorer LT 80AZ or our guides on the best budget telescopes and best refractor telescopes for beginners.
3. Vintage sundial/compass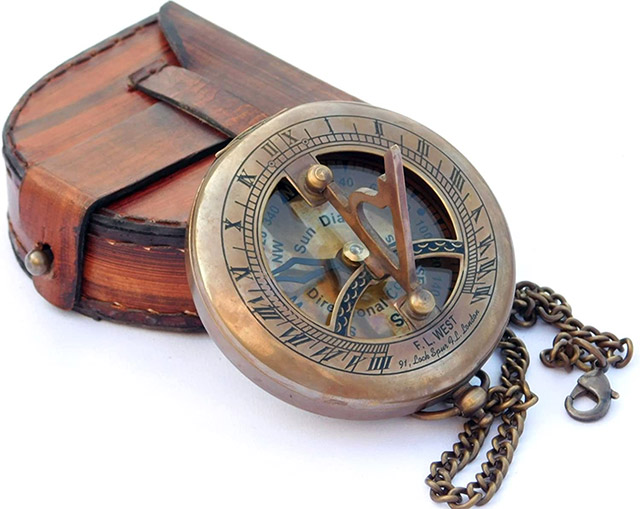 Astronomy isn't just about looking at the pretty stars. For sailors and explorers in the olden days, it was the difference between knowing where you were going and being lost at sea.
This is how navigational tools that used objects in the sky as references like sundials and sextants were so important.
This sundial and compass combo makes a great gift for any person that is into astronomy. Both tools are fully functional and the brass finish gives it a very antique/vintage appearance that makes it a great display piece for a studio or home office.
It also comes with its (fake) leather case for safekeeping. Just be careful. Whoever you gift this to might become "that person" who brings out their pocketwatch whenever you ask for the time.
4. Levitating Moon Lamp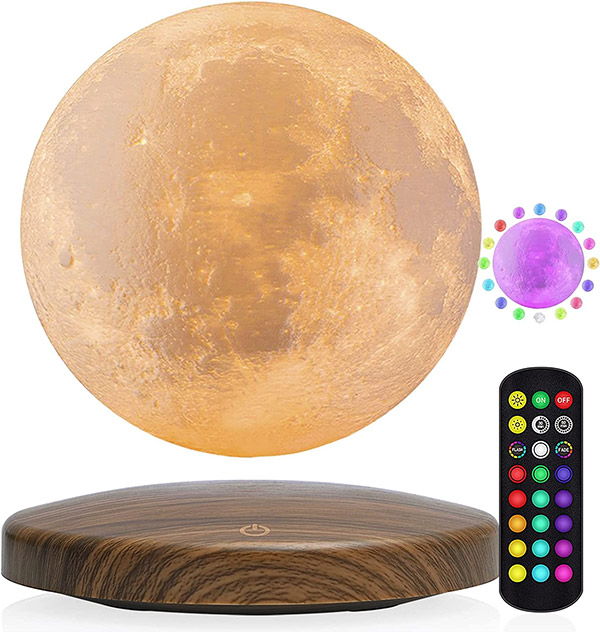 If you are looking for an astronomy gift for adults that is not just pretty but also offers function, how about a levitating moon lamp?
This spherical lamp works using magnets with opposite power on both the base and the sphere, making it float freely and even spin.
The sphere has some patterns that make it look like the moon if you use the white or yellow light, but it also has other colors that can make it look like a planet.
The lamp is small so don't expect this to light up a room or even use it as a reading light. It is mostly for decoration purposes only but the levitating effect makes it worth it. It is perfect for a desk, bookshelf, or nightstand.
While there are cheaper variations of this lamp, what I like about this specific model is that the base comes with a heatsink so it is not too hot when someone inevitably passes their hand between it and the lamp to make sure it is really levitating.
If you want something more budget-friendly, check out this other version that doesn't levitate but comes with a very artsy base.
5. Never Forget Pluto T-shirt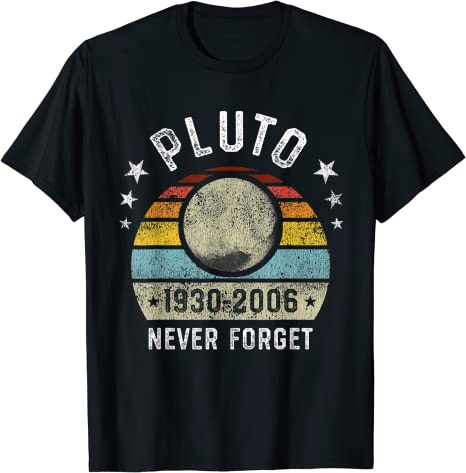 If you are an adult over 25 years old you probably remember that when you were a kid, Pluto used to be the ninth planet in the Solar system.
In 2006 this changed when it was re-categorized as a dwarf planet. But a lot of us astronomy nerds are still not over it (Here's an article about the difference between planets and dwarf planets if you want to know what happened).
This t-shirt remembers those days when the songs to learn the names of the planets rhymed better.
It is available in multiple colors and there are models for men and women. There are also hoodies and sweatshirts with the same design.
6. Rosetta Galaxy Star Projector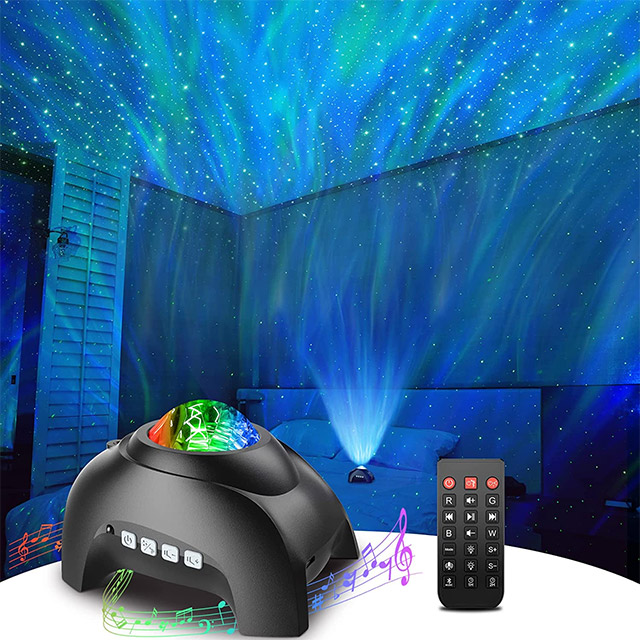 A star projector is not just for kids' bedrooms anymore. They have so many different styles now that they can be used to set the atmosphere in a living room during a movie-watching session or a house party. They can also be used in meditation rooms, mancaves, streaming setups, etc.
Modern star projectors have also multiple functions. For example, the one I'm linking below has a built-in speaker and beat-syncing functionality so the projector tries to match the music and move along with it.
It also comes with a white noise mode, remote control, and sleep timer. The best part is that it is fairly inexpensive.
If you want some more options and even fancier projectors, check out our article about the best star projectors.
7. Telescope Eyepiece Kit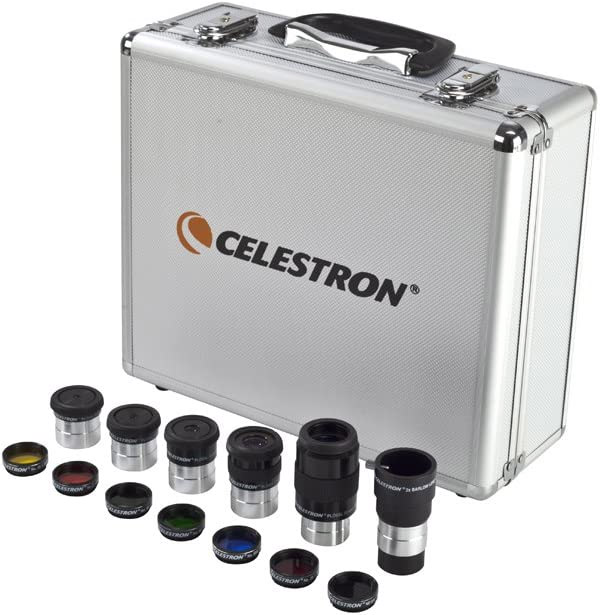 If the person you are searching for a gift for already owns a telescope then maybe you can help them upgrade it.
A telescope eyepiece kit is one of those things that can really improve the stargazing experience but that not many people buy for themselves. This one in particular is made by Celestron, the most popular telescope brand in the world and one we constantly recommend on the site.
It includes 5 very high-quality Plossl eyepieces which are an upgrade over the standard Kellner eyepieces that most hobbyist-grade telescopes come with. It also comes with a 2x Barlow lens that doubles the utility of the eyepieces, so it is like having 10 different ones instead of just 5. Finally, it also includes a few filters for common use cases, the most useful one is the Moon filter which allows you to take a better look at the Moon when it is at its fullest because it can be too bright at that point.
The best part about an eyepiece collection is that they all have standard sizes so even if the telescope is upgraded, these will still be useful for the next one they get.
If you want something a bit more specialized, check out our guides on the best budget eyepieces and best Celestron eyepieces.
8. Expanding Universe coffee table book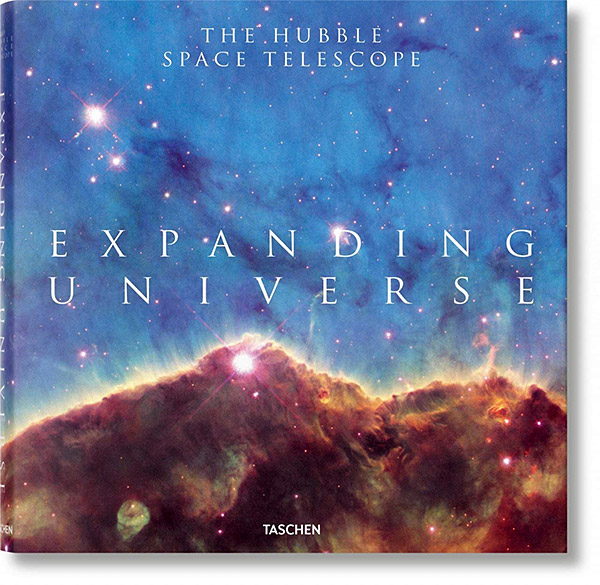 It is incredible the number of amazing photos that the Hubble telescope gifted us over its 30+ years of service.
This beautiful hard-cover coffee table book curates the best of them in a high-resolution, large-format print collection. It contains 260 pages of photos, stories, and explanations. The book is very visual with just little pieces of text here to let the images take the spotlight. That is also why it is printed on high-quality glossy paper.
Expanding Universe makes for a great addition to any astronomy lover's living room. If you want to check out other similar options visit our article on the best space coffee table books.
9. Pillars of creation 1,000 piece puzzle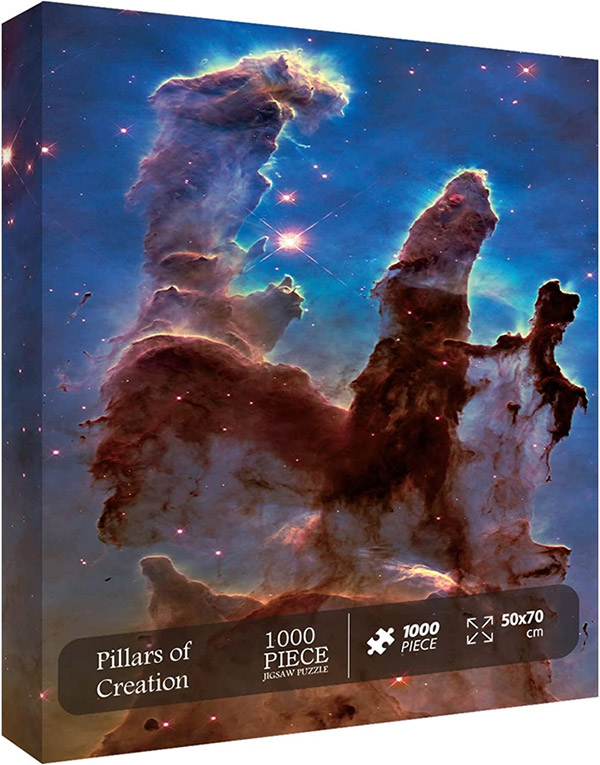 Puzzles have made a comeback in recent years because they are a great activity to relieve stress while doing something that also gets you off all the screens we have around our daily lives.
Astronomy puzzles can be very challenging because a lot of the pieces tend to look very similar. That is why it is good that this puzzle has letters on the back to identify certain areas if you want to build it in easy mode. If you want normal difficulty, simply turn all the pieces and don't look at the back.
This particular puzzle is a photo of the "pillars of creation", a region with 3 towers of dust and gas located on the Eagle nebula. It is one of the most iconic shots taken by the Hubble telescope.
There are also other similarly challenging puzzles with different space images made by the same company.
10. A Brief History of Time By Stephen Hawking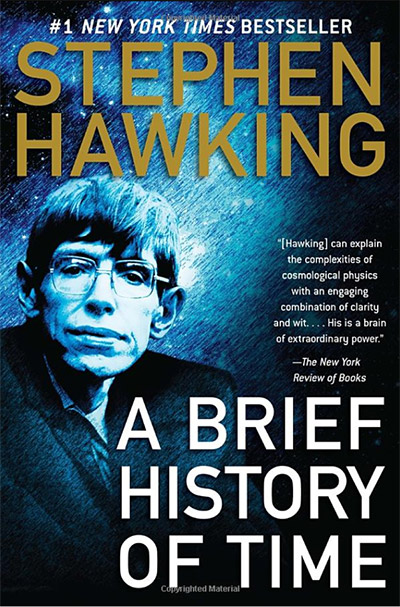 This book is a classic written by one of the most brilliant minds of our time. Stephen Hawking passed away in 2018, but he left humankind lots of gifts in the form of knowledge.
Part of his legacy is this book that explores some of the deepest questions about the universe. How did it start? How does time flow? Is the universe truly infinite? This is one of the books that leave the reader thinking about all these interesting concepts that can sometimes escape our brains.
A brief history of time was written in 1998, but the newer editions have been edited to include any new findings and clarify a couple of things so it is all up to date. It is a must-read for anyone who is into space and astronomy.
Hawking wrote this book with the regular person in mind but the language can still be somewhat difficult to comprehend. If you are looking for something more accessible, try Brief Answers to the Big Questions which was the last book he authored.