If there is one category of products in stargazing that is greatly misunderstood and hard to understand for the casual astronomer is Barlow Lenses. If you ask 10 people what is the difference between one Barlow Lens and the next they will give you a confused looks as nobody knows.
In this article, we are going to clear things out and help you really grasp what are Barlow lenses and when are they going to be useful to you. We'll also help you pick the best Barlow lens for your needs.
Barlows are the kind of purchase that you will only need to make once in your lifetime if you pick the right one. Get a high-quality lens and you will never need to worry about upgrading it even if you upgrade your telescope.
In a hurry? here's our best pick. Celestron X-cel LX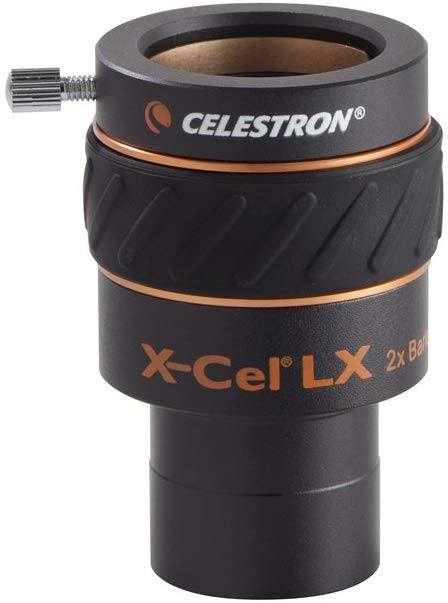 The Celestron X-cel LX is our pick for the best all-around Barlow lens in the market. It gained its place by having advanced features and great optics at a price that is still reasonable for what you get.
Let's start by reviewing the outside. The build quality is great. It is black anodized aluminum with the orange highlights that are classic in Celestron's branding. One underappreciated feature of this item and Celestron's eyepieces, in general, is the grip. In this case, the X-Cel LX features a rubber grip that will help avoid accidents and falls that as you can imagine, can be fatal for optic instruments. It doesn't seem like a big deal, but think about when you are using a telescope the most. At night and outdoors when it is cold. Sometimes you'll be wearing gloves which reduces your grip. This design choice solves that.
The barrel holds standard 1.25″ eyepieces and out of all the ones we have (a lot) we couldn't find one that didn't fit it.
When it comes to the inside, the X-Cel LX has 3 lenses with apochromatic optics that offer sharp images with high contrast. We didn't notice any color aberrations created from the eyepiece to the Barlow.
This Barlow is offered in 2x and 3x magnifications. We are linking the 2x version below but you can find the 3x lens here. Both offer the same features and build, the only thing that changes is the magnification. Which one you should get depends on the eyepieces you already own, but we have found by experience that we don't end up using 3x Barlows all that much. The 2x is our recommendation for most people.
The vivid colors in the XCel-LX make it a great option for astrophotography. Some of the best Moon and planets photos you will find around the web have been taken using one of these (excluding NASA's photos of course).
Pros
Cons
Best optics in the price range
Premium build quality
Will last you a lifetime if you take care of it
The orange design might look out of place if your other components aren't from Celestron
What is a Barlow Lens
A Barlow lens is an accessory for your telescope's eyepieces. Its objective is to increase the magnification of the image you see. It does this by effectively increasing the focal length of your system. Barlows come in magnifications of 2x, 2.5x, 3x and 5x, although that last one is rare.
There are two advantages to using a Barlow Lens instead of buying an eyepiece with the corresponding magnification.
Cost savings
Let's say you own three eyepieces for your telescope. A 32mm, 26mm, and 10mm. In order to get a wider variety of magnification options, you would need to buy two or three more eyepieces. Or at the very least a 15mm and a 5mm.
Instead of that, you could simply buy a 2x Barlow lens which will give you access to all these magnifications: 16mm, 13mm, and 5mm. It is a very cost-effective way to get more magnification ranges to watch the stars with.
Because the cost of a Barlow lens will usually be on par with that of an eyepiece, you would be saving a lot of money and storage space.
Eye Relief
When it comes to telescopes, eye relief is the distance between the lens and your eyes. A higher distance is usually more comfortable on the eyes. Eyepieces with a bigger magnification tend to have small eye relief, meaning you have to get uncomfortably close to the lens to get a good view. This is especially bothersome for glasses users and children.
Barlow lenses solve this problem because they keep the eye relief of the eyepieces you are using. This means that if you are using a Barlow with a 20mm eyepiece, you would get the magnification of a 10mm but keep the more comfortable eye relief of the 20mm.
Using a Barlow Lens
To use a Barlow Lens you will generally remove the eyepiece from the telescope. Connect the eyepiece you want to use to the Barlow. Next, secure the eyepiece using the thumbscrew. Finally, attach the tube of the Barlow to your telescope.
This is a very intuitive process and there's only one way for the pieces to connect, but if for some reason you have trouble with it, check the manual included with your Barlow.
How to choose the best Barlow Lens for you
There is no doubt a Barlow Lens can be a fundamental accessory for any astronomer. But which one should you get?
The problem when selecting a Barlow is that they all look very similar to each other and the benefits between a cheap one and a costly one can be easy to miss until you actually compare them in real life use.
There are 3 main features to consider that will help you distinguish between quality Barlow lenses and the rest:
Number of lenses/elements. Entry-level Barlows will have 2. Advanced ones can have up to 4.
Optics correction. Good Barlows will fix the optical aberrations created by having an extra device in your optics system.
Additional Features. Some Barlows will include ways to reduce reflections and even improve the image coming from your eyepiece.
One important thing to consider when selecting what Barlow lens to buy is the quality of your eyepieces and telescope. The image you get in your eye will only be as good as the weakest link in your system (telescope > eyepiece > Barlow).
The best Barlow in the market will not be able to do much for the image quality if you are using a modest telescope or low-quality eyepieces.
Our rule of thumb is to pick a Barlow lens in the same price range as your eyepieces. If you are still using the default eyepieces that came in the box with a budget telescope, go with the entry-level picks features in this article, those should be a good fit. On the other hand, if you have expensive TeleVue eyepieces and a fancy telescope, get a TeleVue Barlow as a simpler one will not make them justice.
Maximum useful magnification
One last thing to consider when purchasing a Barlow lens is the maximum useful magnification of your telescope. This is the maximum limit of magnification your telescope can support given its aperture and focal length. After this maximum point, you will simply not get a bigger/clearer image no matter what type of eyepieces or Barlow lenses are used. Your telescope simply doesn't capture more light.
To calculate the maximum useful magnification of a telescope simply multiply the aperture (in inches) by 50. So if your telescope has an aperture of 130mm (5.1 inches), do the following:
5.1 x 50 = 255x
After you have that number, check your eyepieces to know what magnification you are getting from them. The formula is Telescope Focal Length / Eyepiece Focal Length, but you can simply use this calculator and it will be much easier.
Let's say the same telescope in the example above has a 1,000mm focal length. That means the maximum focal length for an eyepiece you will need to reach those 255x of magnification will be around 3.5mm.
If you plan to buy a 2x Barlow, the eyepiece with the smallest focal length you will need will be around 7mm. Anything below that won't improve your image.
With those numbers in mind, you can then plan, according to the eyepieces you already own (assuming you are not planning on also buying new ones) what type of Barlow you need. In the example we have been using, If the eyepiece with the smallest focal length you have was a 12mm or even 10mm then you could consider getting a 2.5x Barlow to reach your maximum useful magnification.
Barlow Lens F.A.Q.
When should I buy a Barlow lens?
Whenever you want a greater variety of magnification options without buying multiple eyepieces.
Can you stack Barlow lenses?
Yes! you can actually experiment with multiple Barlow lens setups. Just make sure they are the same barrel size (1.25″ or 2″) and take into account the maximum useful magnification formula explained in the previous section.
Can you use a Barlow lens with a camera?
Yes. You can connect a camera to a telescope using a Barlow lens for astrophotography just as you would if you were just using a single eyepiece.
What are the best objects to observe with a Barlow lens?
Because Barlows increase magnification, they are generally used to observe bigger objects where you can capture more details. Specifically planets and the Moon.
Best Barlow Lenses
Let's get to our list. Because each lens has a different use case, we have divided them into categories depending on their price and features. You will find the category they are recommended for along with the title, for example, the SVBONY 2x featured below is our budget pick.
If a category is not specified then we are talking about an all-around middle range pick that will fit almost every user.
Please note we are linking to the 1.25″ versions of every lens. If you have a telescope that fits 2″ tubes make sure to select the correct version if available.
Best Ultra-Budget: SVBONY 2x Barlow Lens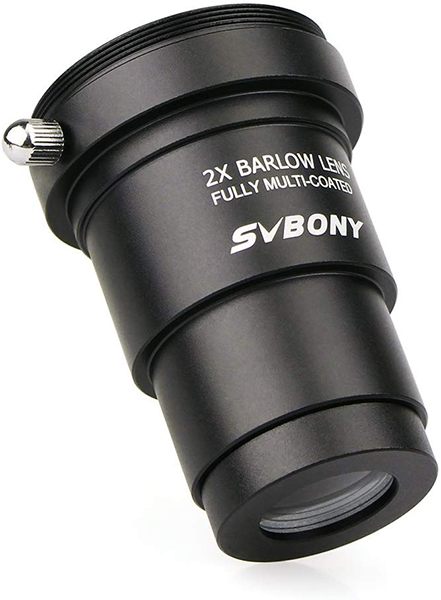 SVBONY makes some pretty good accessories. We have tested their eyepieces in the past and found them serviceable for the low price.
The materials and build quality for this lens are fine. The optics are good and the price is amazing. Just don't expect this to offer you the most high-quality optics in the market. It does have many limitations.
We would recommend this SVBONY Barlow to people with eyepieces from similar budget manufacturers (GoSky, SVBONY, Gskyer, etc) and telescopes that match that entry-level range. While its quality is ok, it will become a bottleneck in your setup if the rest is higher quality.
A couple of things we like about it is that it comes with a dust cover which is always nice.
The T-male connector in the back fits any DSLR (assuming you have the connector for your camera brand) if you want to try some astrophotography with it.
The SVBONY Barlow does offer a bit of chromatic correction but nothing too spectacular. We did notice some optic aberrations in our testing.
Some other reviewers complained about it not fully fitting their standard eyepieces but we did not have this problem at all and we tried it with multiple ones. Maybe they just had bad luck and got a defective unit but we thought it might be worth mentioning.
Pros
Cons
Excellent price
Great price/quality relation
Decent build quality
Lacks any kind of advanced optics correction
We noticed some reflection and optic errors
Best Entry-Level: Celestron Omni XL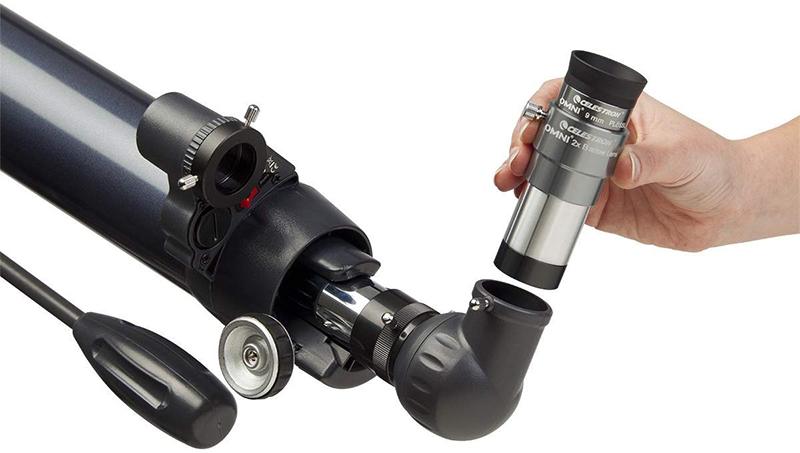 The Celestron Omni 2x is the kind of Barlow lens you can't really go wrong with if you have a hobbyist-grade telescope.
It will fit any of the standard 1.25″ eyepieces in the market. No matter what brand of telescope or eyepiece you have.
It offers the following features at a very reasonable price:
2x Magnification for your eyepieces
Maintains the eyepiece eye relief (the distance between your eye and the lens)
Fully multi-coated optics with blackened edges
Let's focus on that last one for a second as it is the main reason we selected it. The multi-coated optics and blackened edges allow the Celestron Omni 2x to better transmit the light from the eyepiece to your eye while creating no additional reflection. This is a problem that generally arises with the cheaper Barlows. Those can be almost half the price, but all the optical aberrations and reflections they are going to create (because you are adding another layer of optics) makes you lose image quality. This can be especially troublesome if you are hoping to do astrophotography.
Celestron is one of the best brands out there when it comes to telescope optics. They bring the same quality to their accessories. Even the entry-level line has great build quality and we have never had any major problems with one after a decade using them.
If this is the first time you are buying a Barlow and your telescope is not really that powerful to justify one of the more advanced ones, the Omni 2x is a no-brainer. We have an in-depth review of this product that you can find here.
Pros
Cons
Excelent quality/price relation
Great optics for an entry-level price
High quality build
No 3x version available
A little bit of reflection can be noticed by the trained eye. Beginners will not even notice it as it is minimal.
Best High-Power: Orion 8715 High-Power 5x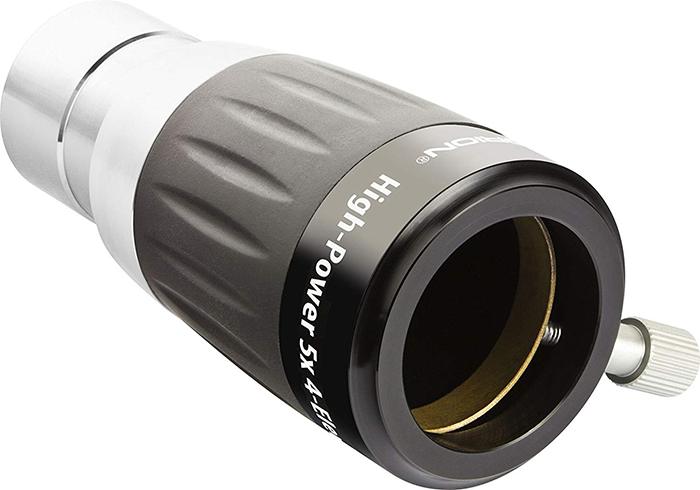 We all want to see the rocks on the surface of Mars or the footprint left by Neil Armstrong on the Moon. While that is not yet possible using a telescope from Earth, getting crazy levels of magnification is as close as we'll get for now. This is where the 5x Barlows come in.
Using a 5x Barlow can be a wonderful viewing experience. The captured image gets so big and if you have a telescope with enough power you will start seeing details that would be hard to identify even with high-powered eyepieces.
Just a note. We would reserve the use of 5x Barlows for telescopes with an aperture of 120mm (5.1″) and larger. For anything below that, it would be overkill as you aren't capturing enough light to make this level of magnification worth it. Save your money if that's the case and get one of the 2x featured on the list.
The Orion 8715 has 4 elements (lenses). This complexity in the design allows it to generate sharper images, maintain colors and avoid optic aberrations. On the other hand, the price does increase in comparison to other Barlows.
If looking at planets and the Moon is your thing. The Orion 5x is the perfect fit.
Pros
Cons
Maximum magnification available in the market
High quality optics
4-element design
Outer design is a bit simple
Price may be a bit on the steep side
Best premium optics: Tele Vue Barlow 2x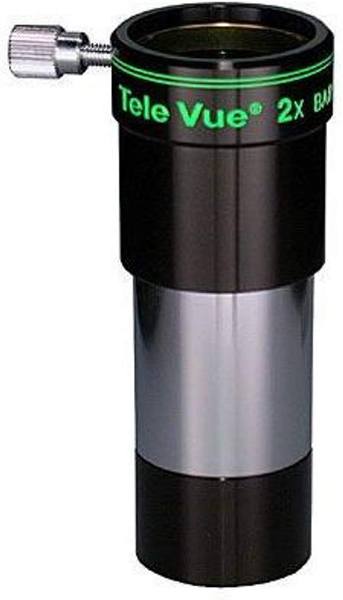 Here's the Barlow you get when you want to play with the big boys.
In case you don't know them, Tele Vue is the most premium brand in astronomy optics. We don't blame you if you didn't know that because, to be honest, their marketing sucks.
The good news for them is their products more than make up for it. All you need to do is research them a little bit and you will find 5-star reviews one after the other.
The Barlow 2x by Tele Vue doesn't seem like much from the outside. In fact, That is a constant across their product line. All the designs are very simple and sober. Once you look into the lens, however, you find out why they have the amazing reputation they have. Even amateur astronomers will be able to recognize the high-quality optics.
We don't believe the Tele Vue Barlow 2x is for everyone though. We would only recommend this if you have the equally premium eyepieces to match it (the ones also made by Tele Vue) as well as a moderately powerful telescope. Otherwise, you will not make this Barlow lens justice by pairing it with lesser components.
If you are looking for the best of the best and you don't mind the high price tag in comparison to other Barlows, then do yourself a favor and get one. You will not regret it.
Tele Vue also has 3x and 5x Barlows as well as versions for 2″ eyepieces.
Pros
Cons
Best optics in the market
Great build quality
Underwhelming design

Wrap Up
Barlow lenses are the wildcard in the tool belt of any astronomer. They will give you access to many more viewing options without having to make a big investment. Any hobbyist or professional astronomer should at least get one.
Let us know in the comments your experiences using Barlows and which ones are you using.