The market for portable, beginner-friendly telescopes is extremely crowded. It is hard to figure out which model is a better fit for you since they all seem to have similar features and specifications.
This is why I have recently started to test all of the telescopes in this category to separate the good from the bad.
In this article, it's the turn of the GSkyer AZ70400. You can also find this telescope listed as "GSkyer 70mm 400mm AZ" or something similar but they are all the same. The 70 stands for 70mm of aperture, the 400 means 400mm of focal length and the AZ is the type of mount it comes with.
Is this telescope worth the money? let's find out. I'll start with the verdict in case you just want the answer but if you want to know how I got to the conclusion and all the details about it, keep reading below.
The verdict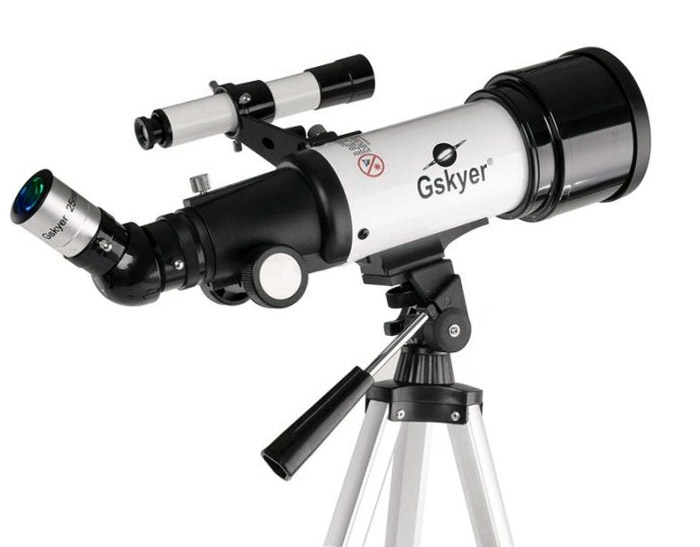 | | |
| --- | --- |
| Optics | 8/10 |
| Build quality | 7/10 |
| Ease of use | 9/10 |
| Portability | 10/10 |
| Accessories | 9/10 |
| Price | |
The GSkyer AZ70400 is a "point-and-shoot", perfectly serviceable, and well-priced portable telescope.
It is not going to get you super impressive views of the stars, it is limited by its small size and low specifications. But as a travel telescope or a kid's telescope, it performs good-enough and competes in quality with similar entry-level models from more well-known brands.
The best feature of the GSkyer AZ70400 is its price. They say there are no bad products, only badly priced ones, and this one has the right price. Even within the 70mm category of telescopes, it is becoming harder and harder to find models that are in the same price range as the AZ70400. At the time of writing, it stands, 10 to 20 percent below comparable options.
The optical quality is quite solid. The images are sharp and the contrast is good. It is a little bit dim but nothing too alarming. As for chromatic (color) and spherical errors, they are there, but they are few. Remember that you will find them in every refracting telescope like this one, it's just a matter of how bad they are.
It comes with every accessory you will need. Even a smartphone adapter and a carry bag which again, returning to the price, makes it have some great value.
Overall, as long as you understand that this is definitely not a super powerful telescope, but a very functional travel or kids telescope then you'll be very happy with it. If you are looking for some extra power I'd recommend you to take a look at its bigger brother, the AZ90600 but if you are looking for a budget-friendly, light device, it is a good choice.
Technical specifications and what they mean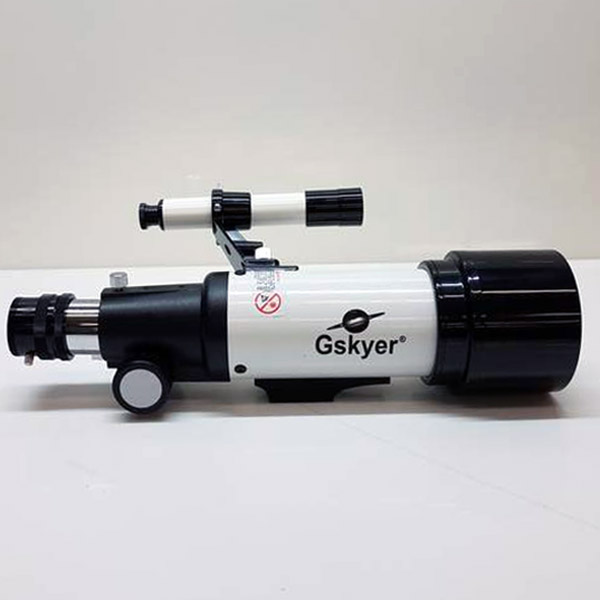 | | |
| --- | --- |
| Model name | AZ70400 |
| Manufacturer | GSkyer |
| Telescope type | Refractor |
| Aperture | 70 mm (2.75″) |
| Focal length | 400 mm (15.75″) |
| Focal ratio | f/5.7 |
| Assembled Weight | 2 Kg (4.2 lb) |
| Eyepiece slot | 1.25″ |
| Maximum magnification | 120x |
| Limiting magnitude | 12.5 |
| Included eyepieces | Kellner 25mm, Kellner 10mm |
| Tripod | Aluminum |
| Mount | Alt-Azimuth |
| Other included accessories | 3X Barlow lens, finderscope, star diagonal, smartphone adapter |
Aperture – The diameter of the primary lens.
Focal length – The distance traveled by the light from the primary mirror to the exit point. In the case of this model, it is pretty much equal to the length of the tube.
Focal ratio – Focal length / aperture. Also referred to as how "fast" the telescope is.
Maximum magnification – The magnification limit for the telescope. Beyond that, you won't get any extra detail and you might even get blurriness. Magnification is determined by the focal length and the eyepiece being used at any given time. Here's a calculator for it.
Limiting magnitude – Maximum "brightness" of the objects (stars, galaxies, etc) the telescope can see under good sky conditions. Lower magnitude = brighter objects.
Full review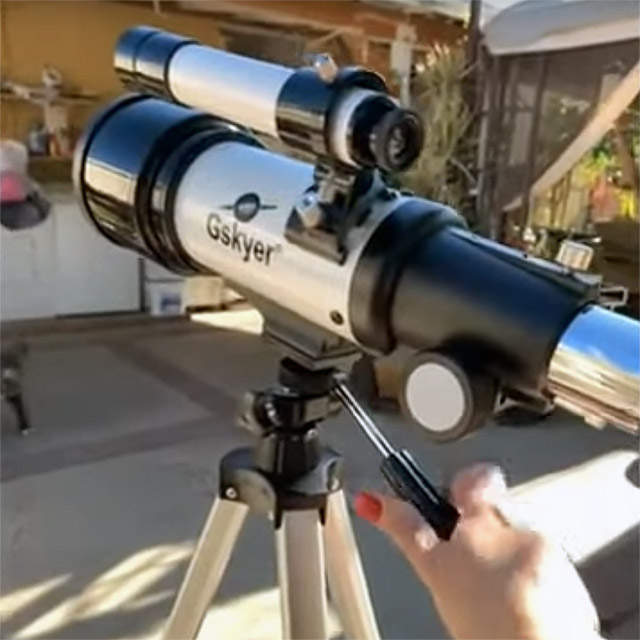 GSkyer is a small brand that focuses on entry-level telescopes. I have tried some of their products in the past and have had mostly good experiences with them.
The AZ70400 is made for two specific markets: A kid's first telescope or a secondary light-weight travel device. I want to make that very clear from the start because if you are looking for a telescope that fills different needs you might be disappointed by its limited power and specs, however, for those two specific use cases, it is a very solid contender.
Optics
If you have read other reviews on the site, you know that and aperture of 70mm is the minimum I recommend as a starting point for a telescope. Anything smaller than that is going to be too limited. As its name implies, the AZ70400 has exactly that.
An aperture of 70mm is going to allow you to see all the planets in the Solar system. Mars and Jupiter are easily visible and with good sky conditions you might get to see some level of detail. Venus and Saturn are visible and under good conditions you should be able to get a good view of Saturn's rings. The rest of the planets are visible although you will mostly just see colored dots.
The Moon is of course the main target for these kinds of telescopes. You will get an excellent view out of it and should be able to distinguish all of its major geological features.
As for deep space objects, a few dozen of the brighter and closer galaxies and nebulae should be visible although you won't be able to get many details out of them.
The optics of this telescope are good. The images are sharp and clear compared to similar models. The brightness could be better but it's not bad. Some chromatic errors are noticeable but that is true of any refracting telescope. Overall I have no major complaints and while the views are limited by the telescope's size, they are pretty good for its category.
Build quality
You will see a pattern in this review. To be honest, the GSkyer AZ70400 is not spectacular in any area, but it is also not bad at anything.
The build quality is no exception. While a lot of it is made out of plastic to save costs, the important parts that keep it stable are sturdy and appear durable. I've seen a lot worst in more expensive models.
The materials are light enough to keep the weight down which is great for a telescope that is meant to be carried around or handled by kids. When fully assembled, the total weight is just slightly below 2 kg (4.2 lb).
Setup and usage
Assembling and setting up the telescope is a breeze. The process is toolless and doesn't take more than 5 minutes.
Using the GSkyer AZ70400 is also extremely easy as you would expect from any refracting telescope. It is basically "point and shoot". To control it, you will use a single lever found on the mount (the part that connects the tripod to the tube). This is called an Alt-Azimuth mount because it can move on two axis (altitude and azimuth which is a fancy word to say "rotation").
In order to find your objectives I recommend downloading a star mapping application because learning to star-hop takes a long time and can be frustrating.
Accessories
The Gskyer AZ70400 comes with everything that you need to get started out of the box. This adds A TON of value to the already accessible cost of this model.
First, it comes with two eyepieces, a low-power 25 mm and a mid-power 10mm. Both are Kellner eyepieces which are serviceable although not great. They can be upgraded as the telescope supports any standard 1.25″ eyepiece but honestly, with such a basic telescope you are not going to see much improvement as you will be limited by the small aperture.
It also includes a 3x Barlow lens which is great because that is the exact size that you need to reach the maximum magnification the telescope can reach using the 10mm eyepiece. In case you don't know, a Barlow lens multiples the magnification of the eyepiece.
A smartphone adapter is also included. You can attach this to experiment with photography. When it comes to the sky you might only be able to take good photos of the Moon, a couple of planets, and the major galaxies, but if you ever do some bird-watching or hiking, you can use it to take some great photos.
Finally, a carry bag is also included which is always welcome.
Conclusions
The GSkyer 70400 is a pretty good kid's telescope. It is miles ahead of the toy telescopes out there as it is made by an actual optics company. It is also a solid option if you are looking for a secondary portable scope.
That being said I wouldn't recommend it as a primary telescope for an adult or even a teenager because it is quite limited in terms of power and you'd outgrow it too fast. If that is your situation and you are limited by your budget, check out our guide on budget telescopes for some options.
Overall this is a very complete telescope that you'll have a great time with as long as you understand its limitations. The optics are solid, the build quality is good, and the price is great, especially when you add the value of all the accessories it comes bundled with.