Let's face it. The eyepieces that are bundled with most telescopes are rarely good. Including basic eyepieces is one of the easiest ways manufacturers have to cut costs or keep the price of a telescope under a certain limit. They generally include basic 2-element Kellner eyepieces. And while those are serviceable when you are starting out, they won't get the best views out of your telescope.
Upgrading your eyepieces and building a collection is a great way to improve your stargazing experience. But it is also an easy way to break the bank and blow up your budget if you are not careful. An expensive eyepiece from a premium manufacturer like Televue can cost the same or more than a telescope.
In this article. I'll take a look at the best budget telescope eyepieces so you can get the most out of your device while keeping the costs reasonable. You don't need to spend a lot of money to build a collection, and the best part about doing it is that they can last for a long time. Eyepieces can last longer than telescopes, and since the barrel sizes have been standard (1.25″ and 2″) for decades and will continue to be for a long time, you will be able to bring that same collection with you when you upgrade your current telescope. When it comes to value, eyepieces are definitely worth the money.
If you are in a hurry, here's my top recommendation. If you want to learn more about how I tested and selected the items in this list, keep reading.
Best budget eyepiece: Celestron 8mm-24mm Zoom Eyepiece
Best budget eyepiece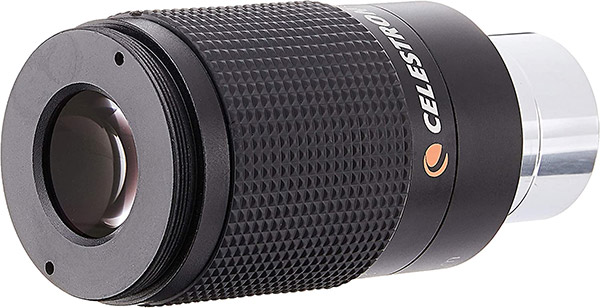 Celestron 8mm-24mm zoom eyepiece
A whole collection of eyepieces in a single product. Can't beat the value of an eyepiece that offers more than 15 different magnification levels at a great price.
The least expensive way to build an eyepiece collection is to get a zoom eyepiece. A zoom eyepiece is a special type of EP that has the ability to switch between multiple focal lengths instead of just having one like a standard (fixed) model.
You simply roll the barrel and the eyepiece will "zoom" in and out. This automatically gives you access to over a dozen magnification levels and you will not need to buy a different eyepiece for each anymore, saving you a lot of money.
"That sounds amazing. What's the catch?" you might be wondering.
Well, zooms do have their limitations. I talk about them more in-depth in this article about zoom eyepieces vs fixed eyepieces, but in short, due to their design they introduce some reflections, they have a small field of view, and they tend to produce dimmer images.
Still, if you are looking to invest in your first "real" eyepiece beyond the bundled ones, a zoom eyepiece would be my first recommendation.
This model by Celestron offers focal lengths that go from 8mm to 24mm which will give you a wide range of magnification options.
One of the things I like most about it is that it has comfortable eye relief (the distance you need to have between your eyes and the eyepiece to observe) which can be a problem with some other zooms. Since you will not be switching between eyepieces and will be using this one for longer periods of time, it is important that it is comfortable to use. The eye relief goes from 5mm to 18mm depending on the magnification you use.
The field of view goes from 40° to 60° which is pretty decent and even optimal for planetary viewing.
The build quality, like in most Celestron products, is great. The outer shell has a textured rubber grip that is always welcome because as you might know, one of the main dangers to the lifespan of an eyepiece is being dropped.
The price is very reasonable and cheaper than other competing products. While it is higher than a fixed eyepiece, you get a lot of value for the cost.
How to choose a budget eyepiece
Eyepieces aren't complex products. There's not much that you need to understand about them. Their function is to magnify the image coming from the telescope and to allow your eye to focus more closely than usual. To do this, they use lenses in various configurations.
Generally, the greater the number of lenses inside the eyepiece, the more sophisticated its design (and the more expensive it is). Basic eyepieces like Kellner, use two elements (two lenses), Plossl use three, and high-end eyepieces use between four and six.
The quality of an eyepiece is going to be determined by a few factors:
Its optical design (the number of elements and their arrangement)
The quality of the lenses used
The long-term quality of the process used to keep the lenses in place
How dark is the inside of the eyepiece so it creates better contrast and doesn't introduce reflections
Eye relief (the distance you need to put your eye at to observe) is also going to play a factor in how comfortable using an eyepiece is. However, eye relief is mostly going to be determined by the power of the EP. The larger the magnification, the less the eye relief is going to be. Remember that in eyepieces, the lesser the focal length, the higher the magnification is going to be. An 8mm eyepiece results in more magnification than a 20mm eyepiece.
Good budget eyepieces are going to have usually 3 or 4 elements tops. Even zoom eyepieces technically use only 4 elements although each of them is actually a group of more lenses.
Choosing the power of your eyepiece
If you decide to pick a fixed eyepiece (an eyepiece with a single focal length/magnification), the first thing you need to do is take a look at your current eyepieces and pick one that covers a different magnification range. For example, if you have a 25mm and a 10mm, then you have a few options. You could choose a high-power one like a 6-8mm to get the most detail out of the Moon or Mars, a mid-range like a 15mm which are also great for planetary viewing, or a low-powered one like a 35-40mm for wide field of views of galaxies and deep space objects. It all depends on your objective.
I know it is tempting to upgrade those Kellners that you got bundled with your telescope, but the first step in building a solid collection is to cover as many use cases as you can which will allow you to get the most out of your telescope.
Speaking of your telescope, don't forget to calculate the highest useful magnification of your telescope using the second calculator here. Knowing this is important because then, using the first calculator on that same page, you can know what is the maximum focal length that your telescope can use so you don't purchase an eyepiece that goes beyond that.
Best budget telescope eyepieces
Best value – Celestron Omni Series
Best budget eyepiece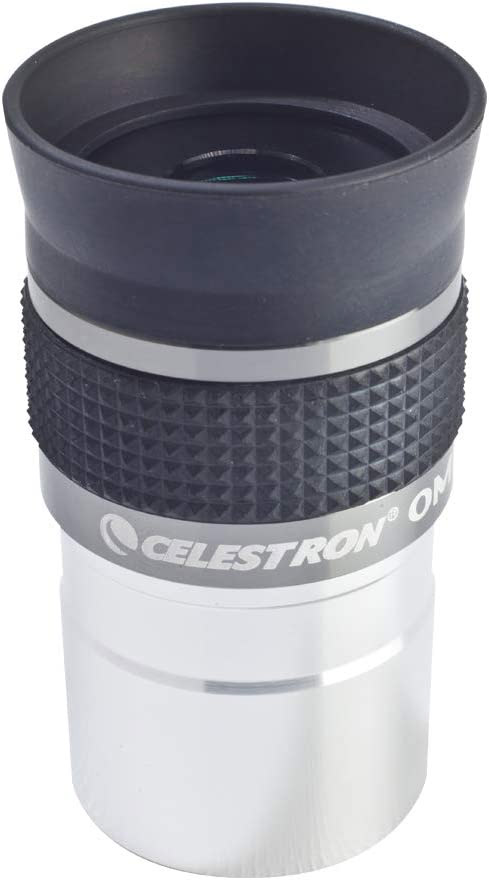 Celestron Omni series
High quality Plossl eyepiece that perform better than what their price suggests. Great value purchase for beginners and enthusiasts.
If you have a mid-range or entry-level telescope, upgrading the bundled eyepieces for one that better match the quality of the telescope's lenses or mirrors, is the easiest way to improve the images you are getting.
The Omni series by Celestron fits perfectly into this category.
These Plossl eyepieces are at a middle point between the basic Kellners that you get with your telescope and the higher-end models like the Celestron Luminos.
The Omni offers an excellent price-to-value ratio, not because they are way too cheap (there are much cheaper eyepieces), but because they perform great without breaking the bank. You could use one of these, then switch to an eyepiece that costs twice as much, and unless you are a very experienced stargazer with a trained eye you wouldn't be able to tell the difference.
The build quality is excellent and the larger models feature a rubber grip.
It is available in sizes that go from 4mm to 40mm. The high-powered models (below 10mm) are a bit uncomfortable on the eye for longer viewing sessions but that's true of most eyepieces in that magnification range. If that's a problem for you, try using a lower-powered one with a Barlow lens instead.
Pick up 3 or 4 of these and if you take good care of them you'll have a collection that will outlast your telescope. The only small caveat is that they are only sold individually. I wish they'd make a kit with 4-5 of these and sell them at a discount.
Best kit – Orion 08890 Premium Telescope Accessory Kit
Best kit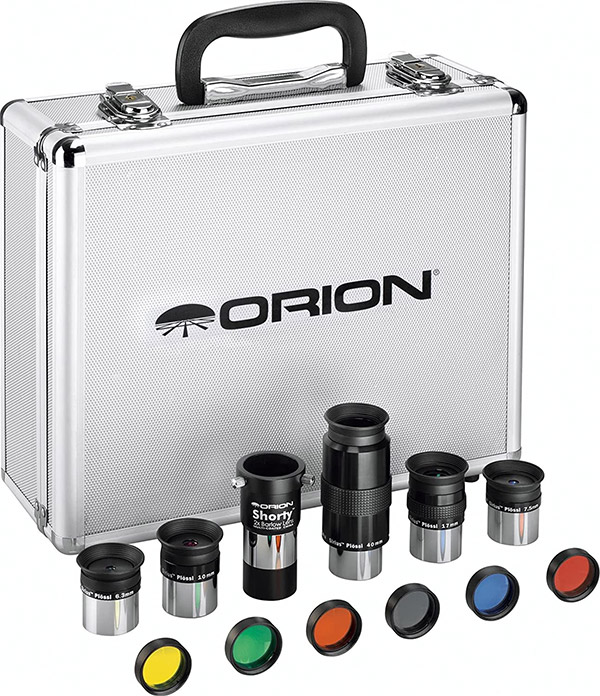 Orion telescope accessory kit
If you are looking for a wide range of options, getting a kit is good value. This one manufactured by Orion offers good quality.
I go back and forth when it comes to eyepiece kits. I'm not a big fan of the storage cases they come with, they are too clunky to take on the field (I prefer something more practical like this) and they include a bunch of filler filters that you are never going to use (the only filter that I really recommend getting is a Moon filter).
But while doing the research for this post I realized the prices for this kit are much better than what they were a couple of years ago. And doing the math, it turns out you are getting a good price per eyepiece included.
The included eyepieces are Orion Sirius Plossl. These are the mid-range Orion eyepieces that if you were to buy them individually would cost you 10%-15% more. They don't look like anything special on the outside, but the inner lenses are the same as the higher-end models and perform great.
This kit in particular includes eyepieces of 6.3mm, 7.5mm, 10mm, 17mm, and 40mm. I chose it over similar kits because it includes the 40mm which is considerably more expensive on its own so it has a slightly better value, but if you can find the equivalent Celestron kit on sale that is a good option too.
Best wide-angle – SVBONY Super-wide series
Best kit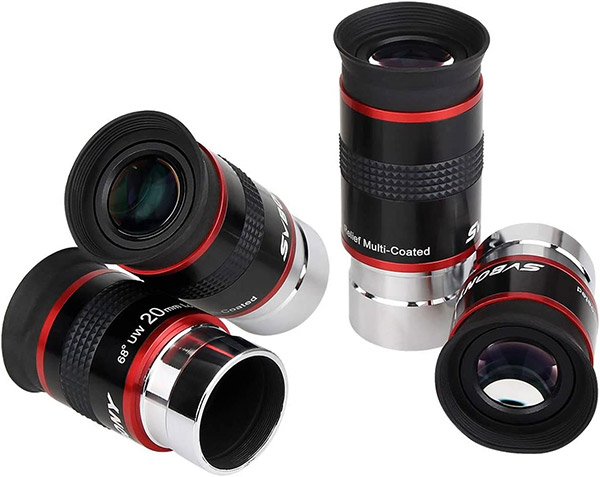 SVBONY Super-wide series
Entry-level wide angle eyepieces that are available at an excellent price.
Finding wide-angle budget eyepieces is a big challenge. It is a feature usually reserved for higher-end models.
While these SVBONY eyepieces are not completely ultra-wide (72°-80°), they are "superwide" at 68° of field of view which is still considerably more than the 40°-60° that you'll get on standard EPs.
Wide-angle eyepieces are great for observing deep space objects such as galaxies or nebulae as the image will cover a wider area.
SVBONY is a company that makes entry-level optics products. I've had the chance to review a few of their products like their Barlow lens lineup and was if not impressed, at least satisfied with their performance. They make very decent products at very low prices. They are a solid brand for people trying to stick to a budget and while I'm not sure I'd recommend their telescopes yet, the accessories get the job done.
Just to give you an idea about their pricing strategy, these super-wide models are their higher-end offers and yet they are still cheaper than the mid-range products from other brands.
As for their performance, they offer sold optics. Unlike the rest of the items in this list, these are only 2-element Kellners. They are serviceable but nothing spectacular. Their value resides in the wide angles. They are a great option if you want to try wide views without having to spend too much money.
They are available in a four-piece kit that includes a 6mm, 9mm, 15mm, and 20mm. They are also sold individually.