Planetariums are one of our favorite ways to spend a fun afternoon with the family or with your significant other. The kids come out having learned a lot and wanting to keep doing research on their phones while adults will welcome the change of pace from the kind of entertainment that you would find at the cinema. The content of some of these planetariums is so good that you should definitely schedule time on your next visit to any of these cities to check them out. The prices are very accessible and you will almost always find student discounts.
This is why we have compiled a list of what we think are the best of the best planetariums that you should visit.
In case you are new around here, a planetarium is a theater with a dome on top where movies and documentaries can be projected into. This dome shape allows the planetarium to simulate the sky and offer an immersive and visually engaging experience. The type of shows that are usually shown are educational in nature and related to astronomy although some planetariums also show movies about other sciences like biology and physics.
The most popular planetariums offer a wide variety of documentaries that vary in complexity depending on the audience. Some are targetted specifically to kids and will teach them very basic concepts while and some even host late night showing specifically tailored to adults that show more complex, intriguing content.
Some planetarium shows are guided, meaning a qualified host (usually a professor or astronomer) will narrate the whole thing and guide you through the film. This has the advantage of being able to ask questions and making the experience more interactive.
Let's get to the list. Here are the must-visit planetariums around the world.
8. Galileo Galilei Planetarium, Buenos Aires, Argentina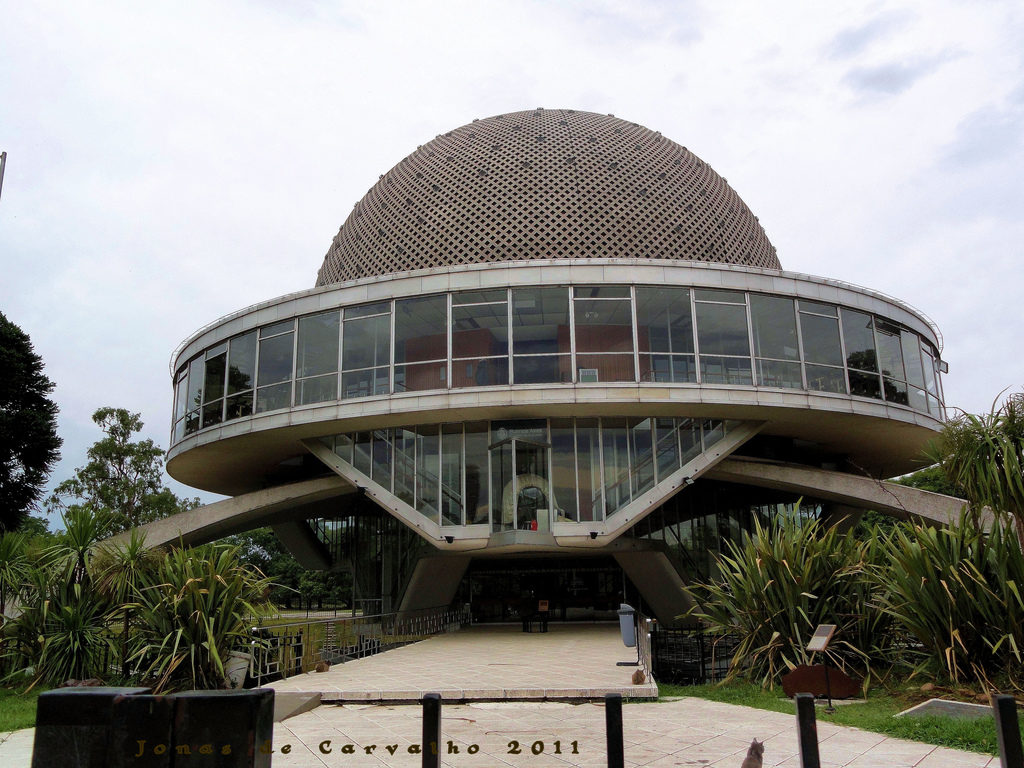 One common theme you will find in planetariums around the world is the unique and futuristic design of the buildings. If on top of enjoying astronomy you also like architecture, planetariums will be right up your alley. This first one in our list is a great example of this to get started.
The Galileo Galilei Planetarium is located in Tres de Febrero Park, in the city of Buenos Aires, Argentina. It was originally inaugurated in 1966 and was remodeled in 2011. It was designed to look like a UFO but if you ask us, it also kinda looks like a real-life Hall of Doom from the Super Friends 70's cartoon.
This planetarium also functions as a museum and has a really cool permanent exhibition of lunar rocks brought by the Apollo 11 crew and meteorites that were recovered in Argentina. They also have available telescopes that visitors can use and other features.
The only problem with the Galileo Galilei Planetarium is the films and tours are only available in Spanish so tourists who don't speak the native language might not enjoy the full experience.
Planetario Galileo Galilei – Official website
7. Adler Planetarium, Chicago, United States
One of the oldest planetariums in our list, the Adler Planetarium in Chicago was founded in 1930 by businessman Max Adler. It was originally planned to be part of Chicago's Museum of Science and Industry but ended up changing locations. Despite the building's age, it has managed to stay as a state of the art planetarium thanks to constant renovations and expansions that include having one of the most technologically advanced dome theaters in the world.
The Adler Planetarium also features multiple educational exhibits that are constantly changing and evolving so visitors always have something fresh to see when they come back. It also offers talks with experts and researchers from local universities where visitors are encouraged to ask questions and hear about the latest astronomy discoveries and news.
During the summer, the planetarium also has summer camps for kids and teenagers.
Adler Planetarium – Official Website
6. Peter Harrison Planetarium, London, England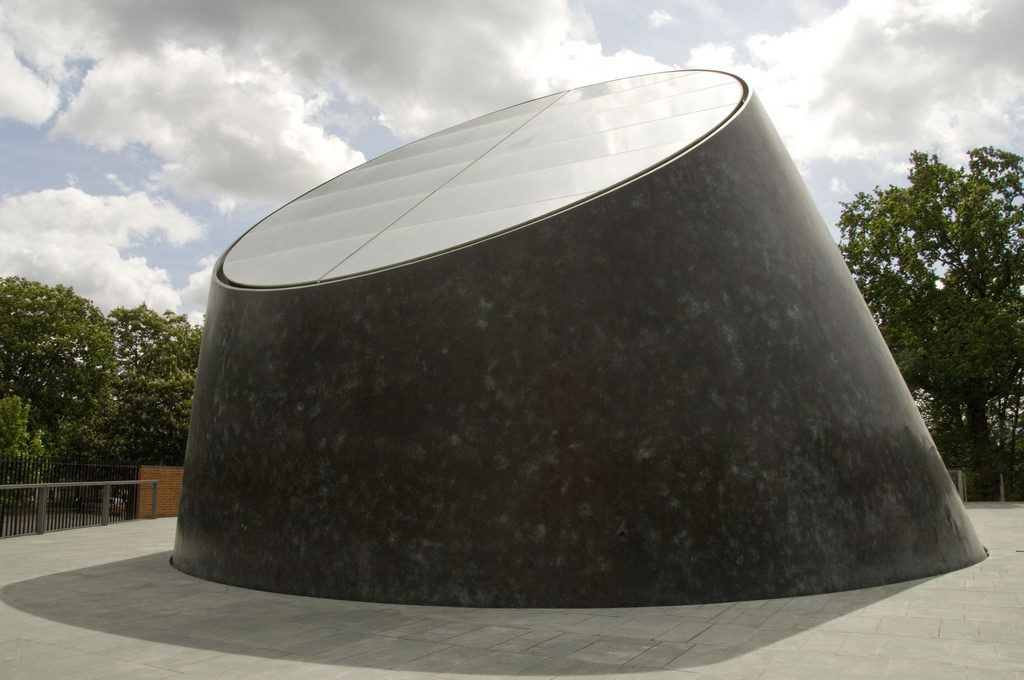 On the other side of the age spectrum in our list, its the Peter Harrison Planetarium in London which was just opened in May 2007. It has a Digistar 3 screen with GLV technology that is able to show 4k projections at 60hz. It got its name because it was funded with a £3.25m grant from the Peter Harrison Foundation and is located within the Royal Observatory grounds.
The structure on the outside looks like a sliced cone that resembles more a giant sculpture than a planetarium. The building seems simple but has a lot of astronomical meaning. It is titled to match the latitude of Greenwich and the gully that runs across the middle points to the prime meridian, or longitude 0°. A gully on the south side also points directly to the North Star.
The shows, while short, are some of the best productions that you will find anywhere in the world. The only issue with the Peter Harrison Planetarium is it doesn't have much of anything else as the rest of the exhibits are a bit lackluster so you will not be spending much time there. If you want to plan a whole afternoon to make the visit worth it, you can check out the National Maritime Museum which is a few meters away.
Peter Harrison Planetarium – Official Website
5. Morrison Planetarium, San Francisco, California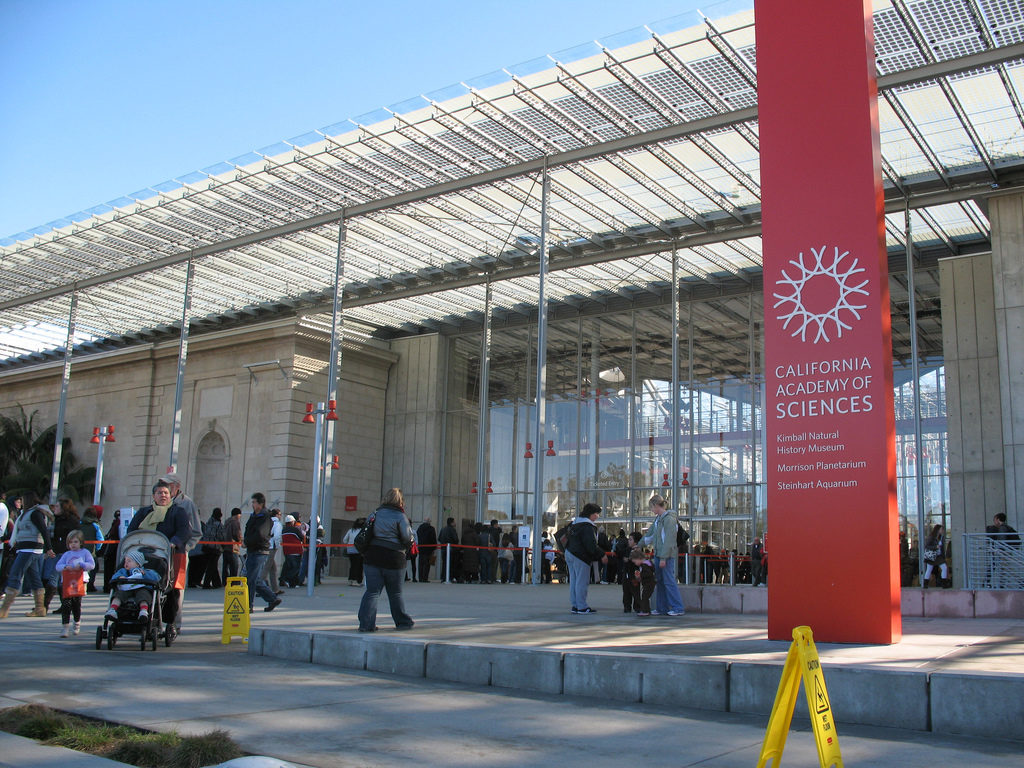 Originally built after World War II by a group of astronomers, the Morrison Planetarium in San Francisco is currently the world's largest completely digital planetarium with a 23-meter (75 ft) diameter screen. It was originally opened in 1952 and is part of the California Academy of Sciences. After an earthquake damaged some of the original buildings of the academy in 1989, a new project was developed to move them to a new location, integrating the planetarium, aquarium and natural history museum under one roof.
The content is changed and renewed every season so there's always something new to watch. They also have a series of lectures, given by noted astronomers and other scientists.
In terms of astronomical content, everything is limited to the planetarium shows and there are no other exhibits, however, you can always check out the aquarium, the indoors rainforest or the natural museum which are all worth a visit as well.
Make sure to plan your visit and pre-buy your tickets as it can be very crowded and you might not be able to get in if you just show up.
California Academy of Sciences – Official website
4. Albert Einstein Planetarium, Washington D.C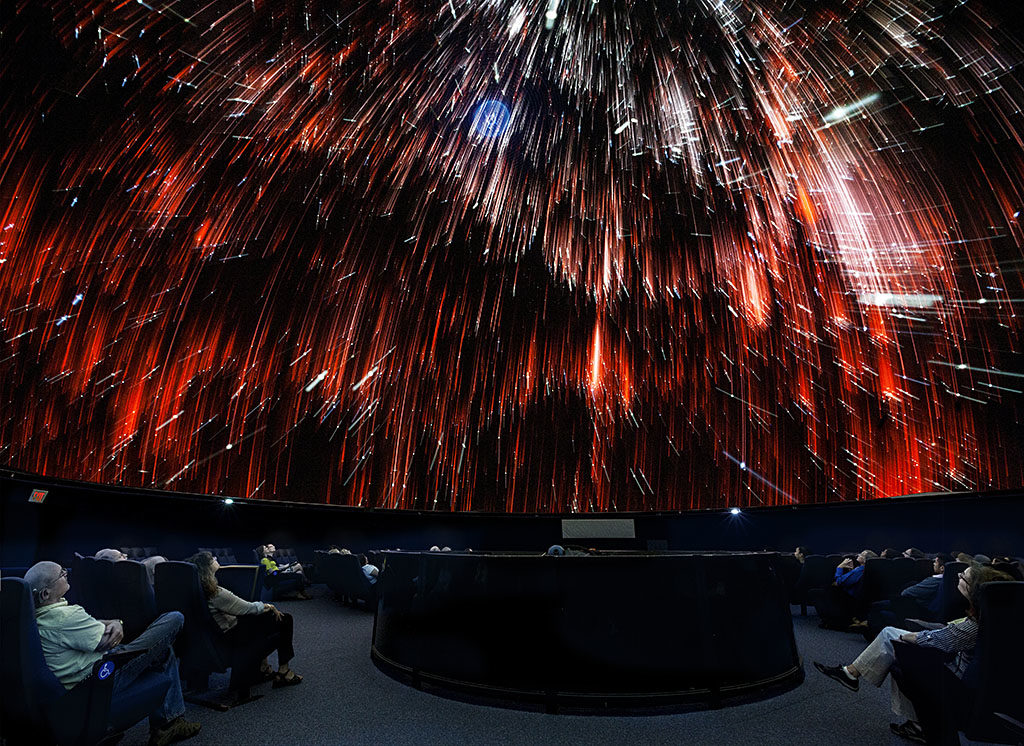 Located inside the Smithsonian National Air and Space Museum in Washington D.C., The Albert Einstein Planetarium features one of the most visually impressive screens in the world with an 8K Full dome ultra high-definition projection. Just to give you an idea of how good it looks, this thing has 16 times the resolution of an HD television.
Some of their shows are narrated by celebrities such as Whoopi Goldberg and Neil DeGrasse Tyson. They also have a series of talks and presentations called The Stars Tonight where experts from the Air and Space Museum talk about recent news, discoveries and other topics. Some of these are even free. Make sure to check their website for the details.
Being part of the museum is perfect as it also gives you the chance to check out some amazing permanent exhibitions that include pieces of aerospace history like the Apollo 11 command module, Buzz Aldrin's helmet, a replica of the Mars Curiosity Rover and lots of other cool stuff for space nerds.
The only change we would make would be having shows for the more knowledgeable crowd as most of the information is basic.
Albert Einstein Planetarium – Official Website
3. L'Hemisfèric, Valencia, Spain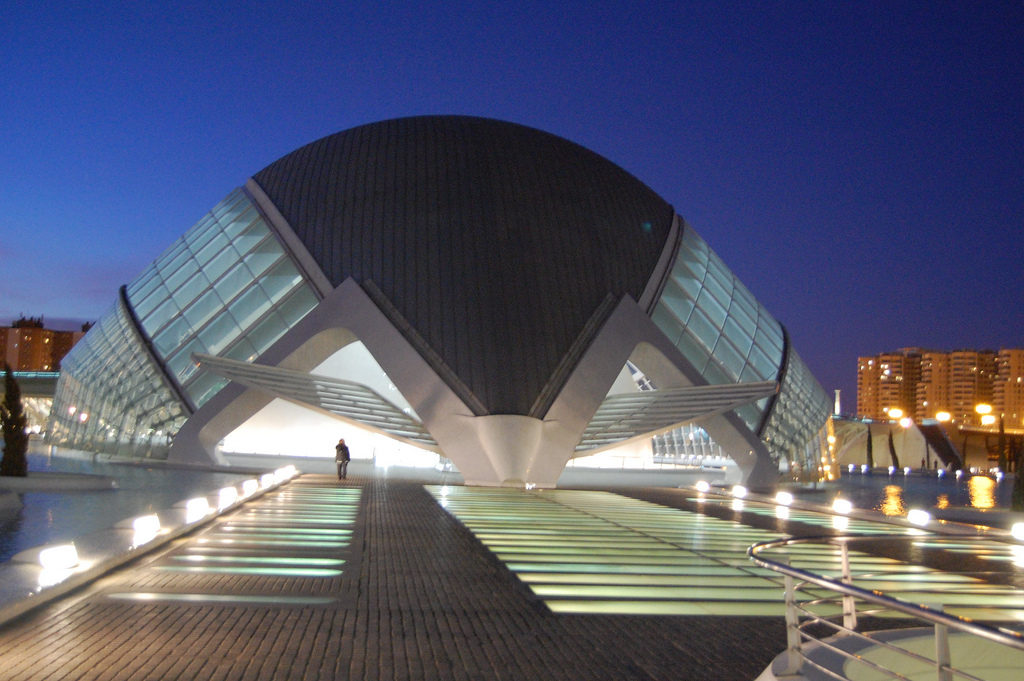 Did you know the Valencia province in Spain has its own language? It's called Valencian and it's a bit of a fun mix between French and Spanish. The reason we mention it is because L'Hemisfèric's (The Hemispheric) name is in Valencian.
L'Hemisfèric is a gorgeous dome sitting on top of an artificial pool that is part of La Ciutat de les Arts i les Ciències (The City of Arts and Sciences), a multi-building complex in the city of Valencia, Spain designed by the renowned Spanish architect Santiago Calatrava. The "city" includes the largest aquarium in Europe (L'Oceanogràfic), a Museum of science, an opera house, a plaza for concerts and sporting events and a corridor with local flora. We need to talk so much about the city and it's architecture because it is definitely part of the experience of going to this planetarium. You will be missing out if you don't visit any of the other buildings while you are there.
Most of the projections at the planetarium give you the chance to select your language in the provided headphones between English, Spanish, French and Valencian but make sure to confirm the one you will be going to has that option on their website as some are only available in Spanish.
I have personally had the chance to be in The City of Arts and Sciences and it is really a great experience. The place is breathtaking and Valencia is a beautiful city. The aquarium is also a must-visit.
La Ciutat de les Arts i les Ciències – Official Website (English)
2. Hayden Planetarium, New York City, United States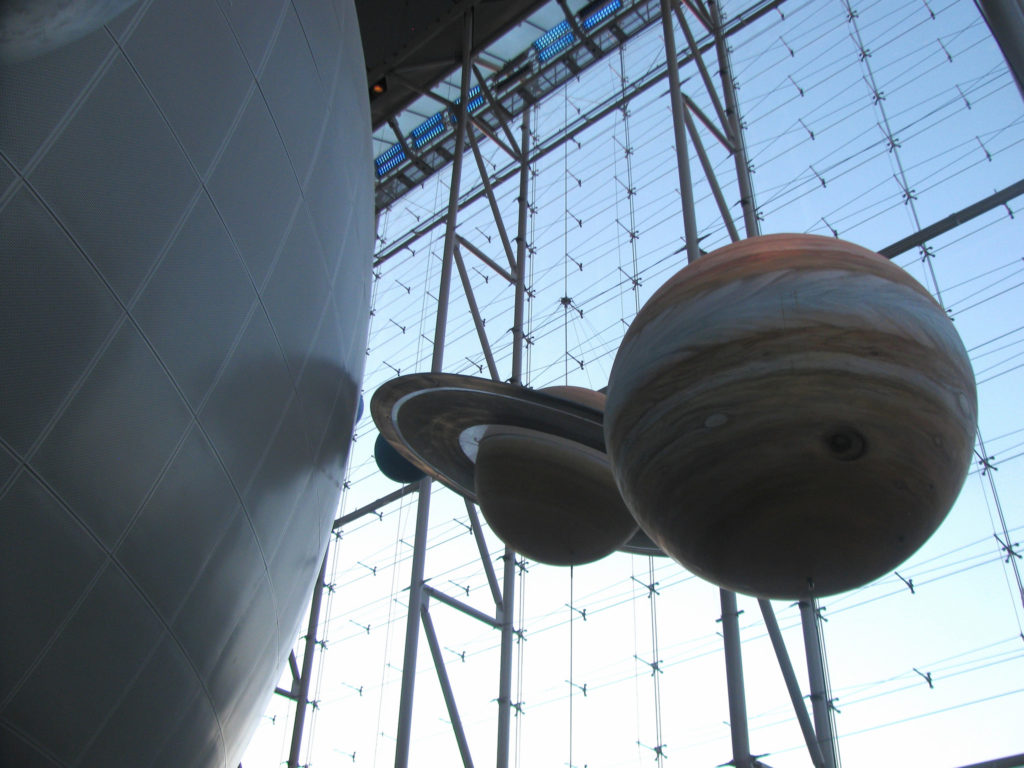 Probably the most famous planetarium in our list, The Hayden Planetarium is located right in the middle of Central Park in New York City and is part of The Rose Center for Earth and Space which in turn is part of the American Museum of Natural History.
The original Hayden planetarium was opened in 1933 but was later demolished. The structure we know today opened it's doors in the year 2000 and was designed by James Polshek and Todd Schliemann. Polshek has referred to the design as a "cosmic cathedral" and it's not hard to understand why. The outside of the building is a six-story glass cube that encloses the enormous Hayden Sphere. The famous astrophysicist, science communicator, and author, Neil DeGrasse Tyson has been the director of the planetarium since 1996 and oversaw its reconstruction.
The planetarium's shows are narrated by personalities such as Tom Hanks, Robert Redford, Harrison Ford, Whoopi Goldberg, and the Neil DeGrasse. The outside of the theater also has some exhibits where you can learn about Earth's geological history and other subjects.
The Hayden Planetarium is very popular so make sure to buy your tickets and plan your visit in advance.
American Museum of Natural History – Official Website
1. Nagoya City Science Museum, Japan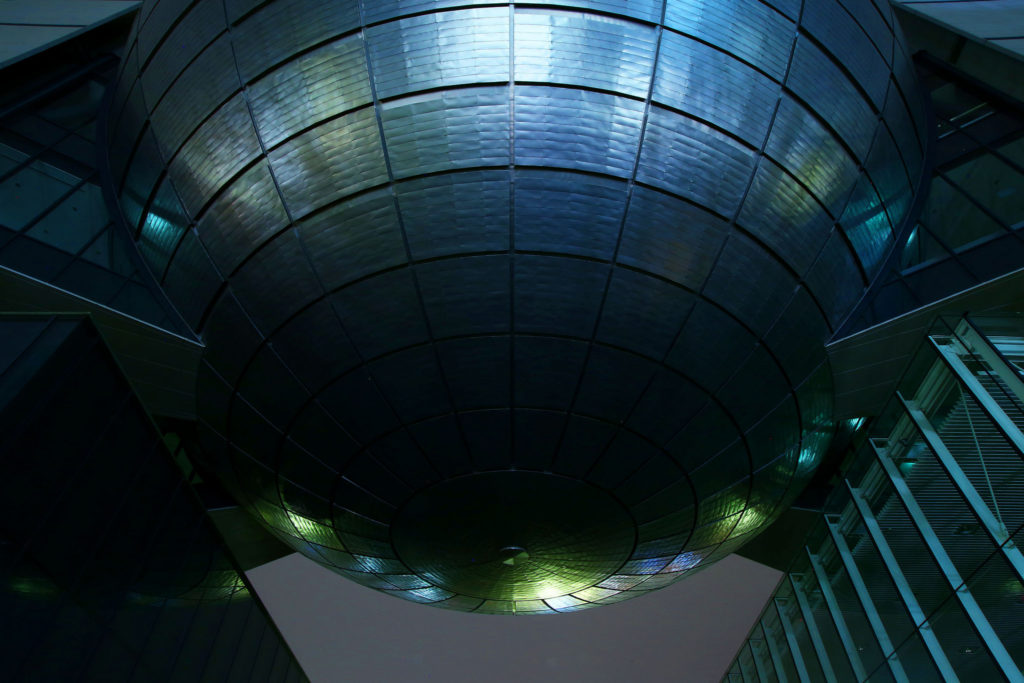 Last but not least in our list, we have Nagoya City's planetarium which is inside the Nagoya City Science Museum in Japan. The planetarium was just opened on 2012 and the whole museum was renovated to coincide with its launch, including dedicating the whole second level to exhibits about space and futuristic technology.
The building is very impressive from the moment you see it on the outside. It features a huge metal sphere supported by two buildings to the sides. If you arrive walking from the frontal side, and you are a couple blocks away, it almost looks as if a spaceship landed in the middle of the city.
Nagoya's planetarium is currently the second largest in the world and features shows for general audiences and some more targetted towards children and families only that are very basic and easy to follow.
If you decide to visit the museum and you don't speak Japanese, make sure to bring your phone and headphones, they have a multi-lingual app for both Android and iOS that you can download and that allows you to read QR codes scattered through the exhibits. Reading these codes will let you hear the explanations and details of the exhibit in your own language. It is currently available in English, Chinese and Korean. Unfortunately, the planetarium's shows are not available yet and those are only in Japanese but should be easy enough to follow if you have a basic understanding of the universe.
Nagoya City Science Museum – Official Website
Conclusion
So, what do you think? Are you already planning your next trip to one of these cities to check out the planetariums? Let us know about your experiences in the comments. We know there are many other cool planetariums out there that we left out, but we really wanted to make a list featuring only the best of the best and we haven't had the chance to visit them all. Still, if you think it's unfair we left one out, drop a comment below.