Finding a telescope that is reliable, affordable, and light can be a challenge. There are too many options in this entry-level category with lots of different prices and specifications, but the truth is most of them leave a lot to be desired.
On top of that, if you are new to the stargazing hobby, it can be hard to tell how to choose your first telescope when you see all the technical specifications and numbers that are used to advertise an optical device.
Among all these telescopes you might have run into the Celestron Travel Scope 80mm, one of the most popular entry-level devices. But is it good? is it worth the money?
I have personally tested it extensively and I have all the answers for you. I compared it with other comparable telescopes in both price and specs to make it a fair competition.
If you just want the answers, here's a quick verdict. For the in-depth review, keep reading below.
The verdict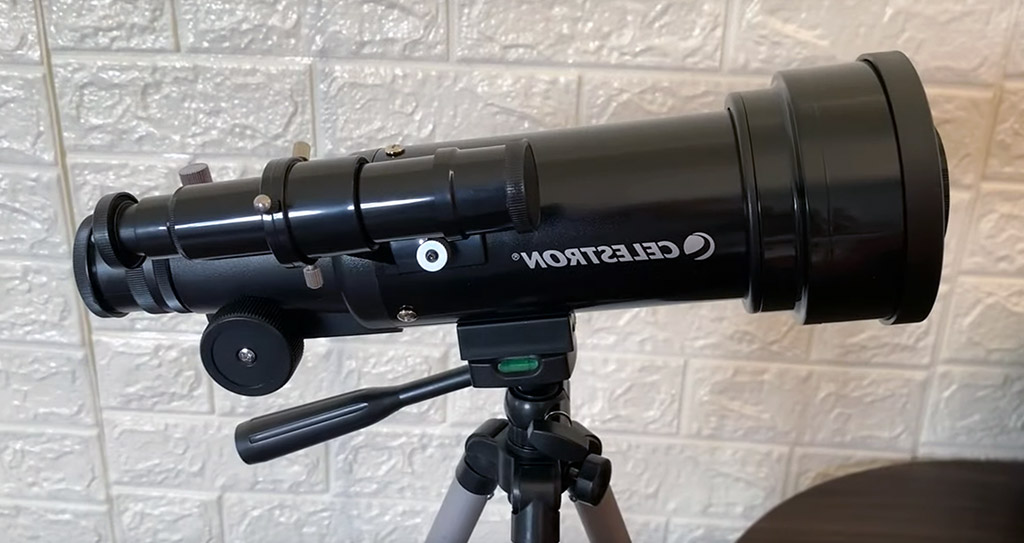 The Celestron Travel Scope 80mm is a solid portable telescope. It offers good value at a very budget-friendly price. That being said, it does have the limitations that come from having a small aperture and short focal length.
These are the use cases where I'd recommend this telescope. I think it is an excellent choice for any of these:
For main use in the field (stargazing while camping, hiking, bird-watching)
As a secondary portable telescope,
As a first-time telescope for kids
Now, if you want to use it as your main backyard scope as an adult, it's still a decent pick for a beginner as long as you understand that it is very much in the "entry-level" range in terms of power and is not going to show any impressive views. If you are an adult looking for your first telescope, this might be a bit too limited in power and capabilities. Check out this post on the best telescopes for adults for some alternatives.
The optics quality is good as you can expect from Celestron which is one of the most reliable brands on the market. I found some color errors but those are to be expected out of any refracting telescope.
The Celestron Travel Scope 80 accomplishes its goal of being a solid portable device. The whole thing along with the tripod, mount, and accessories fits into the included backpack and doesn't take up much space.
The tripod is a bit of a problem. It is sturdy on flat surfaces. However, on the field, where the ground might not be as reliable, it can feel unstable.
Overall, the Celestron Travel Scope 80mm is a good buy. We named its smaller 70mm brother the best budget pick in our article about budget telescopes and this is just as good while offering extra power.
Ratings
(out of 10)
| | |
| --- | --- |
| Optics | 8 |
| Build quality | 8 |
| Ease of use | 10 |
| Portability | 10 |
| Accessories | 8 |
| Price | |
Technical specifications and what they mean
| | |
| --- | --- |
| Model name | Travel Scope 80 |
| Manufacturer | Celestron |
| Telescope type | Refractor |
| Aperture | 80 mm (3.155″) |
| Focal length | 400 mm (15.7″) |
| Focal ratio | f/5 |
| Assembled Weight | 1.9 Kg (4.2 lb) |
| Eyepiece slot | 1.25″ |
| Maximum magnification | 189x |
| Limiting magnitude | 12 |
| Included eyepieces | Kellner 20mm, Kellner 10mm |
| Tripod | Aluminum |
| Mount | Altazimuth |
| Other included accessories | finderscope, star diagonal, smartphone adapter |
Celestron Travel Scope 80 tech specs
Aperture – Diameter of the main lens.
Focal length – Distance traveled by the light from the main lens to the exit point.
Focal ratio – Focal length / aperture. Or how "fast" the telescope is.
Maximum magnification – The limit at which the telescope won't reflect any more detail. Magnification is determined by the focal length and the eyepiece being used at any given time. Here's a calculator for it.
Limiting magnitude – Maximum "brightness" of the objects (stars, galaxies, etc) it can reach. Less magnitude = brighter objects.
Full review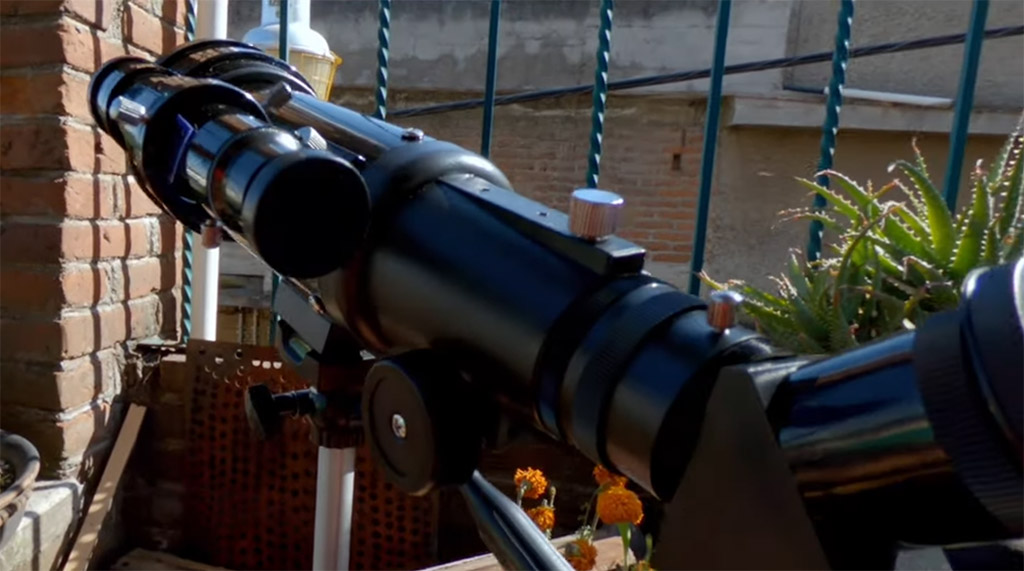 Portability
The main feature of the Travel Scope 80 is, of course, its portability. It weighs less than 4.5 lbs (2 kg) fully assembled which not only makes it great as a camping telescope, but also for hiking, and bird watching.
This lightness also means it can be easily handled and assembled by kids without requiring assistance, but adult supervision during the setup is still recommended.
The included backpack isn't as good as the telescope, though. The materials don't feel great and although I didn't use it for a long time, it doesn't seem very durable.
Optics
The Celestron Travel Scope 80mm is a refracting telescope. I'll spare you the details of what that means, but all you need to know is that it resolves images with good brightness and sharpness at the expense of having some minor color errors and effects like halos around certain objects. This happens to all refractors, but how noticeable they are depends on the quality of the lenses. The Travel Scope performs very well in that regard. The lenses are very high-quality as you can expect from Celestron.
Magnification and reach
With an 80mm telescope, you can expect to see all of the planets in the Solar system with good sky conditions.
The Moon will look great, you should be able to see all of the major craters and geological features.
You will be able to get some detail out of Mars, Venus, and Jupiter. Saturn's rings will be visible but might not appear to be separate from the rest of the planet. Uranus and Neptune are very far away and they are hard to see in detail even with a professional telescope so you'll only see a couple of blue dots. Check the photos on this post so you can get an idea of what you can expect to see.
Dozens of the brightest nebulae and galaxies will also be visible, including the most prominent ones like Andromeda or the Sombrero galaxy.
Build quality
This is the column where the Celestron Travel Scopes don't shine too much. While the build quality is reasonable, you can tell they cut a few corners here and there.
Pretty much all of the threads and connections are made of plastic. They are well-built and I had no issue with any of them, but I'm not sure how they'll stand the test of time after months or years of constant use.
My other concern is with the mount and the tripod. It felt a little shaky when using it on a surface that wasn't perfectly flat. I don't think it is a deal breaker and to be honest this is a problem with most telescopes in the same price range.
Accessories
The Travel Scope comes with two standard Kellner eyepieces (20mm and 10mm), its finderscope, and a smartphone adapter so you can take photos.
The eyepieces are basic but serviceable. I don't think I would recommend upgrading them at the start. If you have the extra budget, getting a telescope with a larger aperture will do more for the quality of the image than changing the eyepieces. If you really want some more options in terms of magnification, consider a zoom eyepiece like the SVBONY SV153.
The smartphone adapter is a nice addition. Taking photos with your phone is going to help you learn a lot more and might pique your interest to do some more serious astrophotography in the future.
Price
The cost is one of the best features of the Celestron Travel Scope 80. It is extremely affordable and one of the better-performing devices in its price range.
The price jump from the 70mm version to the 80mm is worth it for the extra bit of power you get, but the 70mm is also a decent choice if you are on a very tight budget. What I wouldn't recommend is going below that to the 60mm or 50mm versions. Those are way too small for stargazing and their only real-world use is for bird watching.
Conclusion
The Celestron Travel Scope 80 is a great travel telescope. It performs well under clear skies and on the field. I'd definitely recommend it for that purpose or as a kid's first telescope.
But you do need to understand that this is an entry-level device and adjust your expectations accordingly. It's not going to get you ultra-detailed views of the planets and as a backyard telescope, it has limitations.
But in its category (budget portable telescopes), it is one of the best performers and it offers great value.
Alternatives
If you want some alternatives, check out our post on travel telescopes, budget telescopes, and kids telescopes.