It is usually around the ages of 10 to 12 when kids can start to develop interest and curiosity about space. They are really getting to experience the world and question everything in and out of it, which makes it a perfect age to introduce them to astronomy and other sciences.
There are a few considerations a parent should have when shopping for a telescope for kids in this age range. The good news is we have done all the research and heavy work for you and we have prepared this guide with our best picks in order to make the whole process very easy for you. We will cover options that will be best for the age range of 10 to 14. If you just want to skip to the finish line, our best pick is below, if you are looking for more information and options, keep reading.
Best Pick: Celestron PowerSeeker 80EQ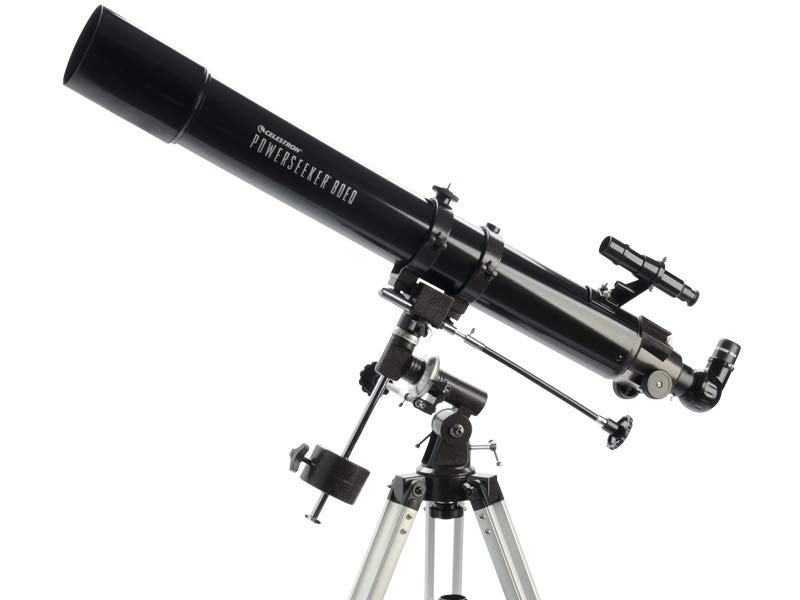 | | |
| --- | --- |
| Manufacturer | Celestron |
| Telescope type | Refractor |
| Aperture | 80mm (3.14″) |
| Focal Length | 900mm |
| Max. Useful Magnification | 189x |
| Max. Limiting Magnitude | 12.1 |
| Mount | Equatorial |
| Weight | 16 lbs (7.3 kg) |
| Bundled eyepieces | 4mm, 20mm, 3x Barlow |
| Rating | |
| Price | |
The best telescope for kids in the ten to fourteen-year-old range is the Celestron PowerSeeker 80EQ. We have chosen it because it fits all of our criteria on what a telescope needs for a kid to get the best out of it.
Ease of use: While there are more powerful telescopes in the same price range, they are all Newtonian, which means they can be a bit harder to use and will need maintenance, which we want to avoid by choosing a refractor telescope instead.
Power: With an aperture of 3.14 inches (80mm), the PowerSeeker 80EQ should be powerful enough to explore the planets in our Solar System up to Saturn and with the right sky conditions maybe catch a glimpse of the rest. It will also be able to clearly see constellation and some of the closer deep space objects like nebulas.
Expandability: With standard eyepiece support, the ability to set-up accessories like a camera and smartphone to get started with astrophotography and Celestron's PC and smartphone software, the PowerSeeker will be able to grow and keep up as your children learn with it. This will allow it to last for many years before they hit a ceiling and want to upgrade to a more sophisticated telescope.
Table of Contents
How we selected the telescopes on this list
We have decades of combined experience looking at the stars and helping newcomers get into our favorite hobby: astronomy.
The criteria we used to choose the telescopes on this list is based on what features make the most sense for kids in the 10-14 age range and where their level of understanding about space is at the time. Here's what we think are the most important characteristics to look for.
It must be easy to use and set up.
We are looking for kids to enjoy astronomy. The process to set up and look at the sky with their first or second telescope should be simple and fun.
For this reason, the list will mostly include scopes that are easy to use while still having an available learning curve with more advanced features that will be waiting for when they are more familiarized with the device.
Low maintenance
Since the idea is kids at this age will already be able to use the telescope by themselves and mostly unsupervised, maintenance becomes a factor. We have stayed away from Newtonian telescopes (with one exception) and focused mostly on refractors since they require less maintenance and are generally sturdier.
Good price to features ratio
Let's face it. If this is the first time your kid has asked to get them a telescope, you might be worried if it's just a phase they'll grow out of and that you will be spending some good money on something that might end up collecting dust in the basement. We get it, we have all been there.
This is why our picks have taken price into account. We have focused on selecting scopes that will offer the best available features for the entry-level range. A professional-grade telescope with all the bells and whistles might not be the best investment at this point. If they do get genuinely interested in the hobby after using one of these choices for a few years, then you can think of upgrading.
Power (a.k.a magnitude)
How "powerful" a telescope is, depends mostly on one single feature: the lens' magnitude. We have a whole guide on why aperture is important if you want to check it out, but the short version is the higher the aperture, the more light the telescope can capture which allows you to get better images and view objects farther away.
We believe the minimum aperture for a telescope to be enjoyable is around 70mm or about 2.75 inches. Anything below that is usually not worth the money as you will not be able to see much with it.
The telescopes on the list are in the 70mm – 130mm range as that is generally where the best entry-level telescopes shine and the ones in higher ranges also tend to get a lot more expensive.
What owning a telescope will teach a 10-year-old
By the time they are 10 years old, most children have already learned the basics of the universe or at least the Solar System at school. They already know the planets, they understand planets orbit around the Sun, and they know about the concepts of stars, and constellations.
Getting a telescope will allow them to not start learning more specific knowledge as they become more and more curious and ask questions about the things they are observing.
For example, taking a look at the Moon even with a low powered telescope will let you see its craters which immediately raises the question about how they got there so they will learn about asteroids. Then they might wonder why Earth doesn't have all these craters which in turn leads them to learn about our own atmosphere and how it has kept us (mostly) safe throughout millions of years.
What can you expect to see with the selected telescopes.
Here's a small list with some of the things an entry-level telescope will allow you to watch and learn, but if someone is really interested in astronomy, this will only be the tip of the iceberg.
The Moon will be visible in all its glory. You will be able to see all of it major craters, at least the ones on the light side. By delving deeper into its geology you might even be able to recognize the carters where the Apollo missions landed although seeing the actual landing sites is not possible as they are too small.
Mars will be visible and easily recognizable. You will be able to see its poles and under the right weather and distance conditions, you might be able to recognize some of its geology, craters, and features.
Venus should be easy to recognize although it is easily confused with a star for the untrained eye. Since its outer layer is mostly gas, finding anything recognizable in it will be hard.
Mercury, Jupiter, and Saturn should be visible. Depending on the telescope, you might be able to distinguish Saturn's rings.
Uranus and Neptune might be visible under the right conditions but for the most part, they will look like tiny colored dots since they are too far away.
All major constellations will be visible and recognizable, ate least the ones that are visible at that specific time in the hemisphere you are located at.
Some deep space objects will be visible, specifically some of the major nebulas like Orion. Learning to take photos of these can be a good idea as they will look better in photos than they'll look with your eye because you would generally take long-exposure photos that allow you to capture more light and details.
Best Budget Pick: Aomekie Kids Telescope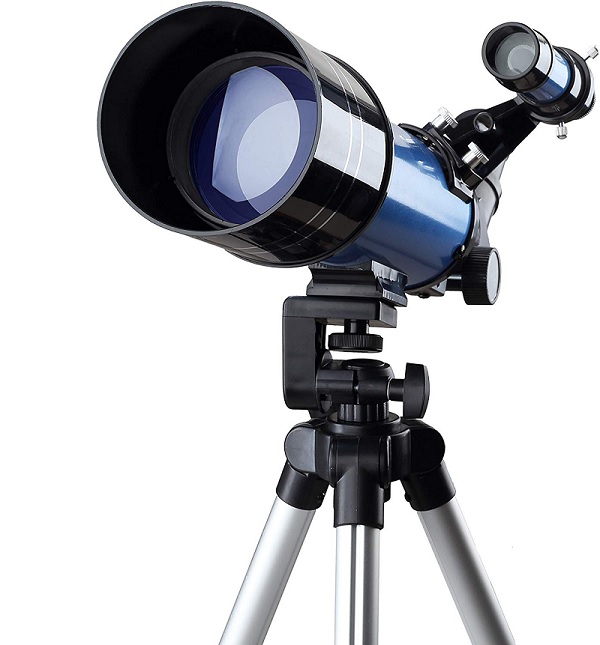 | | |
| --- | --- |
| Manufacturer | Aomekie |
| Telescope type | refractor |
| Aperture | 70mm (2.75″) |
| Focal length | 400mm |
| Max. useful magnification | 140x |
| Max. limiting magnitude | 11.7 |
| Mount | AZ |
| Bundled eyepieces | Kellner 6mm, 25mm |
| Included smartphone adapter | Yes |
| Rating | |
| Price | |
Aomekie is a lesser-known and new-ish Chinese brand. Don't let that scare you though, their optic instruments are pretty good for what they are as they are mostly a budget very entry-level brand that also makes binoculars, microscopes, etc.
While the cost is great, they do cut some corners to be able to get to such a low price-point like including Kellner eyepieces which used to be very popular in the past but have fallen out of favor for the more modern of the more modern (but more expensive) Plossl eyepieces. If this is your first telescope this might not be a big deal as you will not have a point of comparison and things will look good enough.
It also sticks to the minimum of 70mm aperture which might make your viewing options a bit limited.
One thing we do like about it is that it comes with a few accessories, mainly a smartphone adapter which will save you a few bucks in getting it separately. It also comes with a "Moon filter" that promises to get you a better view of the Moon during bright phases which might come in handy.
We recommend the Aomekie only if you are on a really tight budget or if you are only planning on looking only at the Moon, Mars and the constellations.
Best Tabletop: Orion GoScope 10013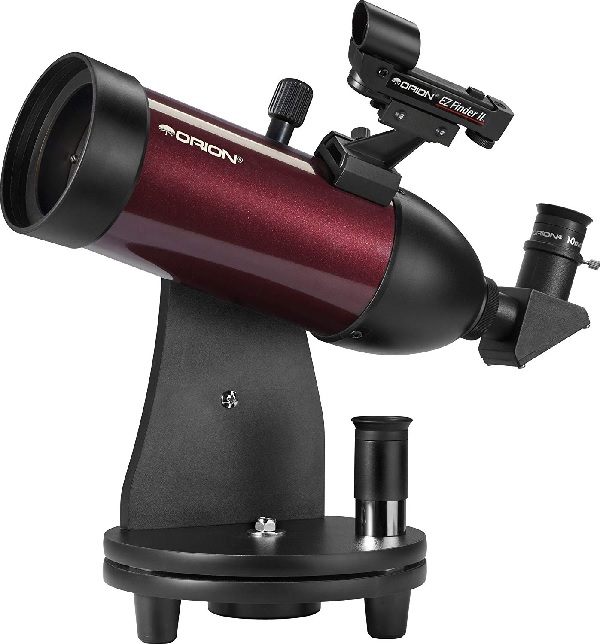 | | |
| --- | --- |
| Manufacturer | Orion |
| Telescope type | refractor |
| Aperture | 80mm (3.14″) |
| Focal length | 350mm |
| Max. useful magnification | 160x |
| Max. limiting magnitude | 12.1 |
| Mount | tabletop |
| Bundled eyepieces | 10mm, 20mm |
| Weight | 5.7 lbs (2.6 kg) |
| Rating | |
| Price | |
Tabletop telescopes are a "love them or hate them" kind of category. On one hand, they are very practical and perfect for people who don't have much space to set up a full tripod or who want to stay inside during the winter and still be able to look at the stars through the window. On the other hand, they can feel a bit limiting since you can't take them camping without setting up a table and you lose the precision lateral movement of some mounts.
We do believe tabletops have their place and can be the perfect option for some people, particularly beginners. In fact, a tabletop telescope is what this article on NASA's site slightly recommends above other options for beginners.
Orion is one of the two biggest brands in optics and more specifically in telescopes. You just can't go wrong with their telescopes.
The 10013 is an 80mm refractor that puts it right in the sweet spot in terms of power for the requirements of a 10 to 14-year-old.
One key feature is it comes with a red dot finder, which is great for beginners as it allows you to locate specific objects more easily once you learn to use it.
It comes with two 10mm and 20mm eyepieces that you might grow out of soon, but can be replaced or extended with a 2x Barlow lens once you actually learn what that is.
Best mid-range pick: Celestron AstroMaster 102AZ
| | |
| --- | --- |
| Manufacturer | Celestron |
| Telescope type | refractor |
| Aperture | 102mm (4″) |
| Focal length | 660mm |
| Max. useful magnification | 240x |
| Max. limiting magnitude | 13.7 |
| Mount | Altazimuth |
| Bundled eyepieces | 10mm, 20mm, starpointer |
| Weight | 14.1 lbs (6.4 kg) |
| Rating | |
| Price | |
Think of this telescope as the big brother of our top pick, the Celestron PowerSeeker 80EQ.
The AstroMaster 102AZ improves all of the features of the smaller versions but the most important part is the wonderfully large 102mm (4 inches) lens that will give you much sharper and detailed images.
The weight of the 102AZ isn't much bigger as it only adds a couple more pounds. the smaller telescopes. You should still be able to take it on a trip without much trouble.
The big difference between the 102AZ and the 80EQ, and the only problem we can find with it is that it comes with an Alt-Azimuth Mount instead of an Equatorial mount. This makes it harder to track moving objects and limits the precision you can have to locate objects. It is not a big deal for beginners, but as you gain more experience stargazing, most people end up preferring Equatorial mounts almost exclusively. There doesn't seem to be any reason for this change except to keep the price of the telescope at a certain range. We hope to see an EQ version of this in the future, but beyond that, it is the most recommended choice if you have some budget to play with.
Best high-end pick: Meade Instruments 216006 Polaris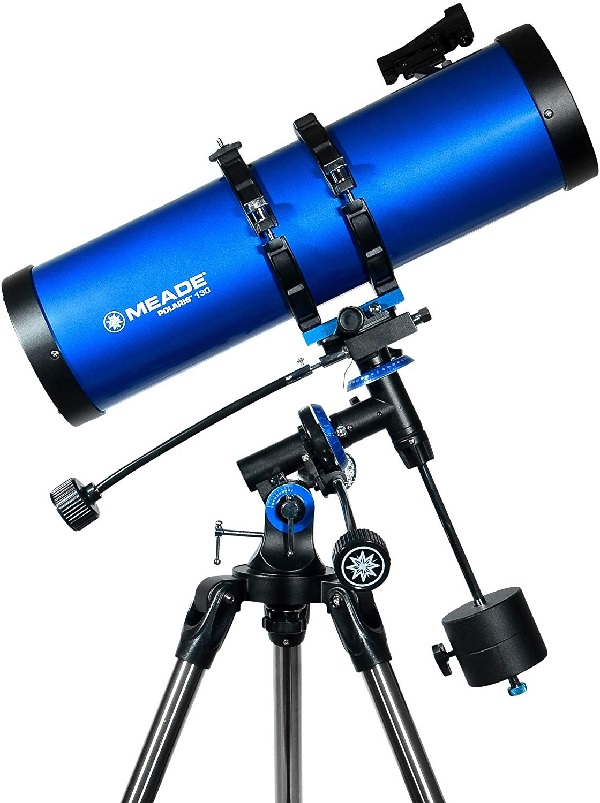 | | |
| --- | --- |
| Manufacturer | Meade Instruments |
| Telescope type | Newtonian |
| Aperture | 130mm (5.1″) |
| Focal length | 650mm |
| Max. useful magnification | 260x |
| Max. limiting magnitude | 13.9 |
| Mount | Equatorial |
| Bundled eyepieces | 6.3mm, 9mm, 26mm |
| Weight | 22 lbs (10 kg) |
| Rating | |
| Price | |
If you don't mind giving some maintenance to the telescope, then a reflector (also known as Newtonian) telescope is for you.
Reflector telescopes are great as they fix some optical problems refractors have due to the way they work. They also generally offer bigger apertures at a lower price as they use mirrors instead of lenses. However, they exchange all that for some additional issues, like the fact they can be a bit more fragile, and they require occasional maintenance in the form of "collimation" which basically means aligning the mirrors inside.
If the kid that will be using this is very responsible or has some interest in how things work on the inside, a Newtonian telescope can be the way to go. Even if they don't, you could still go and find someone to collimate the mirrors for you for a fee. This will need to be done once a year or so.
If you can get beyond that part, the optics of having a 130mm aperture telescope can definitely make up for it. The Polaris made by Meade instruments has some wonderful optics and comes with all the features you might want, like a red dot finder, equatorial mount, and high-quality eyepieces.
If you are looking for something a bit cheaper, there's a 114mm version of this that still offers plenty of power at a lower cost.
Best Choice: Celestron PowerSeeker 80EQ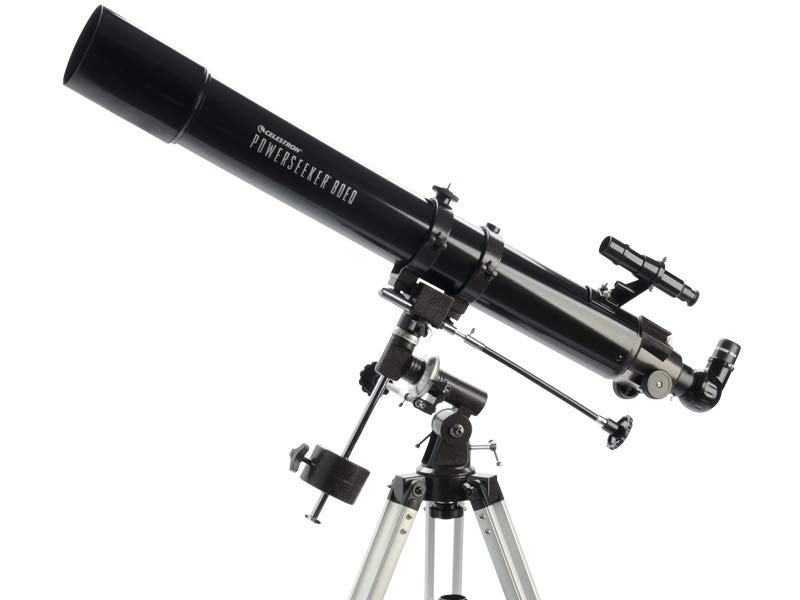 | | |
| --- | --- |
| Manufacturer | Celestron |
| Telescope type | Refractor |
| Aperture | 80mm (3.14″) |
| Focal Length | 900mm |
| Max. Useful Magnification | 189x |
| Max. Limiting Magnitude | 12.1 |
| Mount | Equatorial |
| Weight | 16 lbs (7.3 kg) |
| Bundled eyepieces | 4mm, 20mm, 3x Barlow |
| Rating | |
| Price | |
If you are going blind into the purchase because you are getting this as a gift or because you don't know anything about telescopes and you don't have the time to do the research, just get this one.
The Celestron PowerSeeker 80EQ has everything a beginner could possibly need and a bit more, this is why we have chosen it as our overall best pick.
Trustable manufacturer: check.
Good optics: check
Quality eyepieces: check
Equatorial, fancy mount: check
Learning software: check
Reasonable priced: check
The only "but" that we can find for the PowerSeeker is that it doesn't come with a smartphone or camera adapter include so you will need to get one of those separately if you want to get into astrophotography.