Quick verdict
Here's the short version of this review.
The StarSense telescopes are my first recommendation for a beginner looking to get into stargazing. The StarSense app removes many of the difficulties that newcomers have when using a telescope for the first time.
The Celestron StarSense Explorer LT 114AZ is quite powerful for an entry-level device. The optics are clean, bright, and don't show any sign of chromatic or spherical errors. The mirrors are very high-quality and well manufactured.
The build quality is decent but there's room for improvement. Some of these details could have been fixed by using some metallic elements instead of so much plastic. Still, everything seems sturdy and durable.
The app which is the main driver is great. I have heard about someone else having trouble setting it up but my experience was flawless. There are no microtransactions or extra costs, everything is included with the cost of the telescope.
The Celestron StarSense Explorer LT 114AZ is definitely worth the money as a first-time telescope or an upgrade if you are coming from a 70mm-80mm device.
Introduction
Astronomy is such a rewarding hobby. You get to look at the stars, get some fresh air, and learn a lot about the universe while you are at it. I may be biased here because you know, this site is all about astronomy, but getting a telescope is one of the best investments you can make. And that goes for both kids and adults alike.
That being said, using a telescope for the first time if you don't have experience with one comes with a few surprises.
Modern telescopes are easy to assemble and set up. But once it is ready to go, you might find yourself looking at the vastness of the sky and wondering "now where do I point it to?".
That has been a challenge for beginners since home telescopes were invented. Finding specific objects in the night sky is not easy. There are no signs up there to point you in the right direction.
Over the years a few methods have been developed to make things easier. In the old days, people learned to star-hop, which is triangulating the position of an object using the brighter stars as reference points. Then, star maps came around, but they were big and hard to use. In modern times, star maps have been ported to smartphones, and they make things easier but are still not perfect.
There are also computerized telescopes that have the ability to automatically align, find, and track objects. They are great and both professional astronomers and serious enthusiasts use them all the time. The problem is they are quite expensive and as a beginner, it is hard to justify investing so much money into a telescope.
This is why Celestron came up with the idea for the Celestron StarSense line. These telescopes are a middle point between computerized devices and traditional ones. The idea is to use your smartphone as a computer to help you find the objects that you want to look at.
In this article, I'll review the Celestron Starsense Explorer LT 114AZ, the entry-level Newtonian telescope of this line. I've had the chance to test it personally and compare it against the 80AZ refractor (review for that one here).
How does it work?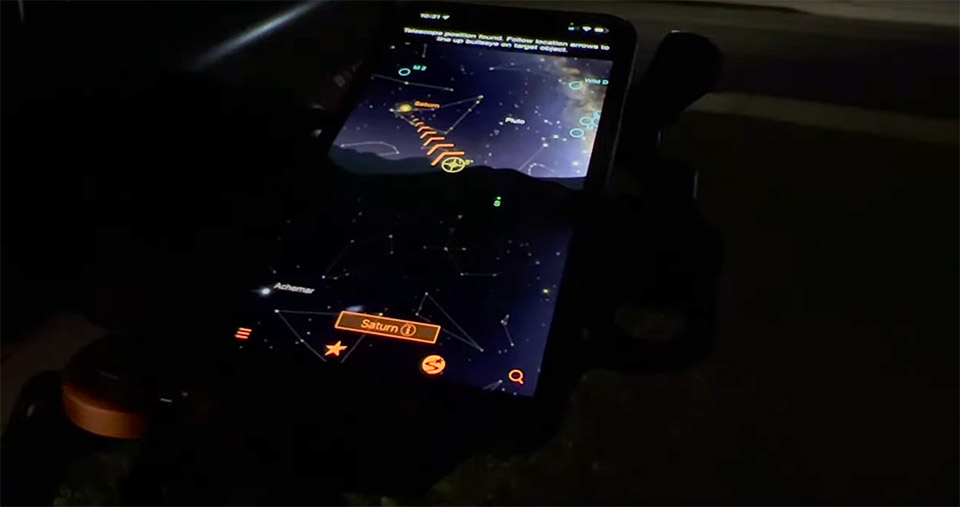 All the Starsense telescopes come with a dock where you can set up your smartphone. Once you have done that, fire up that app and give it the necessary permissions to use the camera.
The app will ask you to point the camera in the direction of any three visible stars. Using that, the app will be able to figure out your exact location and map out the sky for that night.
On your screen, you will then be able to see the names of the stars and objects that you are looking at.
You can also look up objects in the database like planets, galaxies, nebulae, and star clusters. The app will show an overlay with on-screen directions that will guide you so you can point the telescope at the object and center it.
Tech specs
| | |
| --- | --- |
| Model name | StarSense LT 114AZ |
| Manufacturer | Celestron |
| Telescope type | Newtonian / Reflector |
| Aperture | 114 mm (4.5″) |
| Focal length | 1000 mm (39.4″) |
| Focal ratio | f/9 |
| Assembled Weight | 10.4 lb (4.7 Kg) |
| Eyepiece slot | 1.25″ |
| Maximum magnification | 269x |
| Limiting magnitude | 12.8 |
| Included eyepieces | Kellner 25mm, Kellner 10mm |
| Tripod | Aluminum |
| Mount | Altazimuth |
| Other included accessories | Mount, red dot finder, 2x Barlow lens, smartphone dock, accessory tray |
| Price | |
Extended Review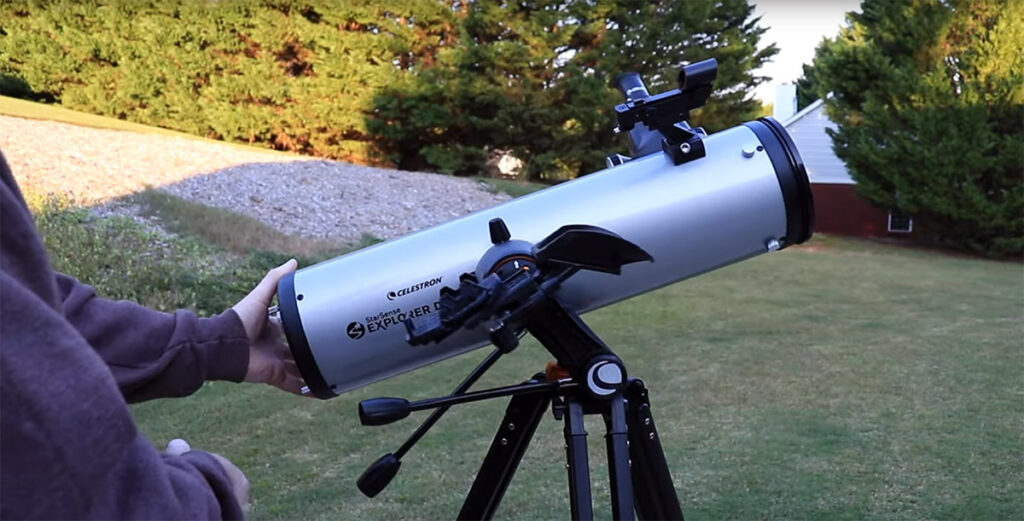 Let's start with the setup.
Assembling the device is very simple. I'd adventure to say that it is the fastest/easiest assembly I've seen for a Newtonian.
The tripod already comes with the mount pre-assembled so that's one less thing to do. The tube also doesn't require any pre-setup. All you need to do is connect a metallic rod to the mount and thread two holding screws into the tube, one on each side. Then you need to screw the red dot finder to the tube and align it.
It literally took me less than 5 minutes to go from opening the box to being able to use it. It is almost plug-and-play.
The mount is an Alt-Azimuth, which means it is controlled using only a stick that can move the telescope up-down or left-right. Newtonians usually come with EQ mounts which are more precise but are harder to use. I understand the reason for making the mount an AZ is because the finding is going to be done by using the app, so messing around with the ascension and declination knobs of an EQ mount is unnecessary. Some experienced users are going to miss having the precision in tracking but I feel that since it is a telescope targeted at beginners the AZ was a more congruent choice.
Once everything is set up the first you are going to need to do is to align the phone app with the telescope. It is better to do this during the day as it is easier to do using a tall tree, the top of a building, or an antenna. Then just leave the telescope in place so it is ready to use at night. This should only take a couple of minutes, but the instruction manual does a bad job of explaining it. Instead, bookmark this video so you can use it when your telescope arrives. You can also align the telescope at night but you will have to use a star as a reference which can be more difficult.
From that point forward, using the StarSense Explorer LT is really fun. On your screen, you will see the names of all the major stars, planets, and other celestial objects that are in your view at that moment. As you move your telescope, the screen will move with it and map out the new parts of the sky you are looking at. It is like having a small planetarium in your hands. If there's an object, in particular, you want to watch, you can tap on the database to select it and the app will add an overlay with arrows to indicate the exact point where you need to move the telescope too. Definitely much easier than having to learn to triangulate the position of the stars trying to figure out where something is like I had to with my first scope many years ago.
The optics are great. The mirrors are high-quality and you can tell they are well-manufactured. If you are upgrading from a 70mm-80mm telescope you will definitely notice a difference in power. Even though this is considered an entry-level scope, the 114mm of aperture it has on its main mirror makes it a pretty powerful device.
With the StarSense Explorer LT you should have no trouble looking at all the planets in the Solar system. You might be able to catch a few details of Mars like its poles on a good night. Saturn's rings are clearly visible as well as all the major Moon craters. Uranus and Neptune are very far away so you won't notice much of a difference there with a lower-powered scope, they'll still look like blue dots.
A Newtonian of this size can see stars and objects with a magnitude below 12.8. This means that you'll be able to see hundreds of galaxies, nebulae, and star clusters, including the most prominent ones like Andromeda, Centaurus, Bode's galaxy, etc.
The one are where this telescope could have done better is the included accessories. It comes with two Kellner eyepieces (25mm and 10mm) and a 2X Barlow lens. These are serviceable but you will eventually want to upgrade at least for Plossl eyepieces and a better Barlow like the Omni. Check out our list with the best budget eyepieces if you want to do that from the start without spending too much.
It could be important to note that Newtonian telescopes require occasional maintenance. This consists of cleaning the main mirror, and collimating (aligning) the mirrors every few months. This isn't too hard but if you plan on gifting this to a kid it might be worth considering the refractor StarSense instead which doesn't need any maintenance. Check out this article on the pros and cons of reflecting telescopes for more.
To conclude, the Celestron StarSense Explorer LT 114 AZ is an excellent, powerful entry-level telescope. Your money will be well invested in it. The DX version is larger at 130mm and comes with a slightly better mount but the price jump is too steep for the upgrade in my opinion. If you are looking for value this one is great although if you have the money to spare, the 130 is a nice step up.
Ratings
| | |
| --- | --- |
| Optics | 9 |
| Build quality | 8 |
| Ease of use | 10 |
| Portability | 8 |
| Innovation | 10 |
| Accessories | 7 |
| Price | |