When I started to really get into stargazing and getting mediocre results, I wanted to try every accessory out there. Surely the next one would fix my photos or deliver better views, right?
Not only did my eyepiece collection get big very quickly, but it also got very expensive. And in the end, obsessing about making minimal progress accessories did not work. I just had to get better at using the tools I already had and practice more with them.
The truth is, you don't need a huge eyepiece collection. The difference between a 16mm eyepiece and a 13 mm width a slightly wider field of view is negligible.
This is why now I recommend beginner stargazers to start with a very small collection and telescope eyepiece sets like the ones we'll review in this article are generally more than enough to learn everything you need and since they are bundled together, you can get them for a lower cost than if you were to buy each eyepiece individually.
I have had the chance to test most of these eyepieces and have selected the ones I found to be the best for each category.
If you are in a hurry and just want a quick recommendation, here's my favorite. If you want a deeper look at how the list was chosen and why, keep reading below.
Best pick – Orion Premium Telescope Accessory Kit
Best pick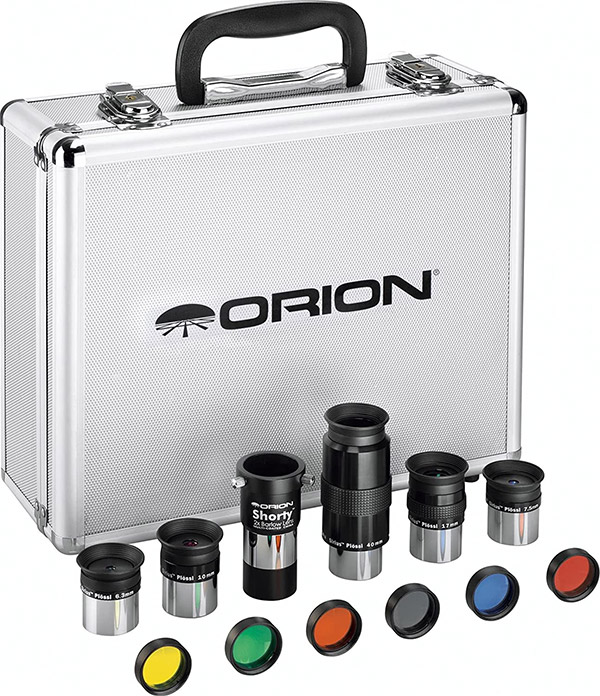 Orion Premium Telescope Accessory Kit
A high-quality set of eyepieces and Barlow lens that will be useful for a long time.
I'm going to start by saying that this eyepiece set is not cheap. If you have an entry-level telescope, the cost of this kit might be close to the cost of your telescope. If that's the case, I'd actually recommend you to keep scrolling and look at our "best value pick".
That being said, I think it is priced right and it is worth it.
The reason why the Orion Premium Accessory Kit is priced like that is that it includes only Sirius Plossl eyepieces, which are probably the best Plossl eyepieces on the market if you don't count the ultra high-end (and ultra-expensive) brands like TeleVue.
The selection of focal lengths is good. It comes with 40mm, 17mm, 10mm, 7.5mm, and 6.3mm eyepieces. I kind of wish it would come with a 25mm as well, but I think the sizes were selected thinking that a lot of telescopes come bundled with a 25mm Kellner so you can use that one if you want an eyepiece in that range. I really like that they went with a super low-powered 40mm instead of packing another mid-range eyepiece that would be redundant. All the eyepieces fit a standard 1.25″ slot.
It also includes a 2X Orion Shorty Barlow lens which is very high quality and quite pricey on its own. It is one of the two basic Barlows I recommend a lot on the site along with the Celestron Omni.
Like every briefcase-type of kit, it also comes with a bunch of color filters. To be honest, most of these probably won't see much use except for the Moon filter, but they don't add much to the price so they are a nice bonus.
The included case is sturdy and high-quality. It should keep the eyepieces safe from scratching.
This is one of those purchases that have a lot of value for the length of time you will use it. If you take good care of these eyepieces, they will outlast your telescope and will still be useful for the next one.
How to choose a telescope eyepiece set
Here are the main factors to consider when choosing an eyepiece set:
Eyepiece design
Not all eyepieces are created equal. Even if their exterior looks alike, the interior design can vary widely. Some eyepieces have simple 2 mirror designs that just transmit the light from point A to point, but there are complex designs that use 3, 4, and even up to 6 elements (mirrors) that improve light transmission, and create sharper, brighter, and generally better images. Obviously, these higher quality eyepieces are also pricier.
Telescopes usually come bundled with basic Kellner eyepieces. Kellners use the most basic 2-element design that has been used for centuries. And while they are serviceable as your first eyepieces, you will eventually want to replace them.
This is why it is important that your eyepiece kit includes EPs with a more sophisticated design.
The next step up from Kellners are Plossl eyepieces. Plossls use a 3-element design and are a considerable upgrade while still being reasonably priced. A good Plossl can go toe to toe even with the most high-end eyepieces.
That is why all of the recommended kits on this list are going to be at least Plossls. While there are cheaper sets, the whole point of getting one is to get a lot of value for your money and products that will be useful for a very long time.
Focal lengths (Power)
The focal length of an eyepiece is going to determine the magnification it provides. It is the number that you see advertised and it is given in mm (millimeters). A lower focal length equals higher power or magnification. So, for example, a 6mm eyepiece has a high magnification while a 32mm is low-powered. Each has its uses, for example, you will want to use high magnification on closer objects where you can get a lot of detail like the Moon or Mars. But high-powered eyepieces on galaxies resolve blurry, low-quality, and cropped images. For those deep-space objects that you want to appreciate in full, low-powered eyepieces are a better fit.
Manufacturing eyepieces on both extremes of focal lengths is expensive. Due to this, kit manufacturers like to bundle a bunch of mid-range eyepieces that are cheap and easy to make but that limit your viewing options and become redundant. The difference between a 17mm and a 14mm eyepiece is not significant. So, it is important to pick a kit that includes a wide variety of focal lengths.
Filters
Filters don't matter when purchasing a telescope eyepiece set.
The only filter that you will use occasionally for stargazing is the Moon filter (see: do you need a Moon filter?). The rest you will use once or twice just to test them out and then forget about them. And even if they were useful, they are super cheap so buying them separately is not an issue.
The color filters in eyepiece kits are just there as filler to make it look like the set is offering more value. Don't value them too much, focus on the eyepieces.
Best telescope eyepiece set
Best value – SOLOMARK Telescope Eyepiece and Filter Set
Best value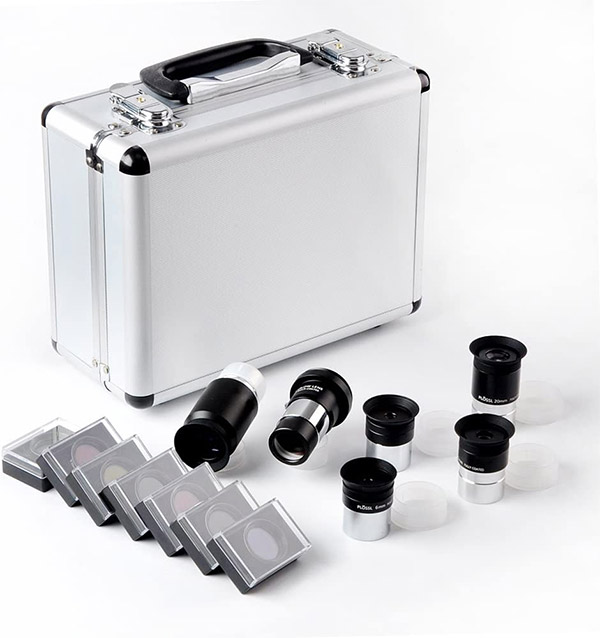 SOLOMARK Telescope Eyepiece and Filter Set
Best price to value ratio in this list. This set contains solid eyepieces at an excellent cost.
SOLOMARK is a brand that can be hit or miss for me. I've reviewed a couple of their telescopes before with mixed opinions. But this is definitely a hit. Their 5-eyepiece set packs great value at a very reasonable price.
This kit comes with five Plossl eyepieces and a 2x Barlow lens. The eyepieces are 6mm, 8mm, 12.5mm, 20mm, and 40mm which is a good range of options. When you add the included Barlow, it basically becomes a 9-eyepiece kit (the 12.5mm at 2X is a bit redundant with the 6mm so I'm discounting it).
The eyepieces are good quality. I found a tiny bit of warping in two of them during testing, but nothing major. If you don't know what to look for you won't even notice it. Other than that they showed sharp, bright, and clear images.
The included Barlow lens is not advertised as a Plossl, and I'm pretty sure it isn't. However, it is still serviceable, just know that if your telescope already came with a 2X Barlow, this one won't be much of an upgrade.
Overall, the SOLOMARK telescope eyepiece set is a great value pick. It bundles high-quality EPs in a good variety of focal lengths at a price that is hard to beat. It's a great choice to match with an entry-level or even a mid-range type of telescope.
Best budget pick – SVBONY Telescope Accessory Kit
Best budget pick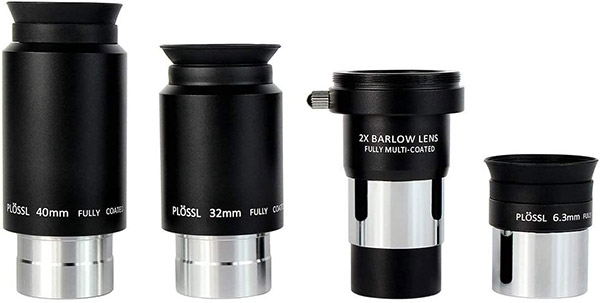 SVBONY Telescope Accessory Kit
It covers both ends of the focal length range and doesn't include any unnecessary filler accessories.
This is a great kit for just a fraction of the money. It takes out all the bells and whistles from the other kits, but keeps the most important items, allowing SVBONY to put a very affordable price tag on it.
It comes with 6.3mm, 32mm, and 40mm eyepieces which cover both extremes of focal lengths. The mid-range can be covered by the eyepieces that came bundled with your telescope which are usually 10mm-25mm.
It also comes with a 2x Barlow lens which I have reviewed in the past with good results.
The only potential gripe with this kit is that all the eyepieces have a field of view of just 42 degrees. This is not a problem for the 32mm and 40mm, but it might make it tricky to focus the 6.3mm.
Other than that, these eyepieces showed solid performance with good contrast, brightness, and color.
This kit does not include a case but you can easily adapt one of these cheap camera gear cases to protect them.
Best ultra-wide – SVBONY 68 Degree Ultra Wide Angle Eyepiece Set
Best Ultra-Wide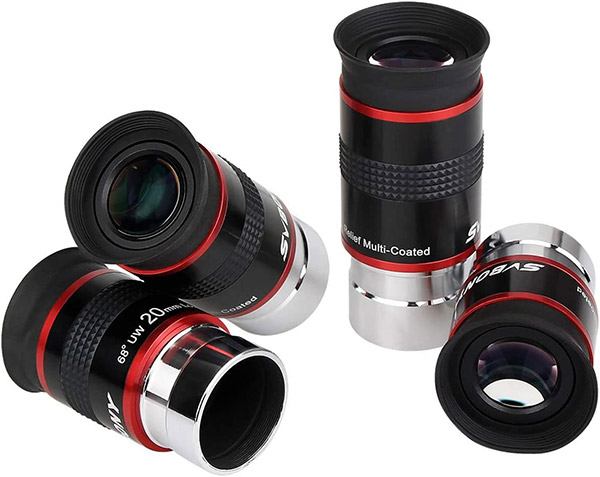 SVBONY 68 Degree Ultra Wide Angle Eyepiece Set
Excellent eyepieces packed together at an amazing price
I debated whether to pick this kit as the best value one because it is a strong contender. The only reason I didn't is that ultra-wide eyepieces are not for everyone as they have low eye relief making them hard to use for people wearing glasses, but other than that, it might offer the best quality-to-price ratio in this list.
Ultra-wide eyepieces have a large field of view, that is the area of the sky that you can see in your image. They are more expensive to make so they usually come at a higher price, which is also why there aren't many kits that include them because manufacturers prefer to sell them individually.
The quality of these eyepieces is impressive for the price. I've tested some SVBONY products and they are generally good, but these can easily compete with the most popular brands in terms of quality.
The set comes with four eyepieces (6mm, 9mm, 15mm, and 20mm) which covers perfectly the high and mid focal-length range. Ultra-wides usually are not made for low magnifications (25mm and above) because you are already getting a generous field of view with those. If you want one of those, there's a kit with a 40mm and a 2X Barlow lens that perfectly compliments this kit as it also doesn't include a Barlow.
Best pick runner up – Celestron Eyepiece and Filter Accessory Kit
Best pick runner up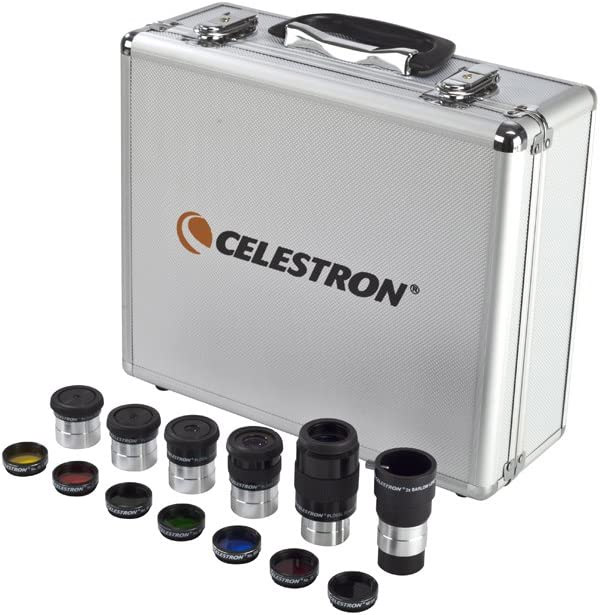 Celestron Eyepiece and Filter Accessory Kit
High-quality eyepieces and filters with the only caveat that it is a bit expensive.
This eyepiece set is a runner-up to the best pick. The quality is comparable and the included range of eyepieces is almost the same except this includes a 32mm instead of the 40mm. But in general, they are comparable in every other area.
The only reason I picked the Orion kit instead is because, at the time of writing, this has a higher price. If you can find it on sale or at a lower price than Orion's, go for it.