A good Barlow lens is the key to building a solid collection of eyepieces without breaking the bank. It is one of the most important purchases you can make to improve your viewing sessions as it will give you instant access to double the magnification options you had before.
It is also important to pick the right Barlow lens because any addition to the optic chain of your telescope a.k.a adding more lenses in the middle is going to result in loss of light and therefore brightness and color. It will also open the possibility for optical aberrations, or imperfection to appear. Because of this, it is important to choose a Barlow lens of high quality that will minimize these problems.
We reviewed the Omni 2x Barlow made by Celestron, one of the most reliable, popular brands when it comes to astronomy gear for enthusiasts. We have already talked about this product before when we chose it as our pick for best entry-level product in our list of the top Barlow lenses, but now it's time to make a more in-depth review.
Is it a good Barlow lens? Is it worth the purchase? We tested it and here are the results.
Verdict
If you just want the quick verdict, here it is.
The Celestron Omni 2x Barlow is a solid purchase for beginner astronomers and enthusiasts. This is an accessory that is going to last you a lifetime if you take good care of it which makes it worth the slightly higher price above similarly specced Barlows from other brands.
The images don't lose any brightness or color when compared to using just the eyepiece. The materials and quality of the lenses are everything you could expect from a reputable brand like Celestron. The lenses are multi-coated, and most of the body is metallic.
It can be used with any 1.25″ telescope of any brand and fits any 1.25″ eyepiece comfortably. The thumbscrew secures them nicely without scratching them.
If this is your first Barlow, or if you are looking to upgrade a generic Barlow that came with your telescope, getting this is a no-brainer.
Here are our ratings.
| | |
| --- | --- |
| Build quality | 9/10 |
| Lens quality | 8.5/10 |
| Locking mechanism | 8/10 |
| Light transmission | 9/10 |
| Reflection reduction | 8.5/10 |
| Eye relief | 10/10 |
Technical specifications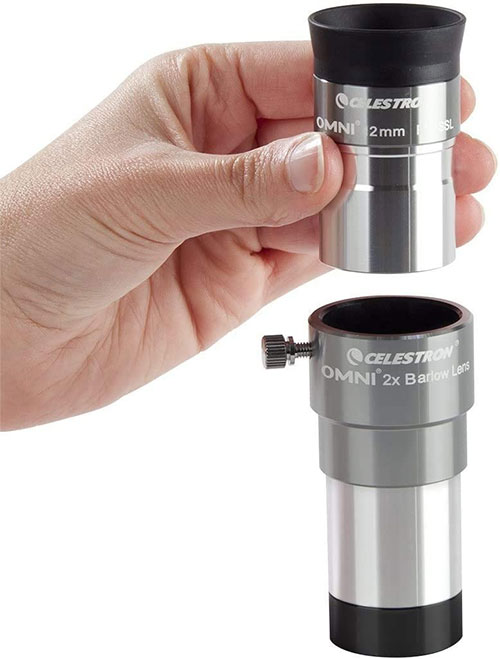 Here are the specs of this device.
| | |
| --- | --- |
| Brand | Celestron |
| Magnification multiplier | 2x |
| Eyepiece barrel | 1.25″ |
| Maximum focal length | 25mm |
| Minimum focal length | 18mm |
| Multicoated lenses | Yes |
| Blackened edges | Yes |
| Weight | 2.82 oz (80 g) |
In-depth review
Celestron is one of the most well-known brands when it comes to optic devices. They have been in the industry for over half a century and have earned the trust of their users thanks to their high-quality products. You can rarely go wrong by choosing Celestron.
Their "Omni" line this Barlow Lens belongs to is their line of eyepieces for beginners, enthusiasts, and people who are looking for a high-quality, but budget-friendly accessory.
The multiplier is a simple 2x factor that will double the magnification levels you have access to with your eyepiece collection. For example, if you have eyepieces of 9mm, 14mm, and 25mm now it will be as if you had eyepieces of 4.5mm, 7mm, and 12.5mm too, giving you a wider range of options to play with.
The build quality on this and the rest of the Omni line is part of what makes it so reliable. The body is almost completely metallic, making it sturdier and more durable. As long as you take good care of the lens, this thing will last you forever so you will definitely get your money's worth out of it.
Some Barlows advertise "blackened edges" as their features, but once you are actually using them, it turns out they are just slightly opaque, making your image lose contrast and creating reflections. The edges in the Omni 2x are actually deep black, making your image pop a little bit more and look sharper.
You know a Barlow is good when you don't notice it's there in terms of image quality. The image must look just as bright and the colors have to be the same as if you were using only the eyepiece. For this to happen, Barlows need lenses that transmit light accurately and without loss, but making said lenses can be expensive because it can take multiple layers of coating for this to happen and some brands are known to lie about the coating process of their lenses. This is not the case here. The lenses in this thing actually deliver the "multi-coated" promise you see in the box.
If you take apart a Celestron Omni 2x, you can visibly notice the difference in the quality of the lenses when you compare them to a generic Barlow like the ones included in some entry-level telescopes.
If you are looking for a budget-friendly Barlow 2x. This is our recommended product. It will go well with any 1.25″ eyepiece and it's a great match for low to mid-range telescopes in the 70mm to 150mm of aperture. If you have a higher-end telescope than that then you might want to consider something a little bit more professional like an X-Cel XL
Eyepieces to pair it with
This Barlow lens can be used with any 1.25″ eyepiece you already have, but if you want to match the look and feel or if you are looking for eyepieces of similar quality, it goes really well with these.
When you have a Barlow, you will want to stick to eyepieces above 9mm because using them with a super high-powered one like a 6mm might result in more magnification than your telescope can handle and you'll just get a blurry image. You will just need 2 or 3 sizes to have a good collection, we'd recommend the 9mm and the 25mm as a core, and maybe a 15mm.
Summary
The Celestron Omni 2X Barlow lens offers quality optics, sturdy manufacturing, and a reasonable price
It is worth it for long-term use. It will last fro a very long time
It is recommended for entry to mid-level telescopes.