One of the rising brands in the optics industry is Svbony. They offer entry-level budget products with prices that seem too good to be true. This has people wondering if their products are good and if they are worth a try.
The Svbony Barlow lens line currently has 5 different Barlows, including 3 different 2x versions. We have had the chance to review a few of these and put them to the test to help you decide if they can be a good purchase.
Svbony is an optics brand based in Hong Kong. They make telescopes, microscopes, binoculars, hunting scopes, and accessories for all these categories. The company is young, but it has gained popularity due to their friendly pricing and reasonable quality of the products in relation to the cost.
They offer 3 options of their 2x Barlow lens in different price ranges and with different features. Let's take a look at each of them.
SVBONY Barlow Lens 2X with M42x0.75 Thread Camera Connect Interface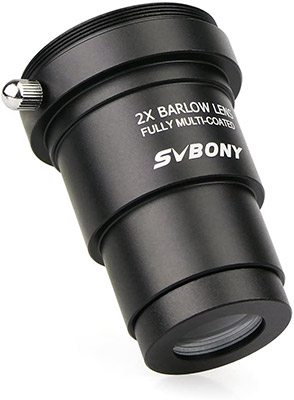 This is the most basic model of the Svbony Barlow lens line. It comes with the following features.
| | |
| --- | --- |
| Magnification multiplier | 2X |
| Barrel size | 1.25″ |
| Blackened edges | Yes |
| Chromatic correction | Yes |
| Multi-coating | Yes |
| T-Thread | Yes |
On the surface, it seems like it meets all the requirements of a quality Barlow, but does it hold up to the expectations in practice?
Well, we tested it and while it is nothing spectacular, it is more than good enough for the price in terms of optics.
The multi-coating is not nearly as good as higher-priced Barlows, but just the fact that it has multi-coating in its price range is good enough.
While the specification promise blackened edges, the one we got did not have them or they weren't dark enough to be even noticeable so we are going to have to substract some points for that.
The colors and brightness are ok. Of course there's a lot of room for improvement in this area, but if you are a beginner who still isn't able to differentiate the small details, you'll find the visuals reasonably good.
One of the most marketed featured for this Barlow is that it comes with a male DSLR connector in the back. While this is handy and a welcome feature, we are not sure, this is the kind of Barlow you will want to pair with an expensive DSLR. If your objective is to get started with astrophotography and you already have the camera for that, you would most likely want to go with a Barlow with better optics so you can get better images and reduce editing time. So while the T-connector is a nice feature, it seems weird that it it is included in such a budget product.
Do we recommend it?
We would only recommend this if you are on a super tight budget. The other two 2X Barlows from Svbony that we review below offer better optics and the price increase is negligible.
The only other case we'd recommend this Barlow is if you have the know-how to build DIY optic devices and you simply need the body to turn it into something else.
SVBONY SV137 2x Barlow Lens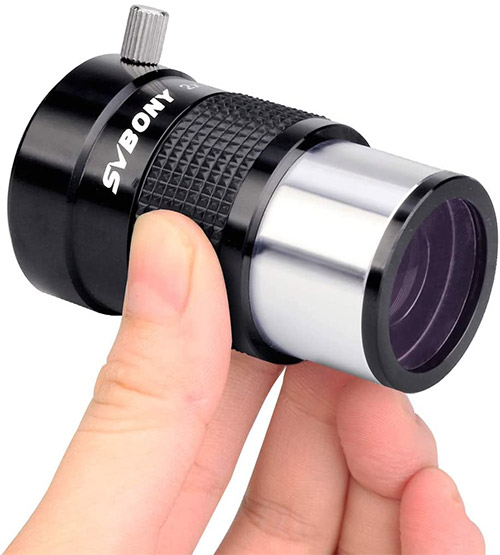 The mid range Barlow in the Svbony line of 2Xs is the one that impressed us the most. Let's take a look at its features:
| | |
| --- | --- |
| Magnification multiplier | 2X |
| Barrel size | 1.25″ |
| Blackened edges | Yes |
| Chromatic correction | Yes |
| Multi-coating | Yes |
The first thing you notice when you compare this SV137 to its younger brother reviewed above is the jump in build quality.
This one comes with an anti-slip ring, that while is simply made of plastic instead of rubber like in more premium accessories, it's a nice addition and should be good enough to prevent a few accidents. The outer case is also made of metal instead of plastic and the internal brass ring will take much better care of your eyepieces when you connect them.
The optics in the SV137 are slightly better than in the previous model. Mostly thanks to the facts that is has two elements in its internal design instead of just one. We took it apart to take a look at the inner elements and the higher quality of the lenses is also noticeable.
Do we recommend it?
Yes. If you are searching for a budget Barlow, this is the one. It has the right combination of value for an excellent price and it is a way better option than the ultra-budget version for only a small jump in price.
As you will see in the review of the SV118, that one starts competing in price against other brands where there are better options and the jump in quality is not big enough. This is the one that hits the sweet spot of price vs value.
SVBONY SV118 2X Achromatic Metal Barlow Lens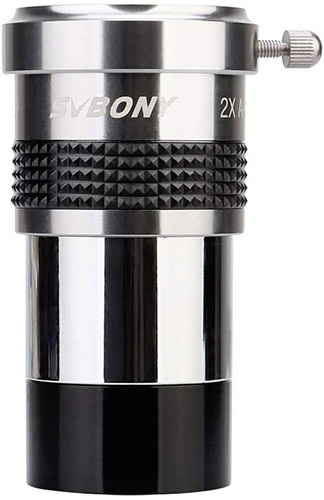 The SV118 is the higher priced product of the Svbony Barlow line. Let's take a look at its specifications:
| | |
| --- | --- |
| Magnification multiplier | 2X |
| Barrel size | 1.25″ |
| Blackened edges | Yes |
| Achromatic | Yes |
| Multi-coating | Yes |
From what we can tell, this is mostly the SV137 with a better outer case and maybe slightly better-treated lenses. We didn't notice much of an improvement in optics in comparison to the SV137, but that's ok as they were already reasonably good.
Beyond that, there's very little to say about this product that we haven't already said above in the review of the SV137.
Do we recommend it?
Honestly, no. If you are looking for an entry level budget option, just save some money and get the SV137.
At the price range the SV118 is at, it starts to compete with other brands. You'd be better off getting something like the Orion Shorty 2X
Alternatives
If you are still not convinced by any of the Svbony products, check out our guide to the best Barlow lenses. There's an option in there for every type of budget and user.