We have reviewed multiple telescopes from Solomark in the past, but we hadn't had the chance to check out the biggest and most sophisticated telescope in their lineup, the Polaris 130EQ.
It is difficult for newly established brands to gain market share in the optics and astronomy industry because people tend to stick with the brands they know, but Solomark, which was just started in 2014, has managed to step in and gain some fans thanks to their very reasonable prices while keeping good quality optics.
It is rare to say that a 130mm aperture telescope is the biggest device a brand offers because most brands have scopes way larger than that, but Solomark focuses only on the entry-level and enthusiast market for now.
We tested the Polaris 130EQ in 3 different sessions with clear conditions. We used it for lunar, planetary, and deep space observations. The latter is the one category where telescopes with smaller apertures don't have the power to be good at, but a 130mm can handle it much better. We compared it with a borrowed Celestron Astromaster 130EQ which has similar specs and is its direct competition.
The verdict
If you just want to skip all the talk and hear if this telescope is a good purchase or not, here's the deal.
The Solomark Polaris 130EQ is absolutely worth the money. It's a solid telescope with great optics at an incredible price.
If you are a first-time buyer looking to get into the hobby you will learn a lot with this telescope and will definitely enjoy it. The learning curve might be a bit steep at the beginning as it has more professional features than a basic refractor scope, but stick with it for a few viewing sessions and you'll get the hang of it.
The points against this telescope are things that are not going to detract away from your viewing experience or that can be easily upgraded. Solomark cut corners in the right areas to keep the price down without sacrificing the thing that matters the most which is the quality of the optics.
This is also a telescope we'd recommend for someone looking to upgrade from a 70 or 80mm refractor. It will be the perfect second step in your journey to watch the universe while still being at a reasonable price.
One important thing to note is that we wouldn't really recommend the 130EQ for kids unless they'll always be accompanied by an adult. The tube is too heavy and the setup might be too difficult for them.
This also isn't a travel telescope. While it's lighter than other telescopes of the same size, it's still designed for static use from a window or backyard observation.
| | |
| --- | --- |
| Optics | 9/10 |
| Build quality | 7/10 |
| Accessories | 7/10 |
| Ease of use | 8/10 |
| Portability | 7/10 |
| Price | 9/10 |
| Verdict | Good value |
Technical specifications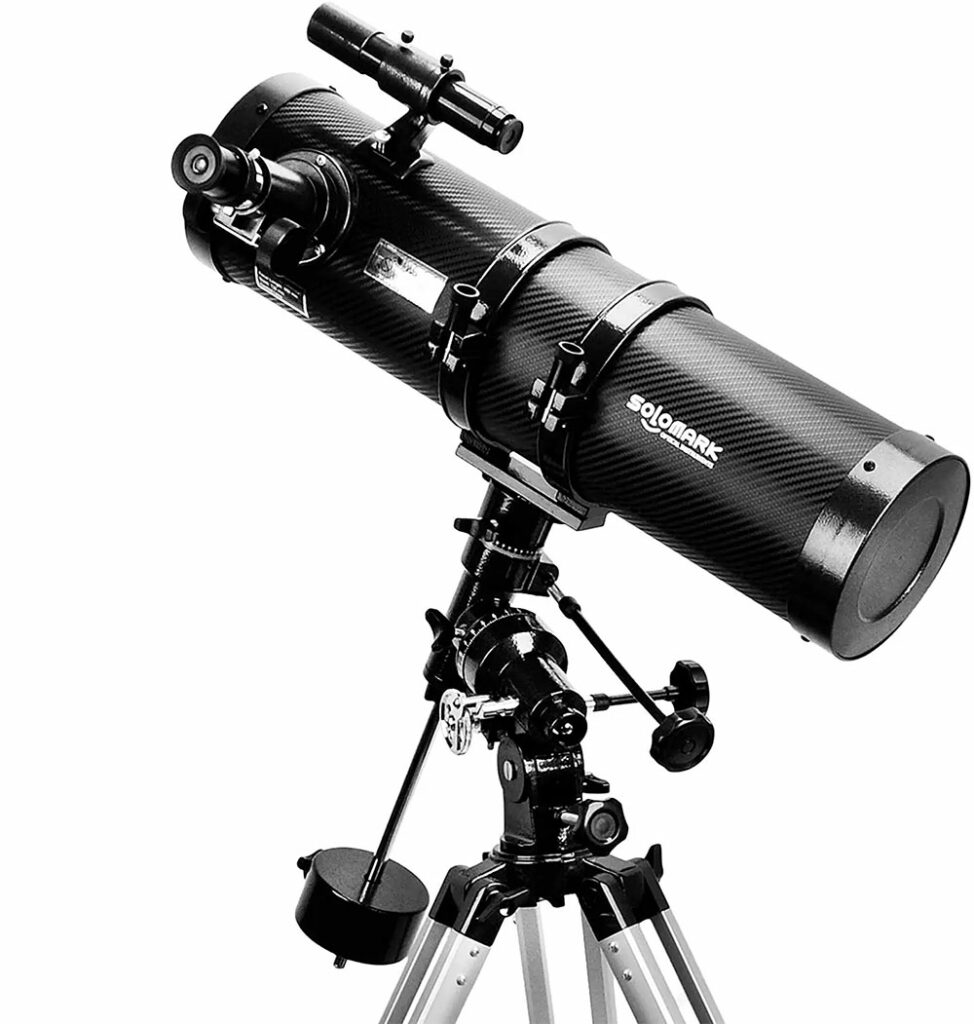 When it comes to the numbers and technical specifications, this telescope offers high power with a large aperture, a generous focal length, and a solid build.
| | |
| --- | --- |
| Name | Solomark Polaris 130EQ |
| Telescope type | Reflector |
| Aperture | 130mm (5.11″) |
| Focal length | 650mm (25.6″) |
| Focal ratio | f/5 |
| Weight | 15.1 Kg (33.4 lb) |
| Finder scope | 6 x 30 |
| Eyepiece slot | 1.25″ |
| Maximum magnification | 260x |
| Included eyepieces | Kellner 10mm, Kellner 20mm |
| Tripod | Aluminum |
| Other included accessories | 1.5x Barlow lens, moon filter, phone adapter |
In-depth review
Let's start by taking a look at the design.
The Polaris 130EQ is a reflector telescope (sometimes also referred to as Newtonian). This is the ideal design for a telescope with a larger aperture because refractors start to get too expensive in this range. We have a whole article about the pros and cons of both types of telescopes, but in short, it means this telescope is going to be able to capture more light, allowing for greater magnification and more powerful imaging, but is going to be a bit less friendly to use and requires a bit of maintenance. Because of this is important to clarify from the start that this isn't a telescope recommended for kids under 12 years old unless they are going to be accompanied by an adult.
Setting up the telescope takes a bit of time, but it's relatively simple. If you have ever put together an Ikea desk, or an office chair, this should be a piece of cake. This is necessary because due to their additional size and weight, reflectors need a sturdy base.
The materials in the tripod have been chosen for two reasons. To reduce weight and to keep costs down. The tripod is made of aluminum and while it doesn't feel as premium as stainless steel, it's good enough and it keeps it from being too heavy. We didn't test this long enough to know if the tripod can have structural problems long-term, but it doesn't look like that would be the case.
When it comes to the tube, that's where Solomark doesn't cut any costs, and they made it out of carbon fiber which makes it lighter and gives it a beautiful and elegant black finish.
The optics of the Polaris 130EQ are great. The lenses are high quality and the light transmission produces bright and colorful images. A telescope in this aperture range is ideal for lunar and planetary viewing. You will be able to recognize the mounts and geology of the Moon with high level of detail. Mars is also a great target, and the characteristic elements of other planets like Saturn's ring are no problem.
Deep space observing is also possible. The 130mm of aperture will allow you to go to a maximum useful magnification of 260x approximately. If you are interested in astrophotography, this is an excellent telescope to start with.
The accessories included in the box are one of the few things this telescope does badly at. It comes with two Kellner eyepieces, a 10mm and a 20mm, as well as a generic 1.5x Barlow lens. These eyepieces combined with the Barlow will give you access to the following magnifications: 32.5x, 43x, 65x, and 86x.
None of those get close to the level of magnification this telescope can reach so that's a problem from the start. While Kellners are serviceable eyepieces, with a telescope of this power you will start noticing the differences between them and more sophisticated eyepieces like Plossls.
You will quickly want to upgrade both the eyepieces and the Barlow lens. Consider something like the Celestron Omni series for this. A 2x or even a 3x Barlow will also allow you to get more out of the telescope.
It also comes with a Moon filter and a smartphone adapter out of the box. No complaints about those, they are always great little extras and the quality is fine.
The mount is a German Equatorial mount. If you are new to astronomy you will learn a lot by using it. The tracking and stabilization feel good. We didn't notice any shaky issues.
Conclusions
Who is it for?
First-time adult users, teenager's first telescope, people upgrading from a 70-90mm telescope
Who it isn't for?
Kids, travelers without much space in their car or who want a fast assembly process.
Is it a good buy?
It depends. It is great value for the price. If you are looking for a good price to value ratio, then it is a great buy, if you are looking for the best of the best in this aperture range, there are better options like the Orion Spaceprobe 130ST. If you can find it on sale, even better.