Updated for 2022: Replaced the SVBONY Zenith for a newer model, and added some revisions.
In the stargazing and astronomy circles, people are always showing off their newest telescope and their overkill eyepieces that cost an arm and a leg. And yet, when you look through their scopes, the image they are getting isn't that great. That is because there is a fundamental piece of the optic chain that is often overlooked: The star diagonal.
Star diagonals – also called erecting lenses – are often the missing piece that takes your optic system from "good" to "great". The ones that come included with most telescopes are usually serviceable, but if you really want to get the best view out of your device, upgrading it is essential.
Some measurements tell us the diagonals included with telescopes transmit only about 80% of the light on average. Better diagonals like the ones featured below can transmit between 90% and 95%. They'll often advertise 99% but that is simply not realistic in real-life conditions. Still, this improvement in light reflection will result in better contrast, sharper images, and richer colors.
We have tested a few dozen diagonals over the years and we have selected the ones that perform better in most conditions for this list.
If you are in a hurry, here's our best pick.
Best value: Celestron Dielectric Star Diagonal 1.25″ with Twist Lock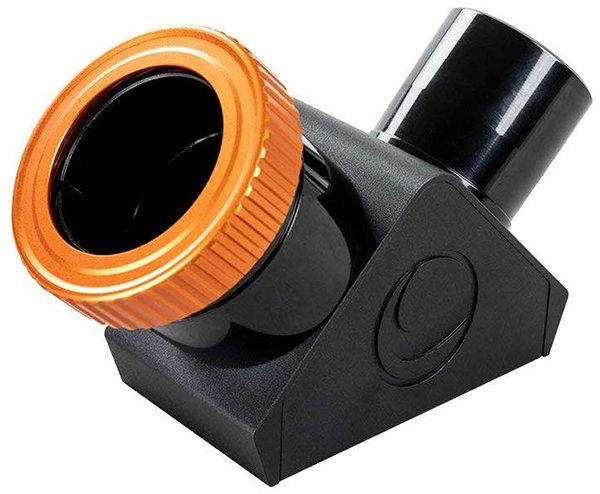 | | |
| --- | --- |
| Eyepiece connection | 1.25″ (50mm) |
| Left connection: | 1.25″ barrel (50mm) |
| Image orientation | Upright, Laterally reversed |
| Reflectivity | 99% reflective surface |
| Deflection angle | 90° |
| Rating | |
| Price | |
When it comes to telescopes and their accessories, there is always one product that shines above the rest and that makes you wonder if it should be priced a bit higher. That's the case of the Celestron dielectric star diagonal.
This Celestron diagonal offers high levels of light reflection and dielectric mirrors at a very reasonable cost. Dielectric mirrors are simply a modern technique of manufacturing optic mirrors that solve deterioration and light scattering issues that older mirrors used to suffer from.
The premium feature in this diagonal is the twist-lock that holds the eyepieces in place. It is close to the quality and support of the clicklocks in the high-end Baaders mentioned above. Some brands have tried to replicate those mechanisms and their results aren't as good, with their locks feeling very insecure. Celestron's version of this works great and it comes in very handy when switching eyepieces in the dark or while wearing gloves.
While the diagonal doesn't have any unique features, it performs the best when it comes to reflectiveness out of the other products in the same price range (and even some that cost more). You will not be disappointed by the image quality on this and will see an instant upgrade compared to pre-packed diagonals.
Celestron is a trustworthy brand for consumer telescopes. They are our favorite brand when it comes to mid-range devices.
A 2″ version of this dielectric diagonal is also available.
Pros
Cons
– High reflectiveness on par with more expensive diagonals
– Twist-lock mechanism works great
– The bright orange design
How to pick a star diagonal
Choosing the right diagonal for you is not too complicated. You only need to follow a few rules. Here are the two main considerations that you need to consider when selecting one.
Pick the right size
There are two standard sizes for telescope > eyepiece connectors: 1.25″ and 2″.
If you don't know your telescope's connector size, there's a 99% chance it is 1.25″ as it is the most common, but double-check it before buying if you'd like. If you don't know the model of the telescope to look up the specs, try looking at the eyepieces, they often have the size engraved somewhere. Another option is to simply grab a measuring tape or ruler and measure the diameter of the hole.
Even if you purchase a 2″ diagonal you could connect it to a 1.25″ telescope using an adapter, but there aren't many benefits to that -unless you want to play around with the field of view – so it's better to just buy one that fits it from the start.
Pair lenses with lenses, mirrors with mirrors
There are two types of star diagonals: prism diagonals and mirror diagonals. The difference is the first uses lenses, and the second one, as the name implies, uses mirrors.
For the most part, you will want to match prism diagonals with refractor telescopes and mirror diagonals with reflective telescopes so you match lenses with lenses and mirrors with mirrors. In theory, there shouldn't be that much difference between each other and you should be able to mix and match them, but over the years as we have tested many diagonals, this rule just seems to hold true for most telescopes.
In the case of telescopes that use both lenses and mirrors like SCTs (Schmidt-Cassegrain Telescopes) mirror diagonals seem to slightly outperform prisms, but you can go with either.
Will a star diagonal improve your image?
Before you go and spend your hard-earned money on a star diagonal, read this.
There is an easy method to immediately tell if the diagonal you are using is a problem. By using it you should be able to quickly tell if upgrading will be worth the money.
Remember a telescope is an optic chain made of various components. This chain is only as good as its weakest link. A high-end diagonal won't help much if your telescope isn't capturing enough light.
Okay, here's the method.
Take a look at any object with your telescope using the current diagonal. Really try to remember what the details and colors look like. Better yet, take a photo if you have access to a camera adapter.
Next, remove the diagonal and connect your eyepiece or Barlow lens directly to the body of the telescope. Take another look at the object or take a second photo.
Do you see a noticeable difference? Is the second image better than the first?
If the answer is yes, then your diagonal is definitely a weak link that is creating distortions in your image and you could benefit from an upgrade. If not, then you might want to look to upgrade the other components first.
Best star diagonal brands
Baader Planetarium – This brand makes the best star diagonals in our opinion. Their products are manufactured in Germany and their focus is on high-end optics. You will not find entry-level products in their lineup. They are like the BMW of optics. This is why we gave them the honor of the best pick.
Tele Vue – We talk about Tele Vue every time we write a buying guide because their products shine in every category. One of the most loved brands by astronomers around the globe.
Orion – We don't talk much about Orion because we find their telescopes and accessories to be mostly in the middle-of-the-pack range when it comes to quality, but they actually make some great diagonals.
Best Budget Pick: SVBONY SV188P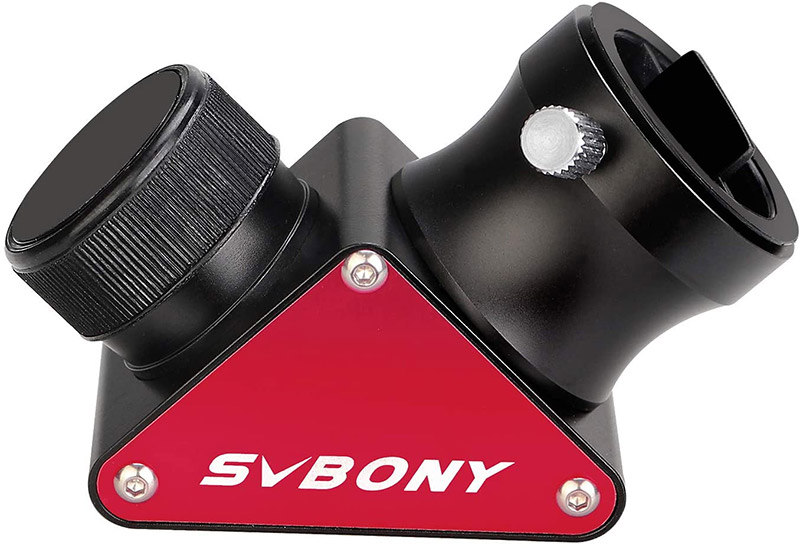 | | |
| --- | --- |
| Eyepiece connection | 1.25″ (32mm) |
| Left connection: | 1.25″ barrel (32mm) |
| Image orientation | Upright, Laterally reversed |
| AR-Coating | 99% reflective coating |
| Deflection angle | 90° |
| Rating | |
| Price | |
So, you aren't looking forward to spending the kind of money that you would spend on an entry-level telescope just for a diagonal? Here's a great budget pick.
SVBONY is another brand we regularly mention in our reviews. They focus on the entry-level market for astronomy. Their products are constantly exceeding the performance we expect from them after looking at their prices.
This mirror diagonal is designed for two types of users:
As a replacement for a broken or malfunctioning diagonal
As a small upgrade for the diagonals included in budget or off-brand telescopes
If you are using a telescope from a well-known brand like Celestron, Orion, or Meade Instruments, and it has an aperture of 100mm or larger, you will barely see a difference between this and the built-in diagonal. It's almost a lateral move. Our recommendation would be to save your money until you can get a more premium model.
But if you have a telescope in the 50mm-90mm range of aperture, the manufacturers often cut corners when it comes to accessories and include very questionable diagonals. In that case, you will see an immediate improvement.
The materials and build quality are pretty good. This model includes a brass ring and has much better build quality than the previous model SVBONY offered a few years back.
As for the optics, it has some nice light transmission, but it doesn't do any chromatic correction so expect good colors and contrast, but not sharper images.
Because of the company's focus on entry-level devices, there is no 2″ version of this diagonal.
Pros
Cons
– Good quality-to-price ratio
– Cool design
– Good materials
– Only an upgrade for low-aperture telescopes
– Not suitable for reflecting telescopes
Best 2-inch: Baader Planetarium MaxBright 2-Inch Mirror Diagonal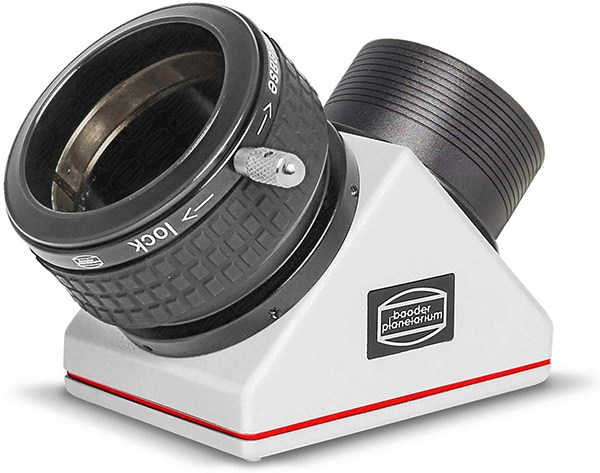 | | |
| --- | --- |
| Eyepiece connection | 2″ (50mm) |
| Left connection: | 2″ barrel (50mm) |
| Image orientation | Upright, Laterally reversed |
| Mirror | Oversized 2″ dielectric 1/10 wave mirror |
| Rejection | UV and IR radiation safe |
| Deflection angle | 90° |
| Rating | |
| Price | |
Finding accessories that fit a 2″ barrel can be challenging. The selection is limited because most of the market focuses on the more common 1.25″ size. Thankfully, Baader does care about the higher-end market and makes all kinds of products for this size, including this amazing diagonal.
This is the second diagonal from Baader Planetarium on our list. This should tell you how much we trust this brand's quality when it comes to high-end optics.
You will find the following advanced features in this diagonal:
Scratch resistant hard coated mirror
Rejection of deep UV and IR radiation, making it safer for solar viewing as long as you are using the appropriate solar filters.
Largest possible clear aperture for widefield application
Clicklock mechanism to hold eyepieces/Barlow lenses safely
The click-lock mechanism in this is just amazing. It replaces the classic thumbscrew holders and replaces it with a clamp that you simply have to turn around to secure. The quality of these mechanisms varies from brand to brand with some still feeling a bit "shaky". They feel unsafe when you are using it with something heavy on top like a DSLR camera. The one in Baader diagonals, however, is the best we have tried and feels like your expensive gadgets are absolutely secured. We even tried using it on its side where additional torque is applied to the diagonal and it held perfectly.
The quality of the mirror in this is incredible. You can appreciate it simply by looking at it. It's so well manufactured it is almost invisible. As soon as you set it up you can notice an upgrade in the visuals. True colors, increased detail levels, zero optic aberrations. It could very well be the last diagonal you will ever need.
There is no 1.25″ version of the MaxBright, but it could technically be adapted using a reducer that is sold separately. Using a 2″ diagonal and eyepieces will get you a wider field of view.
If you are using a high-end telescope and want to get the most out of it, you simply can't go wrong with the Baader Maxbright.
Pros
Cons
– Features for solar viewing
– Excellent optics
– Clicklock mechanism
– No 1.25″ version
Best mid-range: Baader Planetarium T-2 High Angle Prism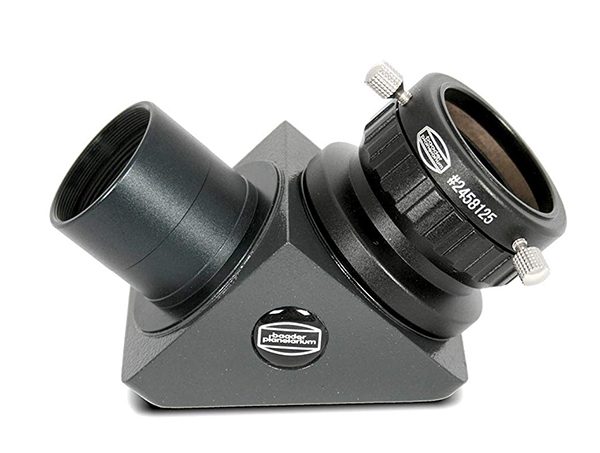 | | |
| --- | --- |
| Eyepiece connection | 1.25″ (32mm) |
| Left connection: | 1.25″ barrel (32mm) |
| Image orientation | Erect image, Mirror inverted |
| Reflection surface | Total reflection |
| AR-Coating | High-transmission, multicoated |
| Deflection angle | 90° |
| Rating | |
| Price | |
Baader Planetarium is a German company focused on making telescope equipment. It is a bit of an unknown brand in the U.S. but they are one of the top manufacturers when it comes to high-end optics.
The Baader Planetarium T-2 is the first recommendation across online forums and astronomy enthusiasts whenever the "what is the best diagonal?" question comes up (which is often).
This particular version is made for standard 1.25″ eyepiece connectors. This is the most common size for home telescopes. If you are in doubt about the size of the eyepiece barrel in your device, take a look at the specs just to be sure, but there's a 99% chance it's 1.25″.
The Baader Planetarium T-2 greatly improves the contrast of the image and reduces or even eliminates any chromatic aberration. This is especially notorious when it comes to observing planets and the Moon. You will start to notice additional details and sharper edges on targets like Saturn, Jupiter, Mars, and of course, the Moon.
The only detail we would improve in this diagonal is the mechanism to secure eyepieces. It uses thumbscrews which work just fine and hold the eyepieces securely in place, but there are more modern options. Some of the 2″ diagonals by Baader use a different "click-lock" mechanism that is just more practical and easier to use. We wish they could bring that technology to this model. Other than that, it has everything you could wish for.
Almost any telescope still using the built-in diagonal will see a HUGE improvement by upgrading to the T-2. We would especially recommend it for people with refracting/refractor telescopes and a focal ratio greater than f/7 (you can calculate yours here). This is because prism diagonals like this one tend to work better with telescopes that use lenses.
Pros
Cons
– Excellent optics
– High-quality build
– Best 1.25″ diagonal on the market
– No clicklock holding mechanism
Best of the best: Televue 90° 1 1/4" DPC-1250 Everbrite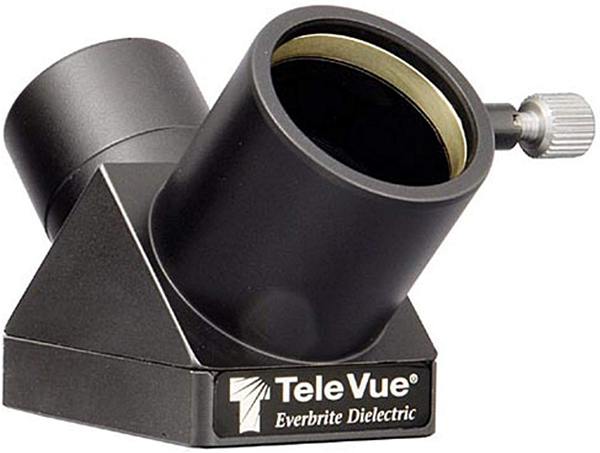 | | |
| --- | --- |
| Eyepiece connection | 1.25″ (32mm) |
| Left connection: | 1.25″ barrel (32mm) |
| Image orientation | Upright, Laterally reversed |
| AR-Coating | 99% reflective coating |
| Deflection angle | 90° |
| Rating | |
| Price | |
If you have read any other of our buying guides, you know how much we vouch for Tele Vue's products. They are, in our opinion, the best and most reliable American optics company. Their diagonals keep up the trend. They transmit gorgeous images.
The body of the Everbrite diagonal is fully made of machined aluminum blocks that result in high-precision alignment and solid support for heavy objects. One of the things we valued the most for these reviews is how well the diagonals can hold weight. This might not be that important when you are simply using an eyepiece that only weighs a few grams, but when you are adding an expensive, heavy DSLR camera to the chain, you want your diagonal to be rock solid.
The optics, as expected from Tele Vue, are excellent. We would need to compare it to every single diagonal out there to come up with the exact numbers, but we estimate it can improve your light transmission by 10%-20% depending on how good your current diagonal is.
The holding mechanism is a good old thumbscrew. We hope to see a version of this with a click-lock device in the future but we'll always value good optics above anything else. Some diagonals that do have click-locks just don't perform as well.
We tested the Everbrite with a few refractors and a couple of SCTs and saw increased performance each time over the built-in diagonal. You will need an adapter for SCTs but if you have one, you probably already own an adapter.
In conclusion, we put the Tele Vue Everbrite on the same level of quality as the Baader T-2 that is featured as our best pick. We only gave that one a slight edge because of the lower price.
There is also a 2″ version of this exact model available.
Pros
Cons
– High light transmission
– Will last you a lifetime
– Solid build
– A bit pricey
Summary
Don't overlook star diagonals when it comes to upgrading your accessories
Star diagonals are often the bottleneck in the optical chain of a telescope
Upgrading a diagonal can be one of the best investments you can make to improve your images
Clear skies!