Finding the perfect gift for someone who is into space and astronomy can seem like a daunting task if you don't share their enthusiasm for the subject. "Space" is such a big concept that just narrowing it down to a single object can be intimidating.
But fear no more. That's where we come in. We have created this list to help you with your quest and show you more than 40 great gift ideas that will make you the favorite person of that someone you are trying to find a present for.
Most of the ideas presented are for everyone but there are a few that are gender-specific, which is why you will find special sections for men and women at the end or you can simply skip to those by using the following links.
Now let's get right into it and start with our list.
Real Meteorites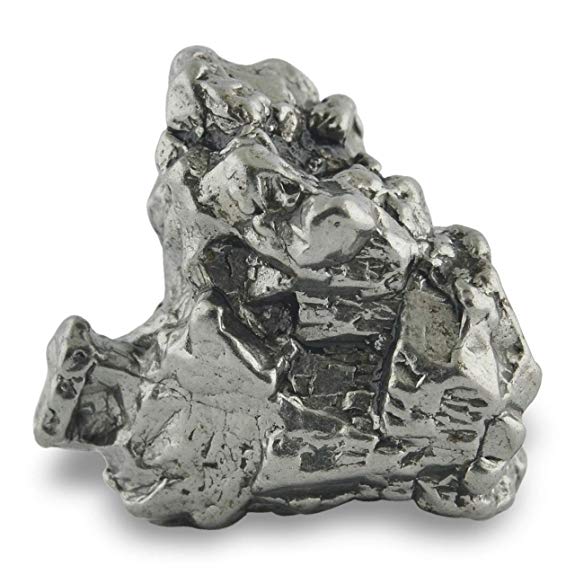 Did you know it is possible to buy genuine pieces of meteorites? It's awesome!. Maybe the best part is it is not even as expensive as you'd imagine. In fact, you can some of the smaller shards can be really cheap.
The access to these pieces of meteorites changes from country to country as some have strict laws about it, but in the U.S. you can get some genuine pieces even at places like Amazon. The price will vary depending on the type of meteorite you want to buy, but the pieces made of Iron or other common materials go for only a few bucks.
If you are curious about the buying and selling of meteorites, we have a whole article on that topic that goes into extreme detail about it.
Augmented Reality Mars Globe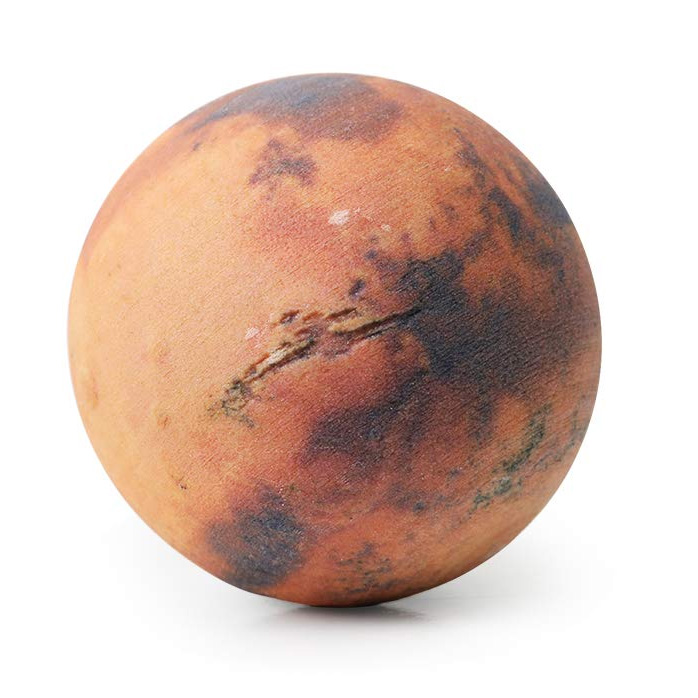 This item combines two of the most innovative technologies going on in the tech industry: Augmented Reality and 3D Printing.
This Mars globe is a 3D printed scaled version of Mars with an accurate representation of the planet's surface The cool and educational part about it is you can connect it to an app that you can point at it and it will guide you through the geological features you are seeing and will help you learn more about our red neighbor.
Space Comfy Blanket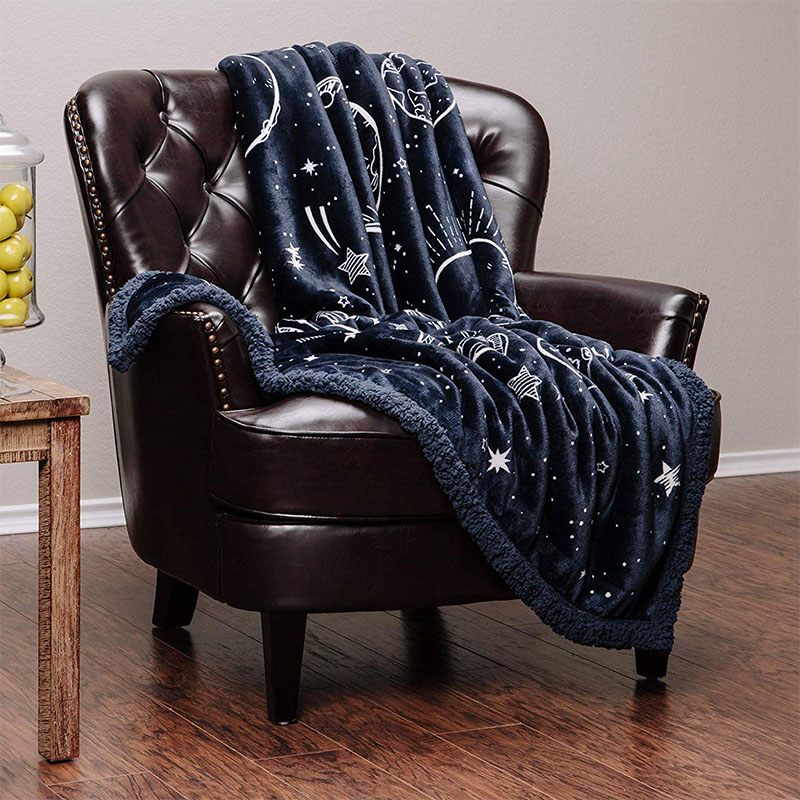 When it comes to gifts, you can't really go wrong with a soft, comfortable blanket. Thankfully, the dark background of a starry night is very elegant and fits perfectly when it is depicted in the design if a warm, cozy, blanket.
This way you will not miss the beauty of the night sky when it's too cold to go outside.
The version we are recommending by Chanasya fits very well as a couch blanket for those Netflix nights.
Terraforming Mars Board Game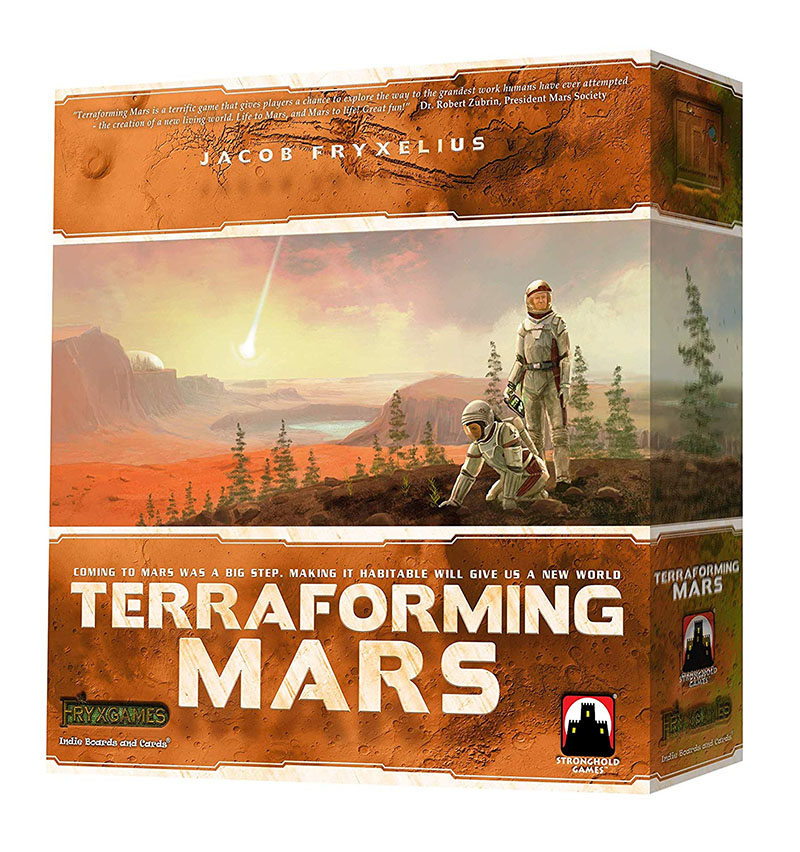 In this really fun and addictive board game, you play the role of one of the corporations working on the development and terraforming of the red planet. It's like the classic "conquer territory" games like Risk but with a space twist and it won't take you 3 months to finish a game.
We kinda wish the production quality of the game was better but hopefully that will get fixed in future versions. Still, the good design and hours of fun you will spend playing it with friends and family more than makes up for those small issues.
NASA Roll-Top Backpack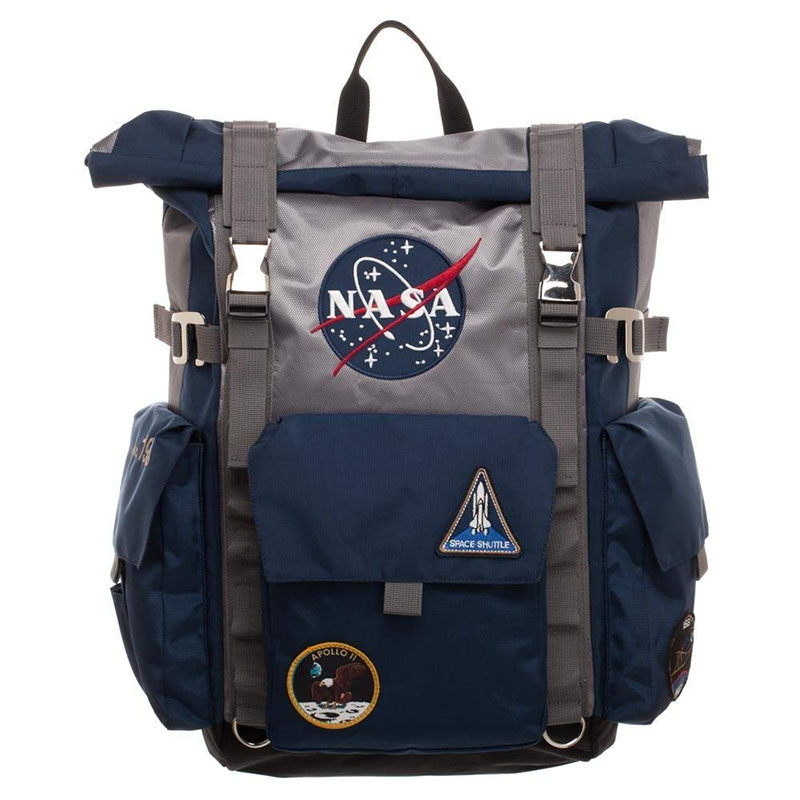 NASA has been busy licensing its branding for companies to make products with their logo in recent years. This is a great way for them to make some extra money for funding research and people seem to love it as there are more and more NASA products out there.
If you ask me, I like the ones with the classic logo like this high-quality laptop backpack by Bioworld. It's large enough to fit a 15″ laptop comfortably, the design looks beautiful, and while it is not advertised, it is (kind of) water resistant. A must have for any NASA enthusiast.
Functional Maritime Sextant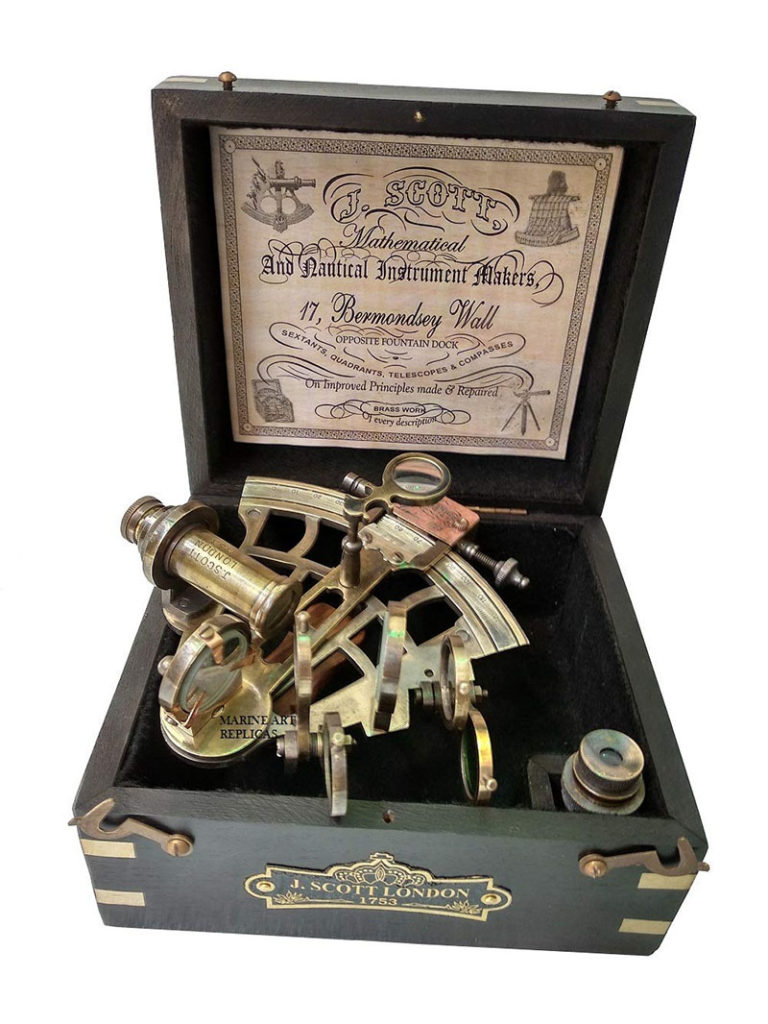 A sextant is a device astronomers and sailors used as navigational aid using the stars and other celestial objects as reference.
Getting one original antique sextant can be very, very expensive, but many companies make modern, functional ones that still have the look and feel of the old ones but won't break the bank.
Any amateur or professional astronomer will appreciate one of these legendary devices. You might also want to get a book on how to use it, though, as these things can be a bit complex.
Solar Powered Moon Garden Lamp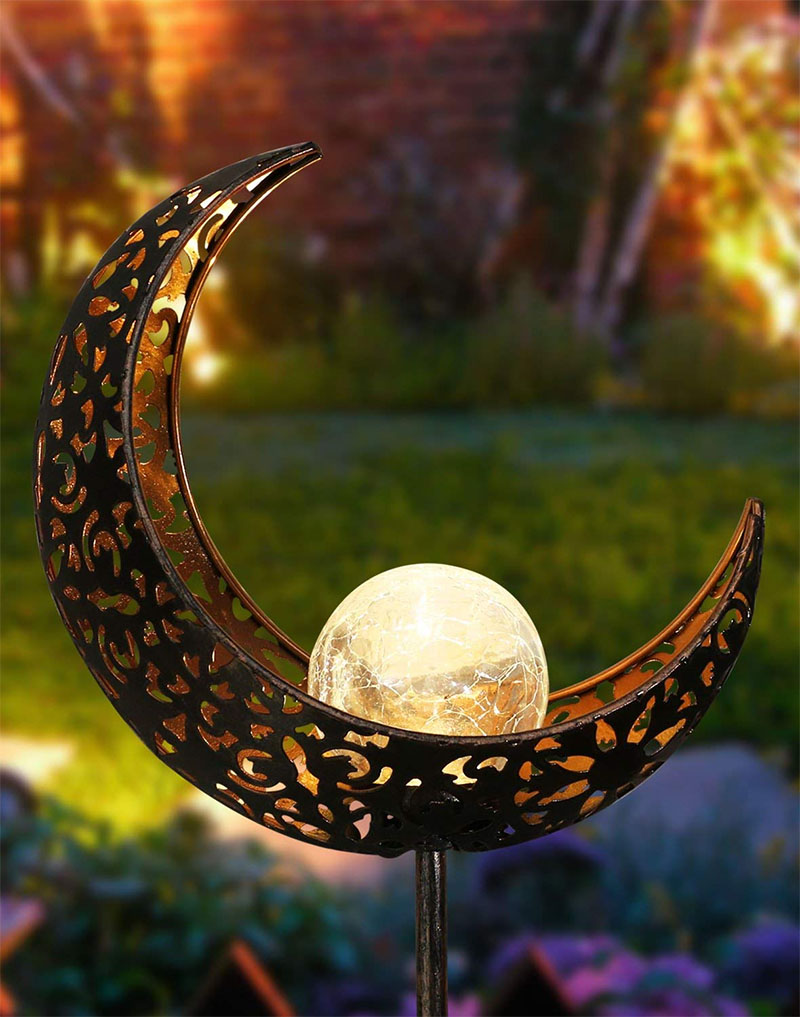 It is a bit ironic to have a lamp that looks like the Moon but it is actually powered by the Sun and yet, there's something that just feels right about it.
This lamp charges during the day and stores up to 6 hours of charge that you can then use at night to light up your garden, terrace or backyard. It makes for as perfect gift for friend who have outdoors dinner parties and is surprisingly well priced.
Phone and Tablet Astronaut Desktop Stand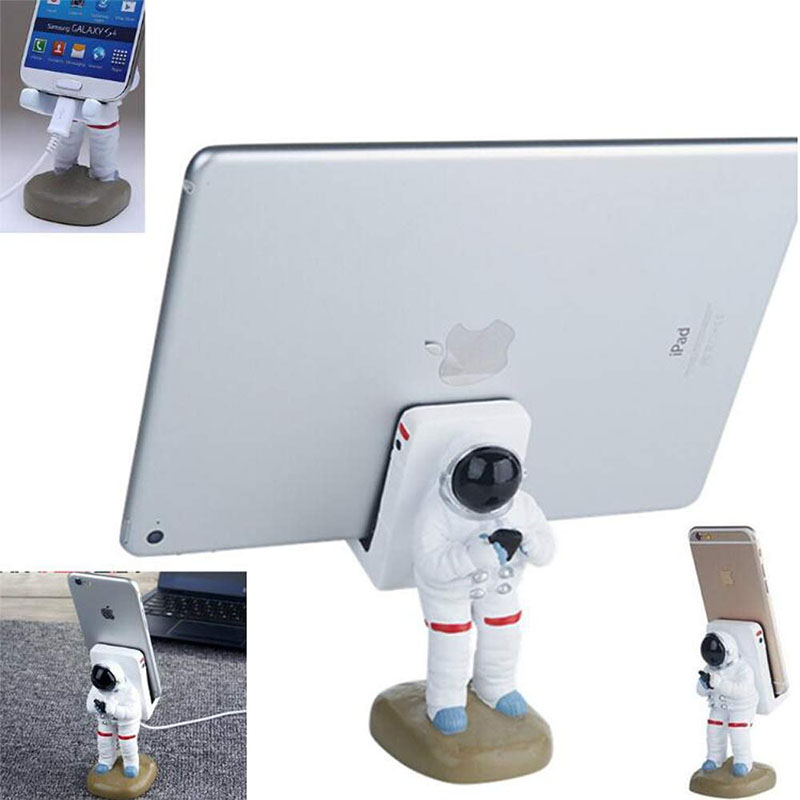 This is one of the most original and creative yet simple gifts in this list. It is a desktop mount for your smartphone or tablet, but it's is shaped like an astronaut who is carrying it on its back.
It's a great, fun item that will stand on the desk constantly reminding the receiver who gifted them this while charging their phone.
"An Astronaut's Guide to Life on Earth" by Chris Hadfield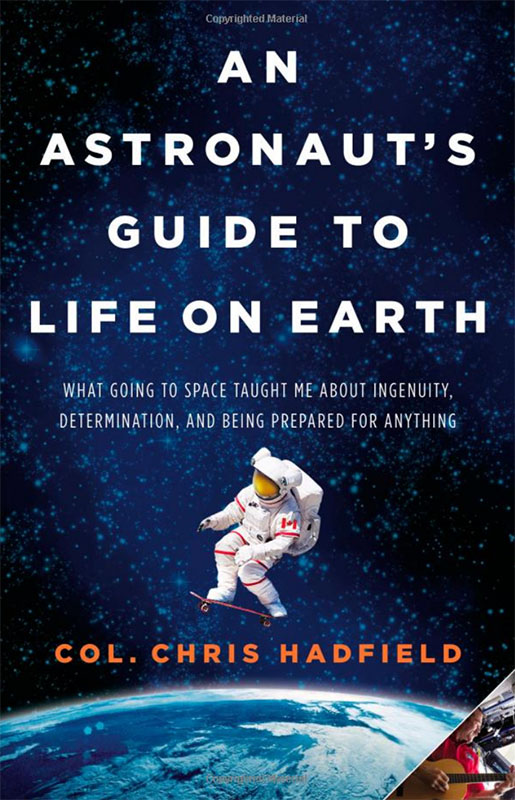 People who enjoy talking and learning about space will almost always enjoy a good book as well.
Canadian astronaut Chris Hadfield spent almost 4,000 hours in space during his career. In this short, well-written book he tells some of the most challenging and interesting stories about his time in space and his life as an aspiring and then successful astronaut.
It is a great read for anyone interested in the universe but it also manages to be very human and relatable.
Interstellar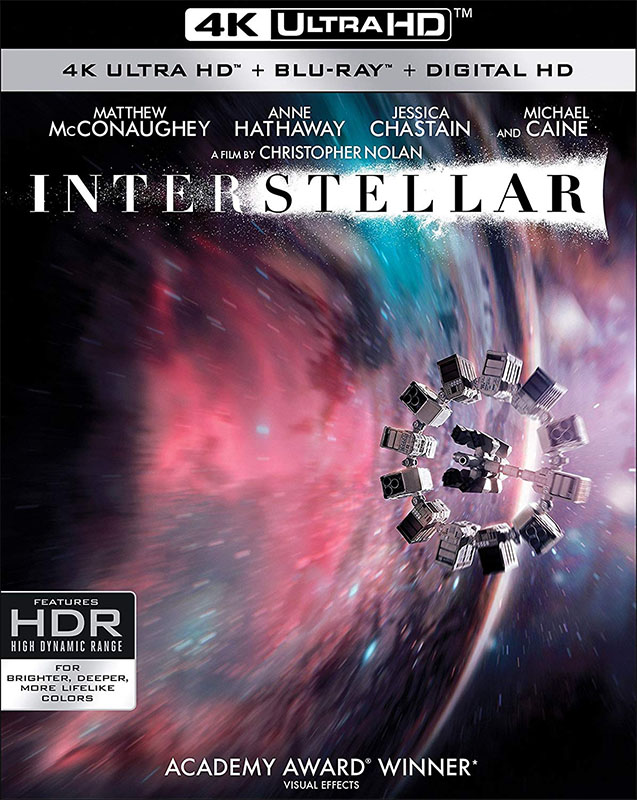 Ask any space enthusiast what's their favorite movie and depending on their taste they will either go with Star Wars or Interstellar.
One of the best films by director Chritopher Nolan, Interstellar tells the story of a group of space explorers looking to save humankind from a dying Earth. With superb performances by Matthew McConaghey and Anne Hathaway it's no surprise it got nominated for multiple academy awards.
The movie is available in pretty much every format imaginable, but the 4K version is recommended as it is the best way to appreciate the work of the visual effects team.
The Astronomical Almanac (2020 – 2024)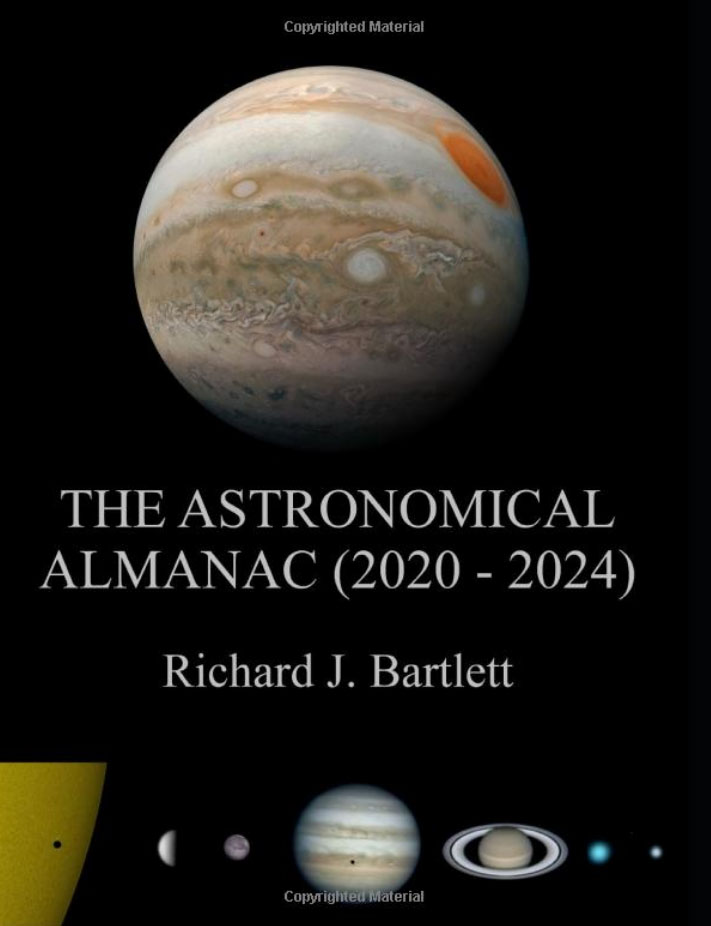 Richard J. Bartlett is an astronomy writer that publishes a yearly almanac detailing all the interesting astronomical events that will occur in the next four years including eclipses, conjunctions between the Moon and Planets, meteor showers and the best times to observe each planet.
It is a great, concise guide for anyone who enjoys looking at the night sky with or without a telescope.
"Astrophysics for People in a Hurry" by Neil DeGrasse Tyson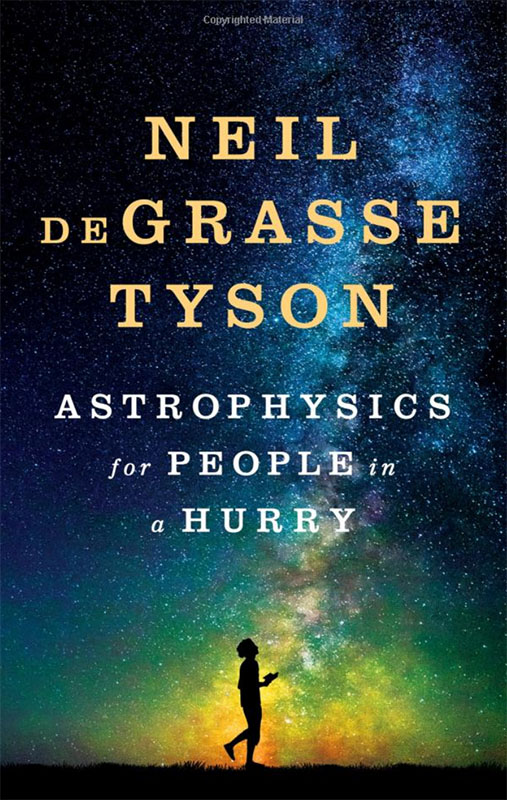 You probably know Neil DeGrasse Tyson as that funny scientist that sometimes appears as a guest on talk shows or as a guest on the news whenever they want someone to explain space-related news to the public.
Well, NDT is also a prolific author with a talent to explain the complexity of space in an easy to understand manner. In this book, he explains some of the biggest mysteries of the universe, from black holes to quantum mechanics as quickly and easily as these events can be explained. It is a great, short read for anyone that is interested in learning more about the nature of the cosmos.
Cat Astronaut Wall Art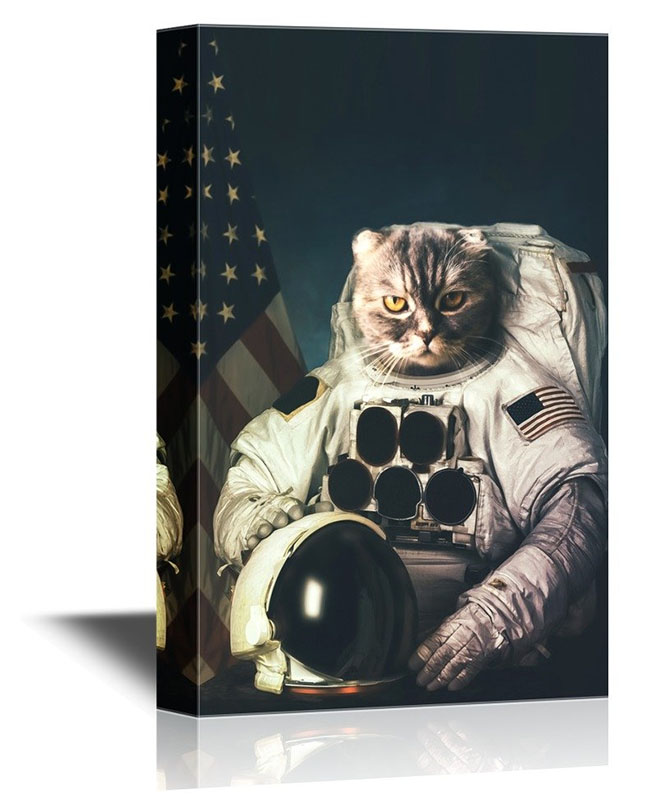 If you are looking for something in the quirky, original side of the gift spectrum, this wall art is perfect for you.
Made by the home decor company Wall26, this cat astronaut canvas will make for a great conversation starter in any room you decide to put it in. They also have other space themed designs you can check out in the link below.
Battlestar Galactica: The Complete Series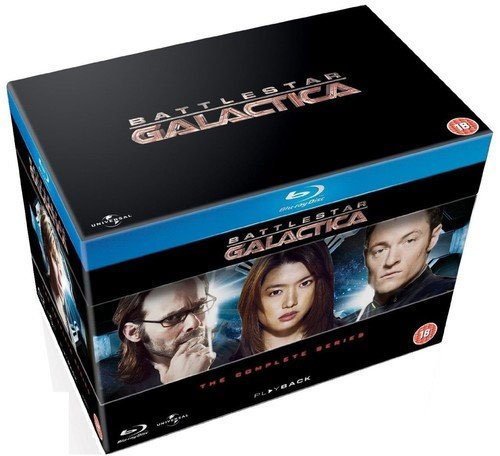 One of the best sci-fi shows ever seen on tv is the modern version of Battlestar Galactica. It features some of the best acting we have ever seen and the plot deals with human nature while leaving the whole humankind vs killer robots theme simply as the background setting.
This series is a must-watch for any space nerd and while many people were angry about the way the last season ended, don't let that stop you from enjoying the rest of an epic space opera.
"Never Stop Dreaming" Solar System Cushion Cover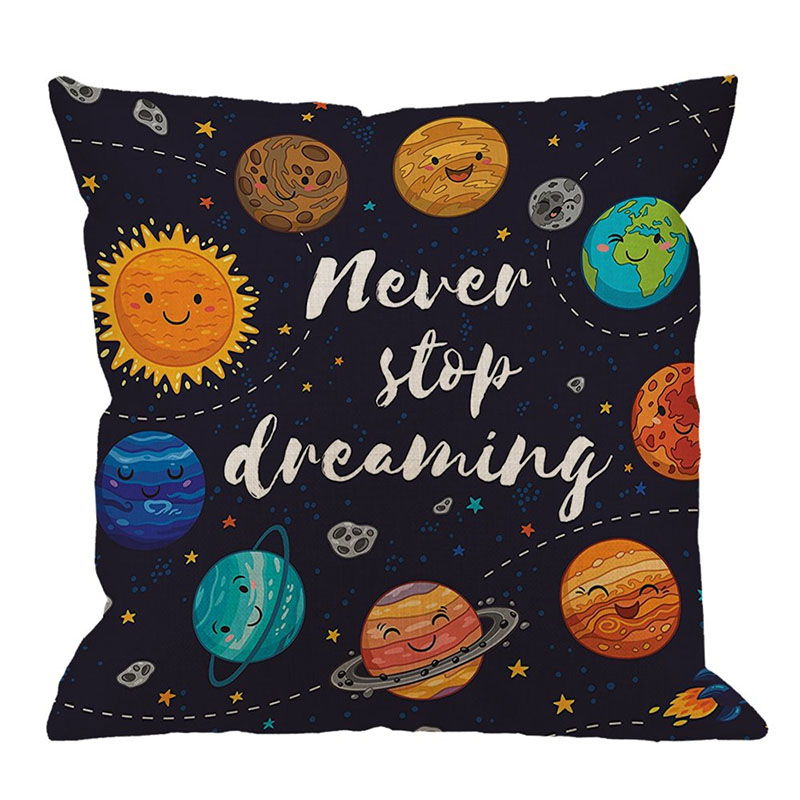 Home decor gift never go out of fashion. This 18″ x 18″ cushion cover features a really cute depiction of our Solar System surrounding the quote "Never Stop Dreaming" which is always good advice. This might even make for a really nice gift for yourself.
Consider getting this with a fitting cushion just to make sure it fits.
Apollo Saturn V Lego Ideas Model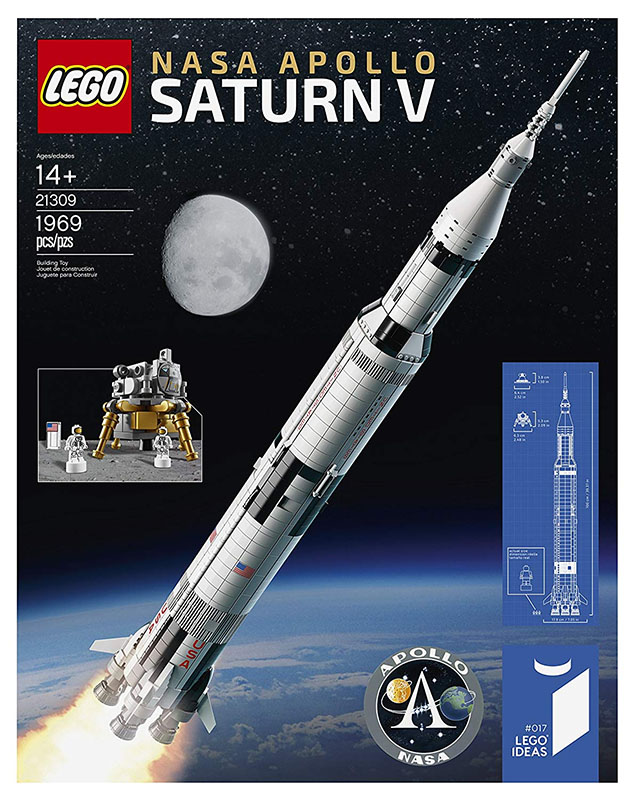 Legos are generally the type of gift you would give to a kid, however, this isn't your regular Lego kit. This 1900 piece behemoth stands about 39″ tall when built and is made for the older crowd that still enjoy building Lego sets.
It is a 1:110 representation of the Saturn V rocket, the one used in the Apollo program and took us multiple times to the Moon between 1969 and 1973.
Levitating Moon Lamp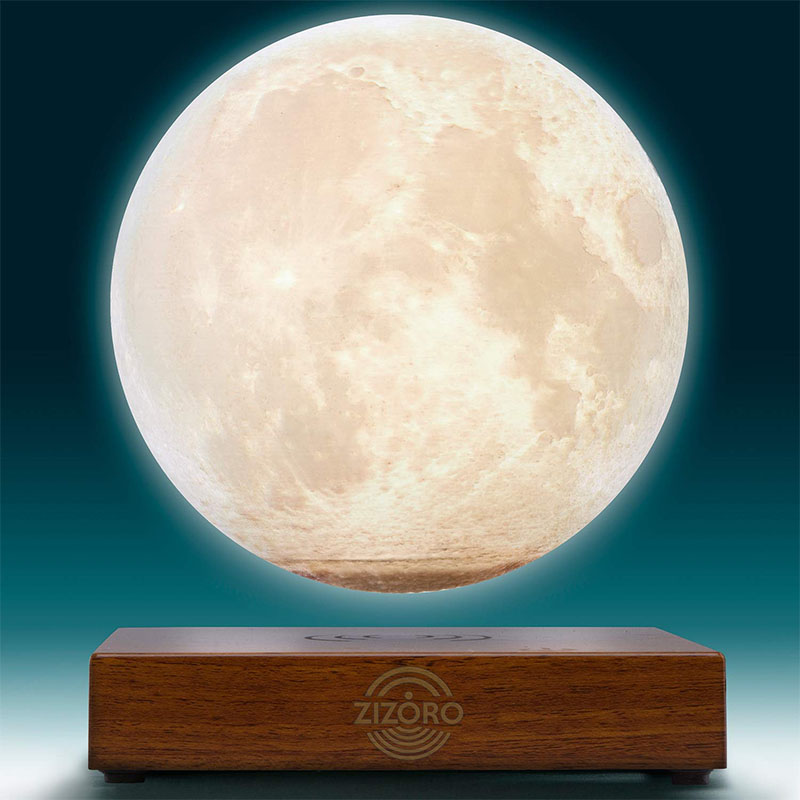 If what you are looking for is something that seems to work on pure magic. Here's the perfect gift. A real, levitating Moon that is also a lamp.
This levitating Moon lamp works thanks to magnetic fields. It is touch controlled so you can adjust the brightness and switch between cool and warm light. And finally, it is an accurate, 3D printed scale representation of the real geology of the Moon.
Hot/Cold Changing Constellation Mug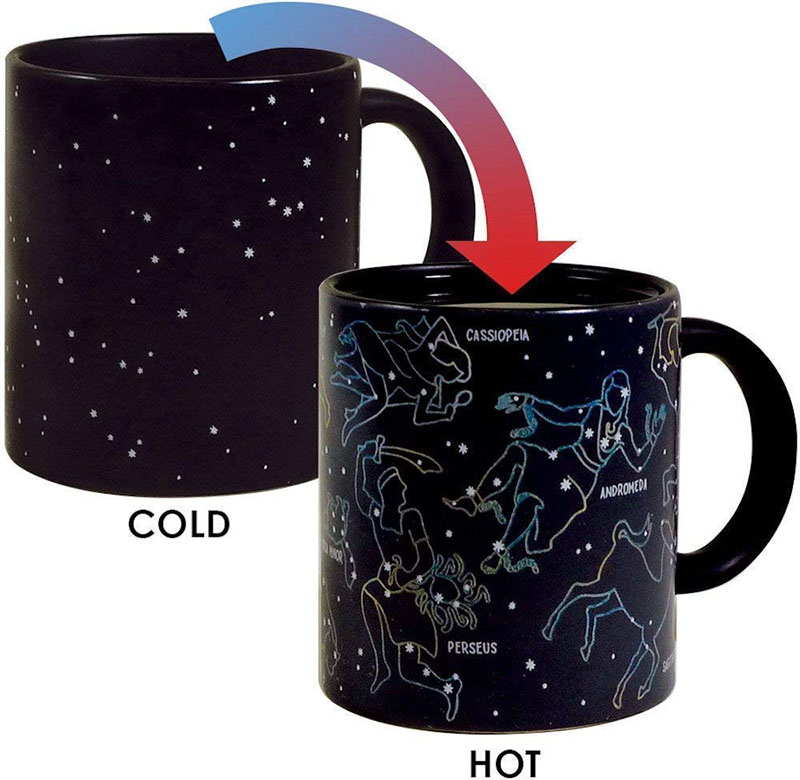 A hot cup of coffee, tea or cocoa is essential for any space aficionado as most of the action in the sky can only be seen at night.
You can't really go wrong with a fun mug as a gift. Everyone will appreciate it, and thanks to the miracle of thermodynamics, this one is able to 'activate' and show a cute picture of some of the most recognizable constellations when it contains a hot beverage.
Vintage Marine Telescope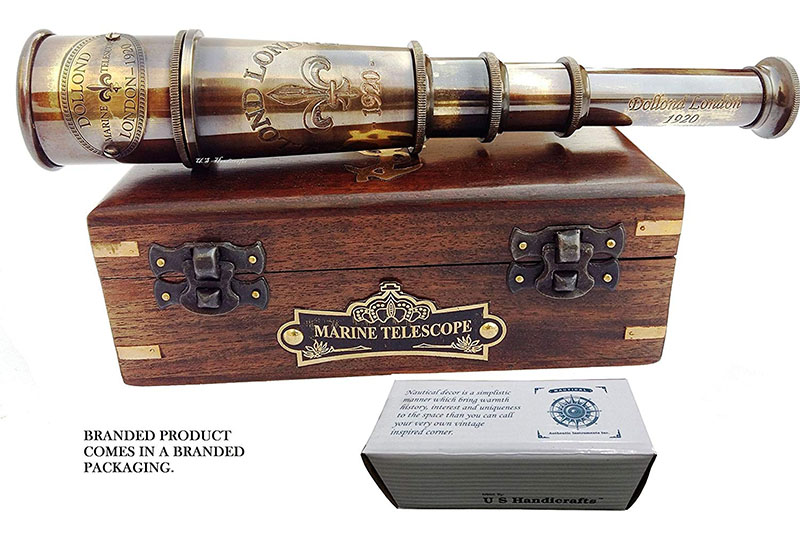 There's something mystical about the way we used to sail into the dark seas and navigate only using compasses and the stars as guides in journeys across countries or even continents.
It's no wonder people enjoy collecting objects from those times centuries ago when travelers had such a profound connection to the night sky.
A vintage pirate telescope could be such a cool present for someone who is really into astronomy, and while it is hard to get you hands in a genuine one, these types of replicas are the next best thing and make for great office decorations. Don't expect much from it in the sense of utility, though, it is really meant to serve as something pretty to look at.
Subscription to All About Space Magazine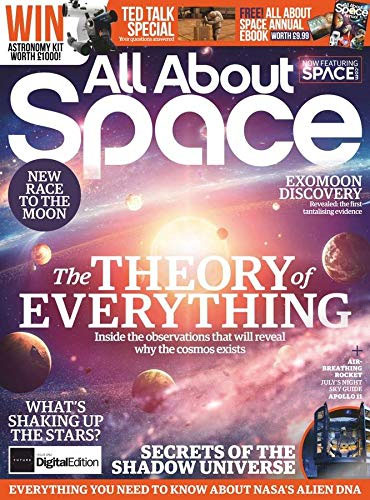 In the age of the internet there are only a handful of printed magazines left that are worth spending your hard-earned money on. One of them must be All About Space from Future Publishing.
The name of the magazine really says it all. Every month it contains lots and lots of content on astronomy, space exploration and new discoveries. The really great part about it, though, is that it doesn't assume previous knowledge in any of the subjects and it is not too technical like other specialized publications. It's a great read for space enthusiasts that don't have an astrophysics or scientific background.
Swishly Galaxy iPhone Case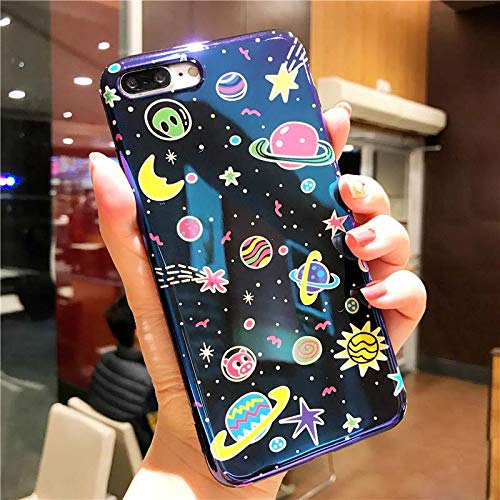 Smartphone cases are a great way to let people know about your interests and express yourself. That is why we are recommending a case with a space theme as a perfect gift for astronomy geeks.
The Three Body Problem by Cixin Liu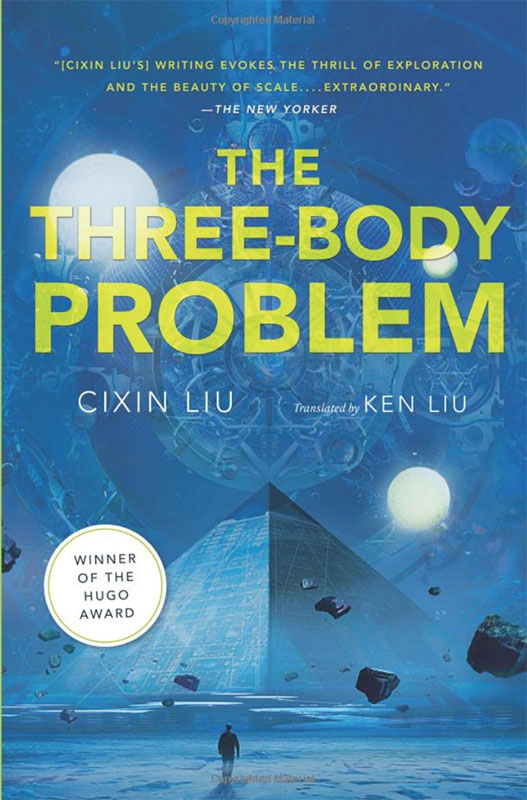 Here's an amazing book you should read before the inevitable movie or tv series comes along so you can beat everyone to the punch and say with a smug face: "the book was better". Ok, I'm only joking about that last part unless that is something you enjoy doing, but The Three Body Problem really is one of the best science fiction books of modern times.
The book begins when an alien civilization receives a signal from us and plans to invade. Humankind has some time to prepare, but it is divided between people who want to welcome the aliens as a means to solve the damage we have caused to the planet and those who want to resist the invasion.
It is the first book in the The Remembrance of Earth's Past trilogy but it works as a stand-alone story.
Solar System Beads Bracelet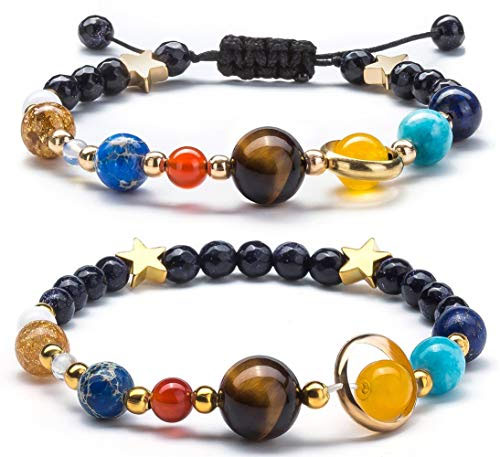 Accessories are a very easy way to express your hobbies and interests. Luckily planets and stars are almost round objects and follow elliptical orbits, which works perfectly to have them represented in a bead bracelet.
This bracelet is super creative and there are multiple variants of it for both men and women.
Twinkle Star LED String Lights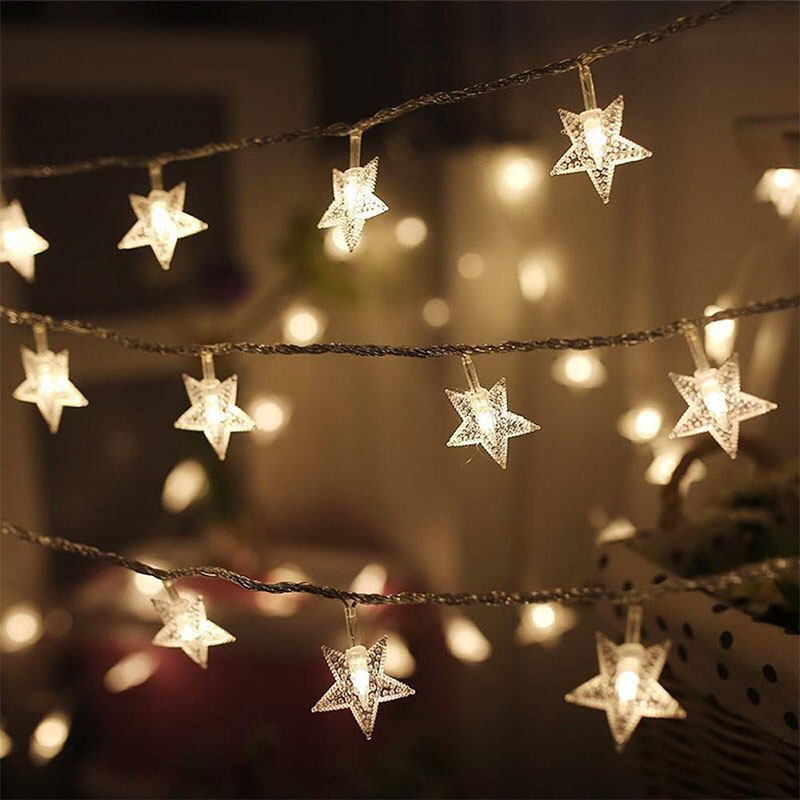 While stars light up the night sky these string lights can light up a bedroom, living room or even an outdoors area as they are waterproof . They have 9 different settings that go from "always on" to "obnoxious twinkles" and everything in between.
Lighting can really tie up together a room's decoration.
Marquee LED Light Star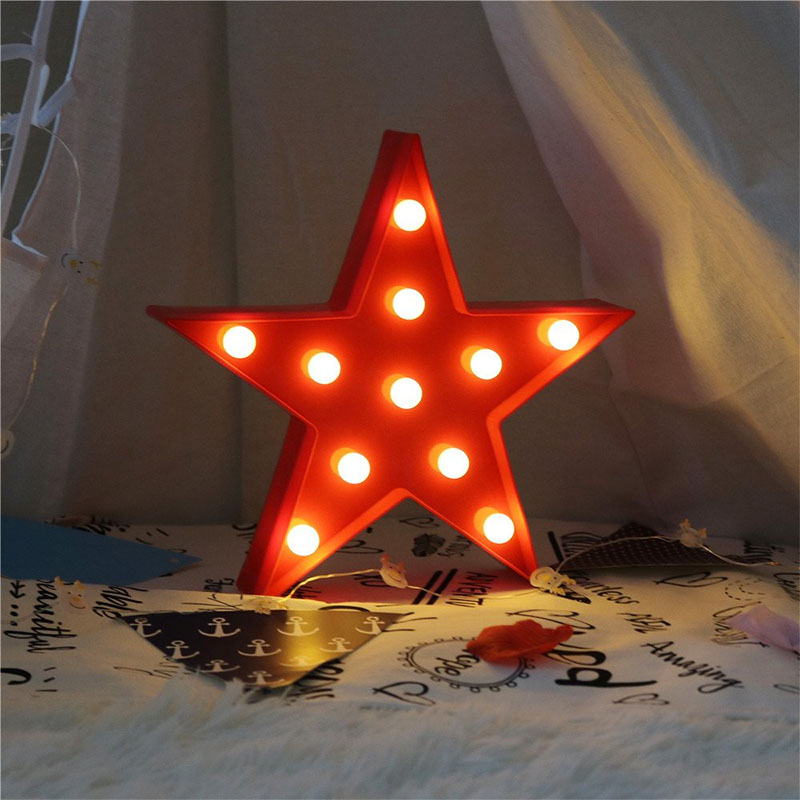 If you are looking to tell someone how much of a star they are in your life, this is the perfect gift. It's a bright, beautiful LED sign in the shape of a star that goes great as decoration. There's also a glitter white and gold version if red is not your thing.
What We See in The Stars by Kelsey Oseid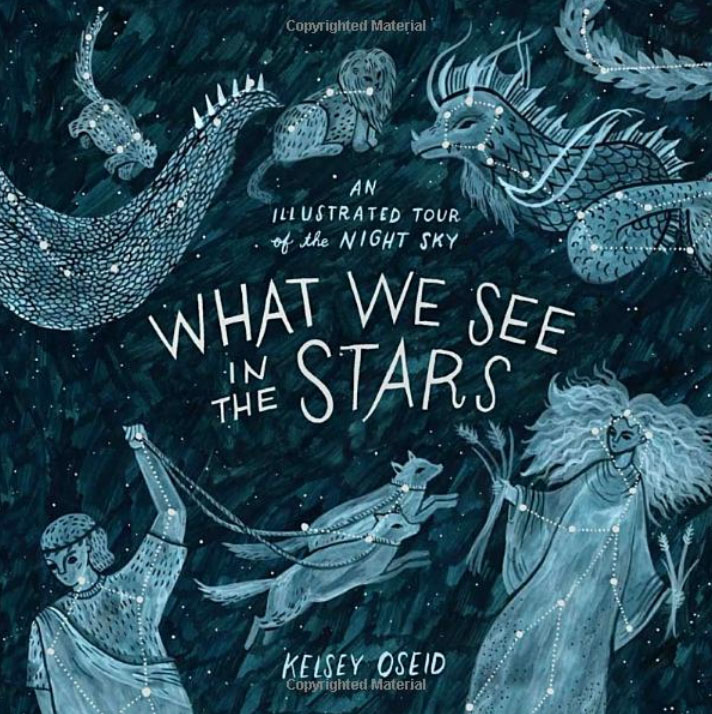 Learning about the origin and shapes of the constellations can be a magical experience and one of the most rewarding things when it comes to getting started with learning about the universe.
Illustrator Kelsey Oseid made this beautiful 100 pages fully illustrated book where you can learn about the myths and science of the constellations and planets. We recommend this book for both kids and adults as it has a little bit of magic for everyone.
Celestron AstroMaster 70 AZ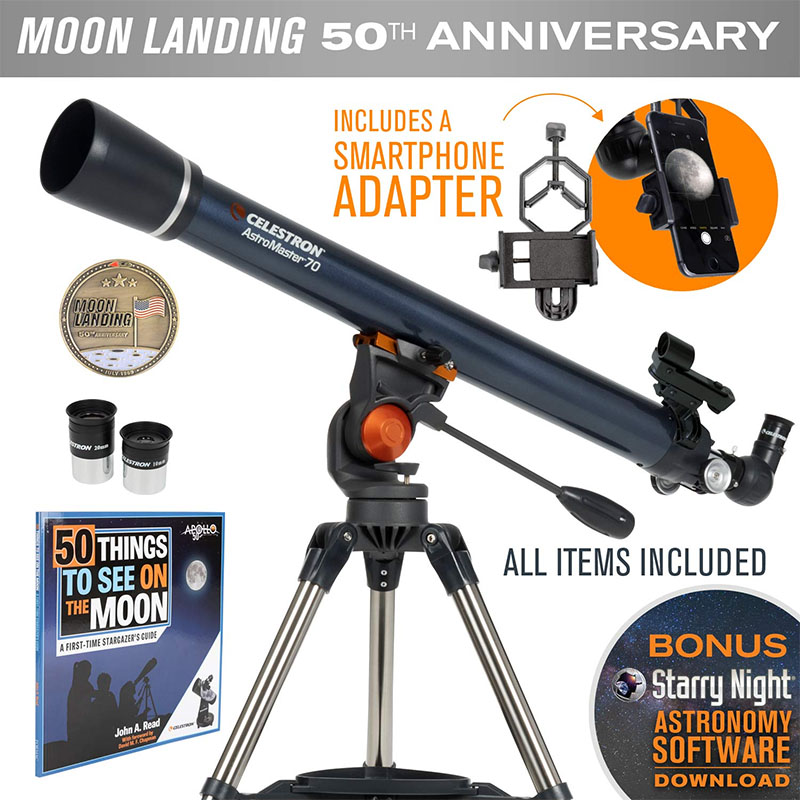 There is probably not a better gift for someone who is into space than a telescope.
A telescope allows you to learn a lot more about the universe than you could otherwise as it becomes an interactive experience instead of simply reading about it in books.
This particular model we are recommending is a 70mm refractor telescope, which is the perfect entry-level size for someone who is getting started with stargazing. It is made by Celestron, one of the most trustable telescope manufacturers and we like that it comes with a smartphone adapter included so you can start taking photos right away.
We have a whole article on what you can expect to see with a 70mm telescope with a few other model recommendations if you want to learn more.
Bushnell Legend Binoculars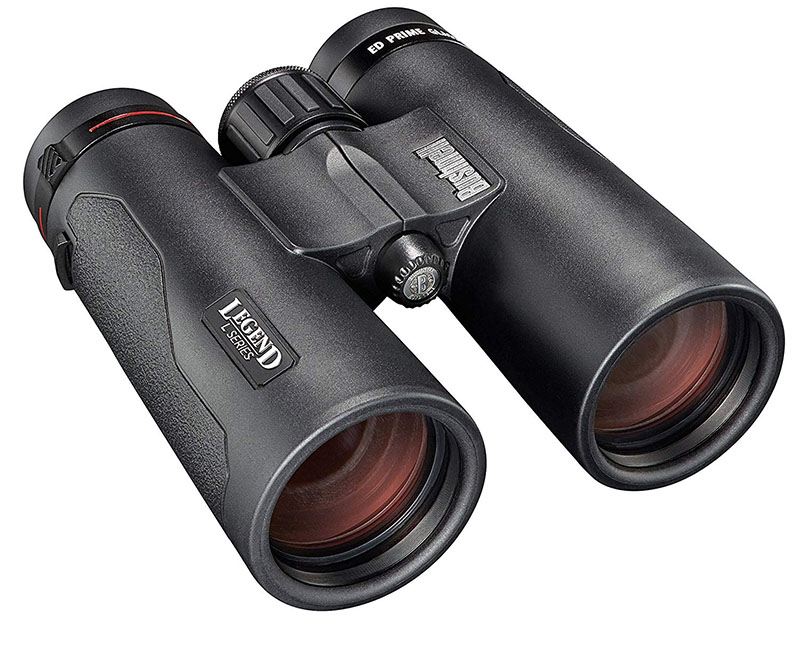 An alternative (or complement) to telescopes for stargazing are binoculars. While they don't have the same optical power as most telescopes due to the smaller size of the lenses, they have their own advantages. Binoculars can be more useful than telescopes when you are trying to catch moving objects like meteor showers. They are also a lot lighter and easy to carry around.
While it is common for astronomy geeks to own a telescope, not everyone has a good pair of binoculars, making them a great gift.
Guardians of the Galaxy Soundtrack Deluxe Edition Vinyl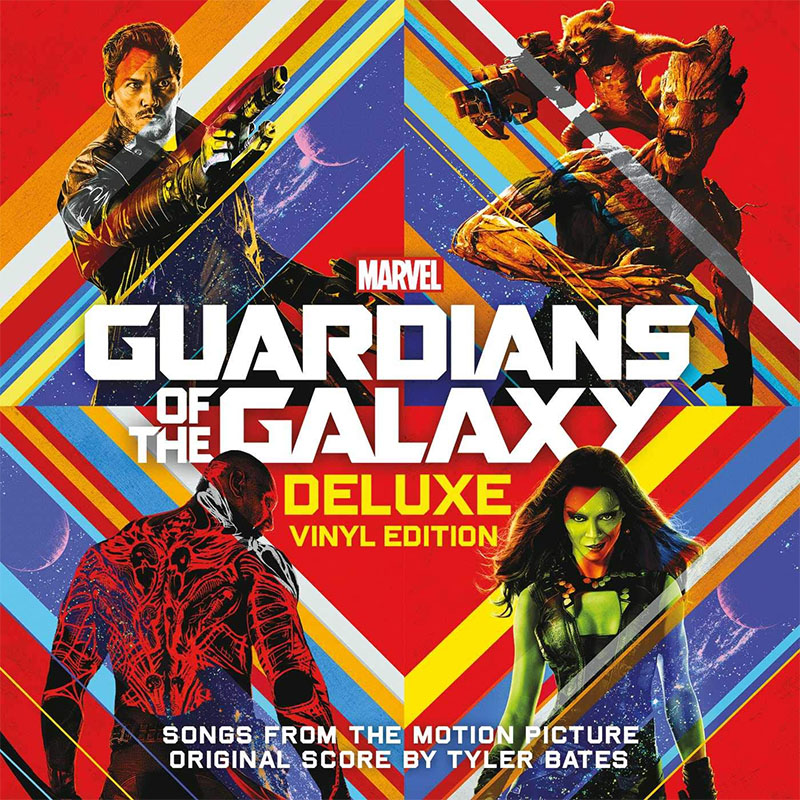 Those nights of stargazing deserve an awesome soundtrack and there are few space movies with better music than Guardians of the Galaxy. What makes Guardian's soundtrack so good is that it is comprised by both, a great score by Tyler Bates and a really cool selection of 1970's music.
This deluxe version of the soundtrack contains both in a two disc set which is why we are choosing it.
If you want to take the gift one step further, there's also a similar version for vol. 2 (the second movie).
We are choosing the vinyl version as digital copies seem too impersonal for the type of music this contains.
Nintendo New 3DS XL Galaxy Style
The Nintendo 3DS is one of the consoles with the biggest library of games out there and even though Nintendo has switched (heh) their focus, the 3DS has a lot of content and fun to offer.
This particular version is a design with a galaxy case of the New 3DS XL, which comes with improved internals and a bigger screen than other versions.
For some strange reason Nintendo decided to ship these without a charger, so make sure to grab one of those separately.
DIY Origami Stars Paper Sheets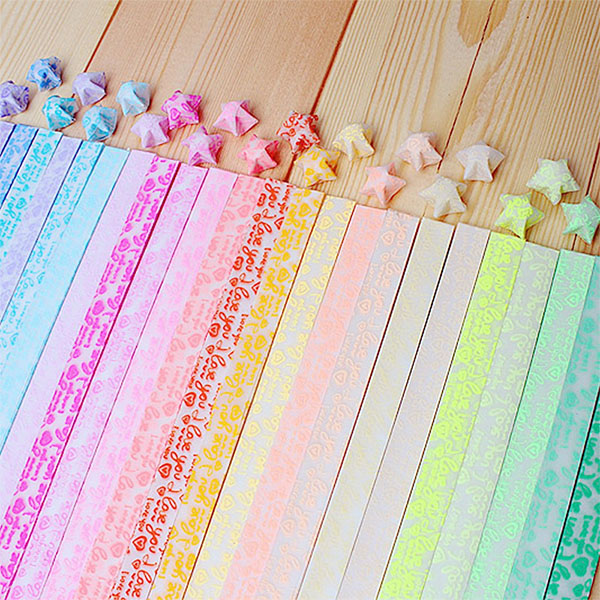 If you are looking for a DIY present or something you can use to add a touch of originality to the wrapping, how about some origami stars.
These sheets are already cut into the thinner slices necessary to make origami stars and also have glow in the dark textures. The pack contains 600 sheets and you can select other designs if you prefer.
Indoors Star Projector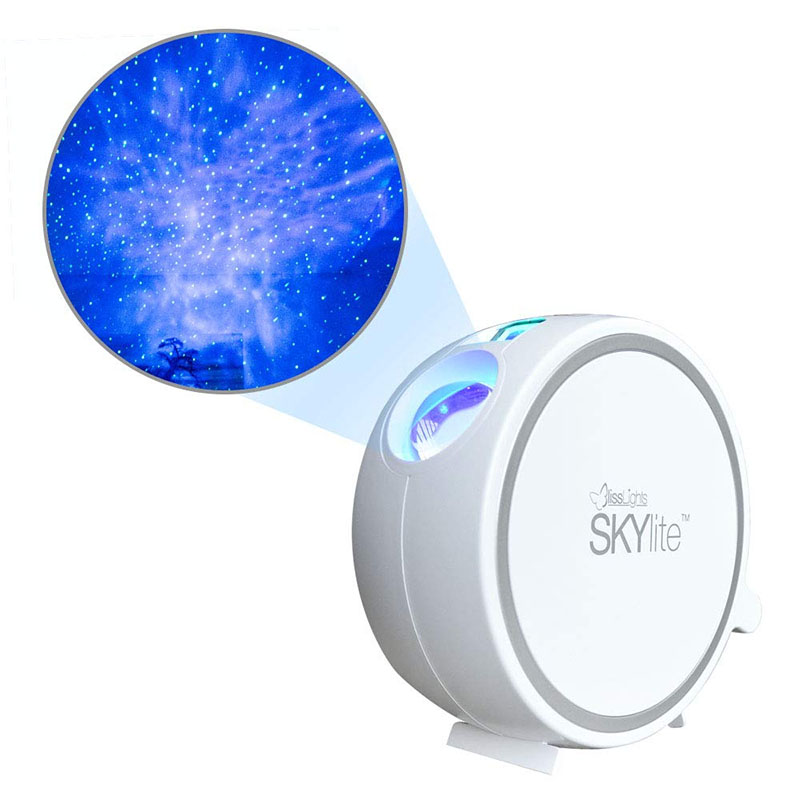 Have you ever been to a planetarium where they have that light show that looks like stars in the sky? Well, it turns out it is not that difficult or expensive to do that yourself. In fact, it is as simple as turning on this projector.
It includes multiple modes so you can switch between different effects and levels of brightness and it can create a great environment to watch a movie, have a romantic dinner or take a relaxing bath (keep it away from the water, though).
Star Wars Monopoly: 40th Anniversary Edition
One of the best gifts you can give to anyone is something that helps you both and your friends or family spend more time together. What better way to spend a fun, albeit a bit nerdy evening than a game of Star Wars themed Monopoly?
This version of the classic Hasbro game is based on the original trilogy, making it the perfect version for older folks who might or might not be fans of the most recent films.
Space Gifts For Women
Sterling Silver Crescent Moon and Stars Necklace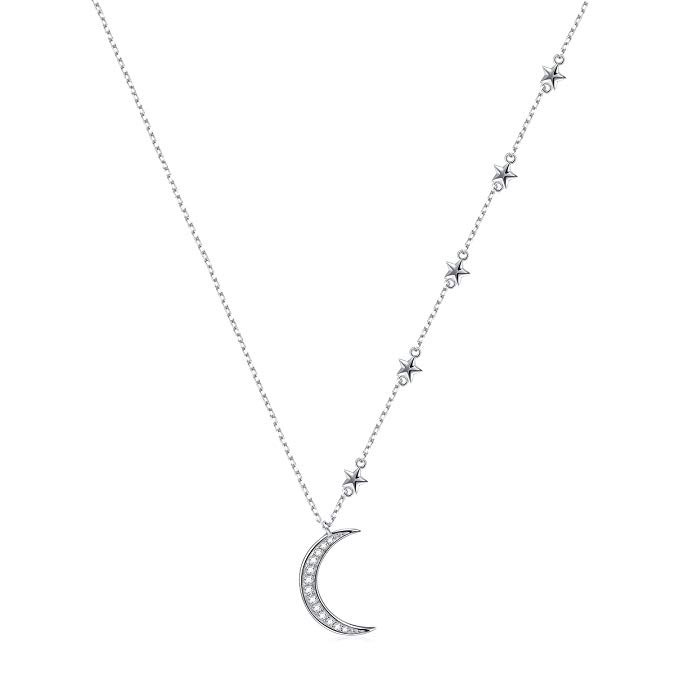 There are night where the Moon is so bright and shiny it just seems like it is made out of silver, don't you think?. This is why the sterling silver necklace with a crescent Moon fits so well.
Sterling silver is an alloy made of 92.5% silver, zinc and copper, allowing the price for it to remain very reasonable, but hey, if you want to go to a higher price point, I'm sure you would be able to find something with encrusted diamonds and a similar design.
Nine West Star Accented Watch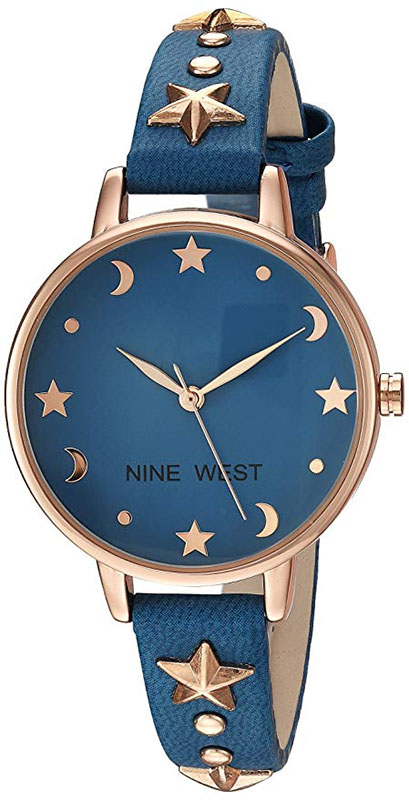 Some star themed watches out there can look way too clunky and obnoxious. Instead of that, this watch by Nine West keeps it simple with a two tone, beautiful rose-gold and blue design with just a few sprinkled stars and Moons.
Allegra Metallic Shiny Star Dress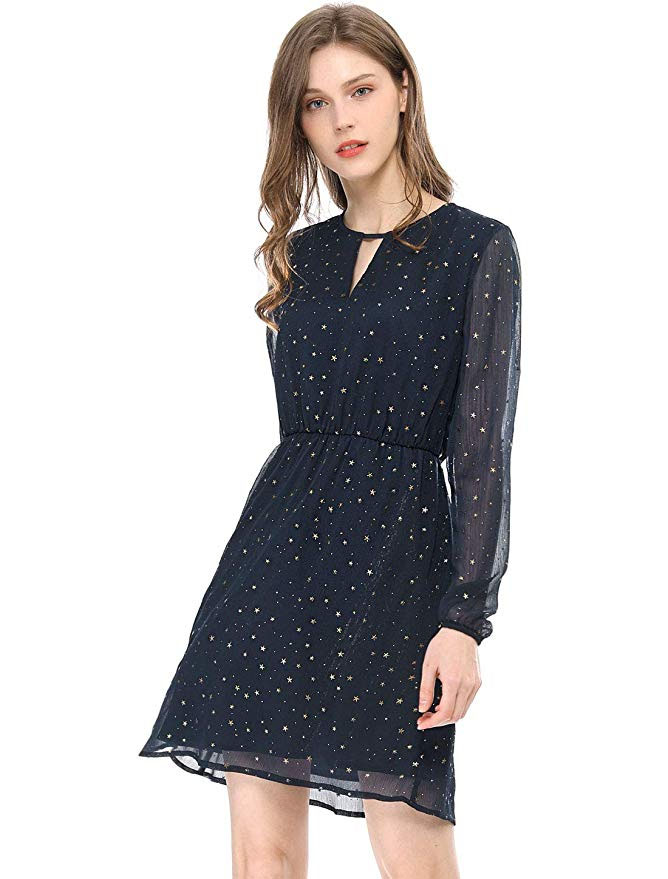 It's a beautiful navy blue dress with stars. What else do you need to know? Oh! It comes in other colors too!. Perfect to wear during spring.
Star-spangled Denim Shorts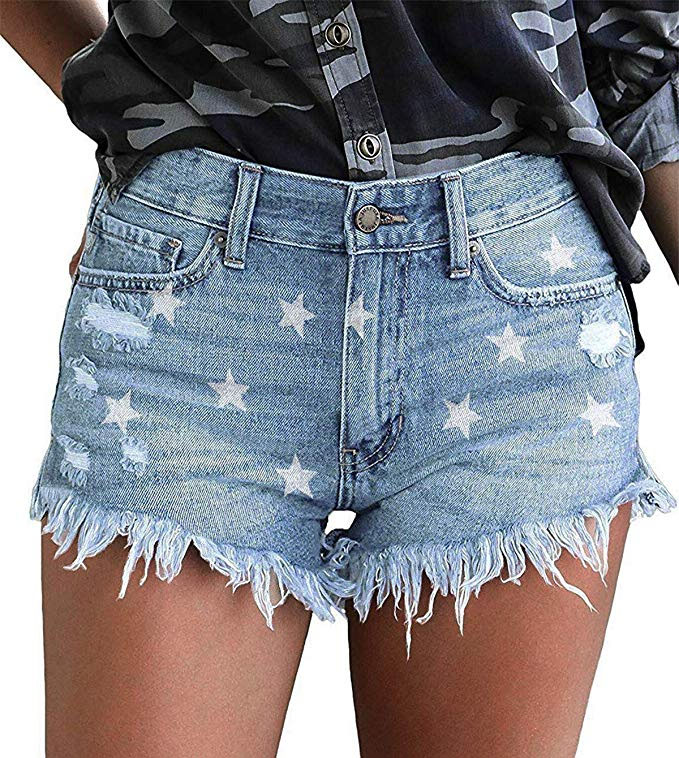 Maybe this is not as "spacey" as all the other items in your list, but if you are looking for something that reflects love for the stars and yet is subtle enough that you don't get people calling you a nerd, these shorts can work very well.
Space Gifts For Men
Astro II Constellation Watch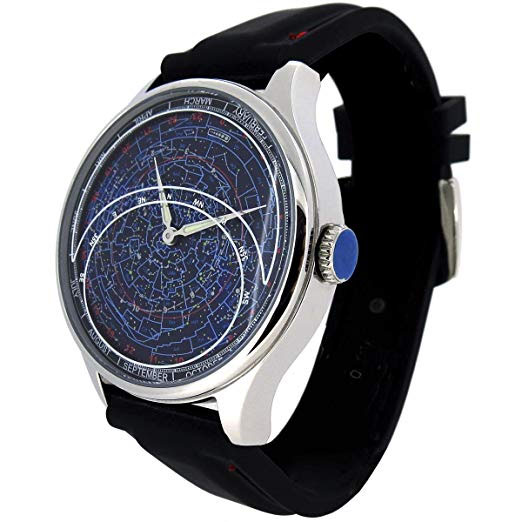 Sure, any watch and even your phone can tell you the time, but can it show you the current position of the constellations?
The Astro II has a very clever design that makes it double as a planisphere, that is a device that when adjusted to the current date can show you what stars and constellations can be seen in the night sky tonight.
This is the perfect watch for any man who enjoys looking up at the night sky, going hiking or outdoorsy friends.
NASA Apollo 11 Classic Bomber's Jacket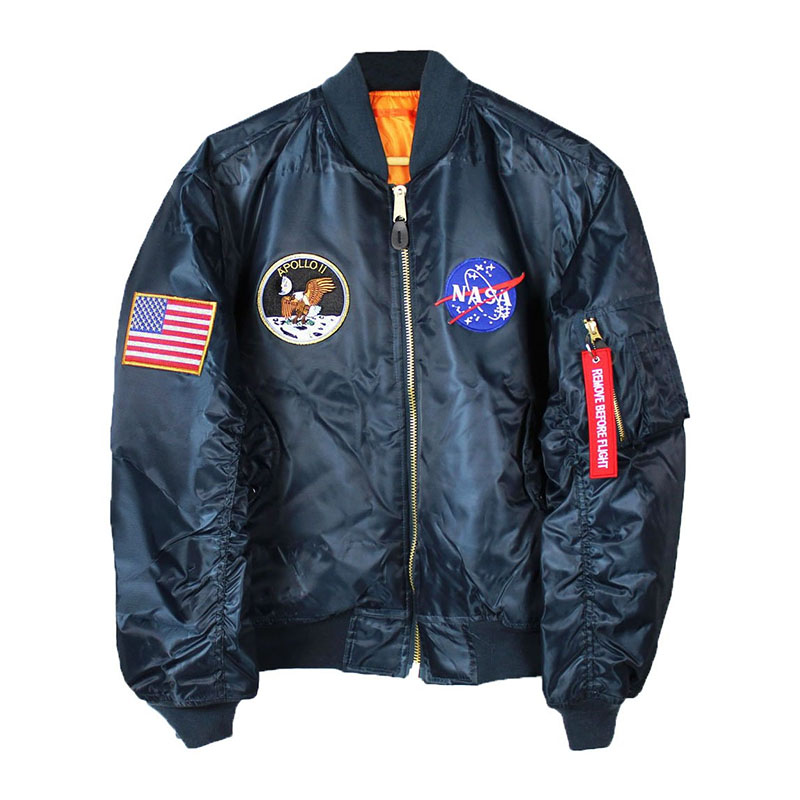 One of the biggest dreams any space nerd has is working at NASA, and even if most of us don't achieve it, it is a science-driven organization that everyone can still look up to, support and respect.
There are plenty of clothes out there featuring NASA's branding, but in our humble opinion, there's nothing like a classic bomber jacket. We like this one in particular because it is high quality and features the classic logo from the 60's as well as the Apollo 11 mission shield and the American flag in the right arm.
NASA Vintage design t-shirt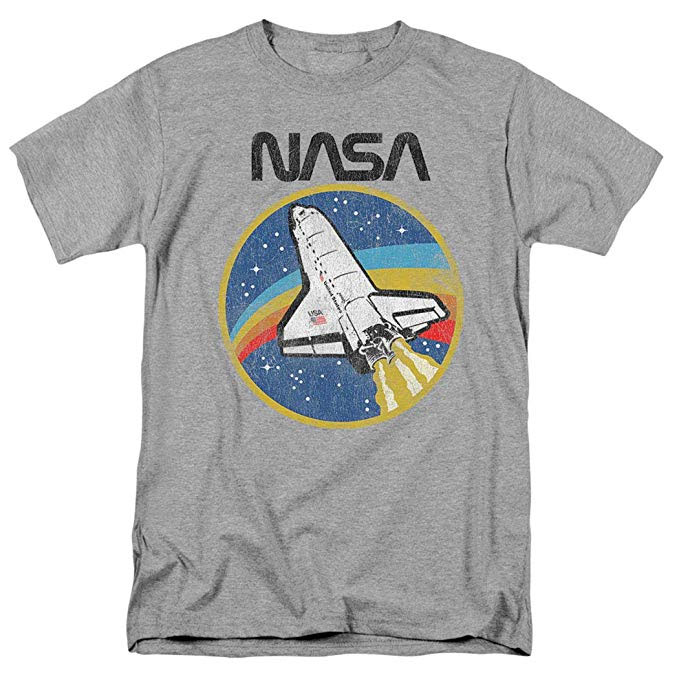 It's a cool retro-looking t-shirt. There's not much else to say about it except it also comes with some NASA logo stickers.
Star Wars Mens Pajamas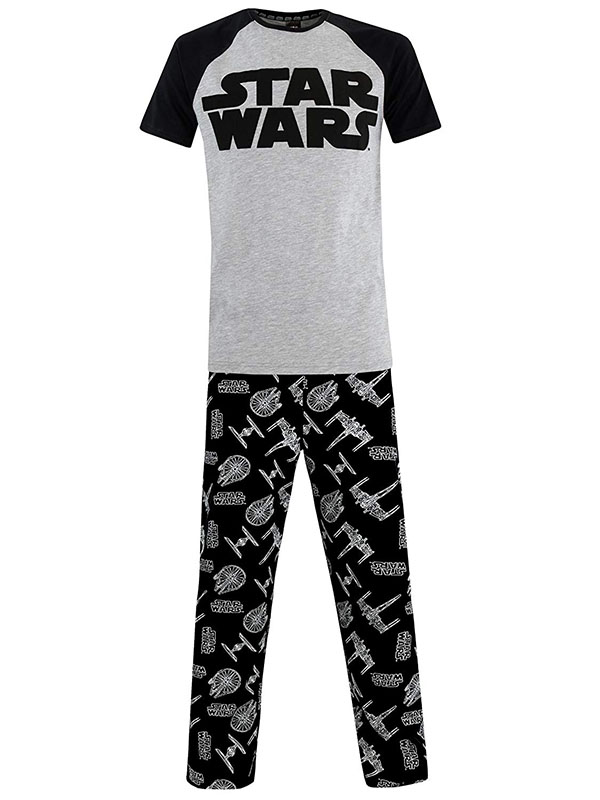 If you are a woman shopping for a man, just trust us on this one no matter how silly it looks to you. He will love these pajamas.