Solomark Optics is one of the up-and-coming brands in the optics industry. They focus mostly on the hobbyist and amateur astronomer markets and they have become so popular we have decided to check out the flagship telescope of their 70mm line.
Solomark is based in Asia, and they have just started to enter the western markets in the last few years. They have been doing quite well thanks to their very reasonable prices and good value in terms of high-quality optics. It is hard for a newer brand to gain footing in the optics market because astronomers tend to stay forever with the brands they already know and trust, but Solomark is starting to do it.
We tested this model for 3 separate viewing sessions, mostly for lunar and planetary observations, and compared it with a Celestron PowerSeeker 70EQ which would be its direct competition because of the same aperture and similar price range. Let's take a look at what we found.
Verdict
If you just want the quick version. The Solomark 70EQ performed great in comparison to other telescopes in the 70mm aperture range. The optics are excellent for this range, it's easy to use and assemble, and it comes with high-quality accessories.
If you have read our reviews, you know we like telescopes that you can grow with as an astronomer so that you don't outgrow them in 6 months once you have learned the basics. The Solomark 70EQ does great in this area. The equatorial mount and the Plossl eyepieces it comes with will allow you to use it for a long time without feeling you need something more sophisticated.
| | |
| --- | --- |
| Optics | 9/10 |
| Build quality | 8/10 |
| Accessories | 10/10 |
| Ease of use | 9/10 |
| Portability | 8/10 |
| Price | 8/10 |
| Verdict | Safe buy |
| Price | |
Technical specifications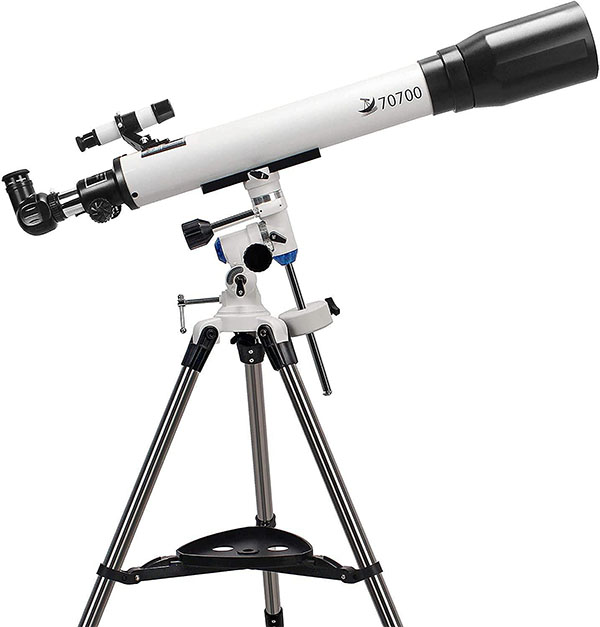 In terms of the technical specifications, this telescope really shines in comparison to competitors in the same range. It seems like the objective of its design is to be one step above the telescope in this aperture range.
| | |
| --- | --- |
| Name | Solomark 70EQ |
| Telescope type | Refractor |
| Aperture | 70 mm (2.75″) |
| Focal length | 700 mm (27.5″) |
| Focal ratio | f/10 |
| Weight | 7.7 Kg |
| Finder scope | 5 x 24 |
| Eyepiece slot | 1.25″ |
| Maximum magnification | 175x |
| Included eyepieces | Plossl 10mm, Plossl 20mm |
| Tripod | Stainless steel |
| Other included accessories | Phone adapter |
In-depth review
Let's start by taking a look at the design.
The Solomark 70EQ is a refractor telescope. Refractors are the recommended type of telescope for beginners because they are easier to use, they don't require constant maintenance, and they tend to last longer. All important factors to consider, especially if the user is going to be a kid.
If this is your first telescope, telling you it has an aperture of 70mm won't mean much because you won't have anything to compare it to. This article has some photos taken with 70mm telescopes and should give you an idea of what to expect so you can decide if the aperture is a good fit for you.
The build quality of this telescope is better than what I was expecting. The materials are high quality, it uses steel pieces in all the places that matter, and it feels sturdy. The included tripod is also fully made of stainless steel which if you have tested other telescopes is important because the ones that have plastic legs always end up being shaky and you definitely don't want that when you are using a high zoom and the slightest move can throw you off your target.
The optics are at the high end of what you can expect for a 70mm telescope. The body has a focal length of 700mm which is the maximum that you will find for any telescope in this range. This large focal length will give you access to the maximum magnification (zoom) that a 70mm aperture lens can reach which is 175x, allowing you to view a wider range of astronomical objects and letting you adjust the view with different eyepieces depending on the situation. For comparison, a telescope with a 400mm focal length cannot realistically reach that maximum magnification even if the lens supports it, so having the extra length helps in getting the most out of your scope.
One of the most telling indicators of the level of quality Solomark is trying to achieve with this telescope is the eyepieces they included. The 70EQ comes with two Plossl eyepieces, these have a focal length of 10mm and 20mm. Plossl eyepieces are very high quality and they are generally not included with telescopes in this aperture range because they are more expensive. Most 70mm telescopes come with K eyepieces, that while serviceable, you will eventually want to replace with Plossl ones anyway.
It is always nice when telescopes already come with everything you need right from the start. Otherwise, even when their price seems cheaper, you end up spending more because you have to buy accessories separately. This 70EQ already comes with a smartphone adapter that will allow you to connect the camera of your phone to the eyepiece so you can take pictures of your objectives. Smartphone adapters are a great way to get started with astrophotography.
One of the few cons of this telescope is its weight. Assembled, the Solomark 70EQ weighs around 7.7 kg (17 pounds). This is about 20% heavier than the average 70mm scope. The extra weight is due to the steel components so it's entirely justified and adds to the quality of the product, but it does hurt a little bit its portability.
Conclusions
Who is it for?
Beginner astronomers, hobbyists, a kid's first telescope.
Who it isn't for?
Experienced and advanced stargazers, people looking for a light travel scope. If what you want is a travel device, check out our guide on portable telescopes.
Is it a good buy?
Yes, the value to price ratio is good. The optics are great, the build quality is high. It's a safe, good buy.
Why is it more expensive than X telescope with the same 70mm aperture?
It has some premium features. Equatorial mounts tend to be more expensive than AZ mounts, it includes high-quality Plossl eyepieces, and it comes with accessories out of the box.