Stargazing is an engaging, fun, and outdoorsy experience that also has a learning component. This makes it an excellent hobby for teenagers that are interested in science or technology.
A telescope is also a great way for them to test the waters and see if they could potentially be interested in a career in any of the STEM fields.
But it can also be a family activity. A camping trip to watch the stars away from the city lights is a great way for parents to bond with their kids while they are in a part of their lives when they are looking for fun experiences, and even though you might not understand it, for cool places to photos for Instagram.
Top pick: Celestron AstroMaster 70AZ
Top Pick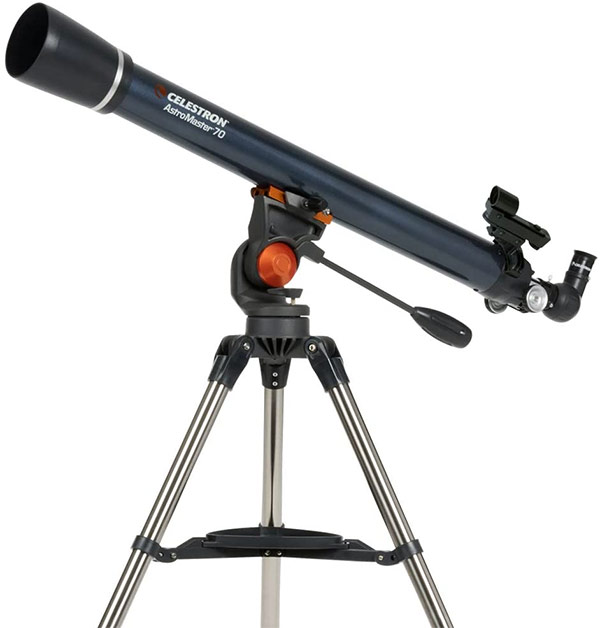 Celestron AstroMaster 70AZ
Easy to use, basic telescope with solid optics that fits every beginners needs. A great choice by one of the most trustable brands on the market.
If you just want to get to the point. Here's our pick for the best telescope for teenagers. The Celestron Astromaster 70AZ is one of the most popular beginner devices out there and for good reason. It meets all the requirements. Solid optics, easy to use, and a very reasonable price.
The Astromaster has a 70mm aperture which is the minimum recommended for entry-level telescopes. This gives it a maximum magnification of 140x which is enough to fully appreciate the Moon's craters and geology in high detail. The planets up to Saturn and its rings can be observed in some detail. Uranus and Neptune might appear occasionally under good sky and orbital conditions, but they'll just look like a light blue dot.
As for deep space objects. The AstroMaster can view objects with a magnitude of up to 11.7. This means it can see some of the closer galaxies and nebulas such as the Pinwheel Galaxy, Centaurus A, the Sunflower Galaxy, the Owl Nebula, and of course, those that are visible even with the naked eye such as Andromeda.
Specifications
| | |
| --- | --- |
| Brand | Celestron |
| Telescope type | Refractor |
| Aperture | 70mm |
| Focal length | 900mm |
| Max. useful magnification | 165x |
| Max. limiting magnitude | 11.7 |
| Mount | Alt-azimuth |
Why we like it
All the features in this telescope are made to help the user learn.
The Alt-Azimuth mount in this telescope (the mechanism between the tripod and the tube) is easy to use. It moves on two axes and you basically just have to "point and shoot".
Refractor telescopes like the AstroMaster 70AZ do not require maintenance like other types of telescopes. This makes them perfect for a teenager that is just getting started.
The technical specifications are great for a telescope of this aperture. Besides its 70mm aperture, it has a focal length of 900mm. At least 200-300mm longer than the budget 70mm devices. This is good because it is a more appropriate focal length to make use of its capabilities primarily as a telescope to observe planets and the Moon.
The assembled weight counting the mount is less than 12 pounds (5.4kg). This makes it portable enough to be used as both, a backyard telescope and a to take it on a field trip.
The only area where the Celestron Astromaster 70AZ is a little weak is accessories. It comes with two Kellner eyepieces (10mm and 20mm), a star diagonal to "fix" the inverted view refractor telescopes show, and a red dot finder. Other telescopes in the same price range already include a Barlow lens and a smartphone adapter to take photos with. You will need to get those separately with the AstroMaster. While it makes up for it in quality, these would be a nice addition.
In conclusion, The Astromaster 70AZ is an excellent telescope for teenagers. There are 80mm and 90mm versions of this same telescope. Those are also solid choices but at that price, you could make the jump to the 114mm Newtonian AstroMaster.
How to choose a telescope for teenagers
Choosing the best telescope for teenagers can be a difficult task. Especially if you don't have any experience yourself. You will read specifications like aperture, focal length, focal ratio, magnification, etc. but what do those numbers even mean? and how does each affect your actual viewing experience?
Well, here's a quick rundown of everything you need to know.
Telescope type
The two major choices you need to make when selecting a telescope are type and aperture.
There are many telescope types, but for teenagers that are getting started in the hobby, we are going to focus on 3. Refractors, Newtonians, and Cassegrain.
You can read about the specifics of each in our article about telescope types, but here's a super short summary.
Refractors are good for beginners because they don't require maintenance and are easy to use. The downside is they get expensive quickly as you go up in aperture so they are only available in the smaller aperture ranges (70mm-102mm)
Newtonians – also called reflectors – have a steeper learning curve and require maintenance, but in the long run, you will learn more with one. The other benefit is their mirrors are cheaper to make so you can find them in larger sizes.
Cassegrain telescopes use a combination of mirrors and lenses. These are modern designs that are slightly more expensive but offer great optics. They are also optimal for planetary viewing and have compact bodies that are perfect for travel.
Aperture
The aperture is the most important number you have to look at when choosing a telescope. It is the specification that matters the most.
It refers to the size of the front lens in the telescope and it is going to determine the amount of light the device can capture. The more light you can get, the better your image will be.
If you need to choose between two telescopes – assuming similar quality from reputable brands -, prioritize the one with the largest aperture.
Portability
The larger telescopes can be heavy and clunky. It's important to consider where it will be used so you can choose one that fits your needs. If the device is going to be big, you will also need to plan how to store it.
When it comes to selecting a telescope for kids, you need to take weight into account to make sure they can handle the setup. For teenagers, this is less of a factor. If they'll only be doing backyard observing, then it is not going to be too important.
However, if you plan to take on a family trip into the field so you can get a better view of the sky at a low pollution location, then weight and size matter. There are telescopes that are specifically designed for portability but they sacrifice a bit of power. This is why it is important to consider what type of use it is going to see from the start.
Best telescope for teenagers
Best budget telescope – HEXEUM 70mm
Top Pick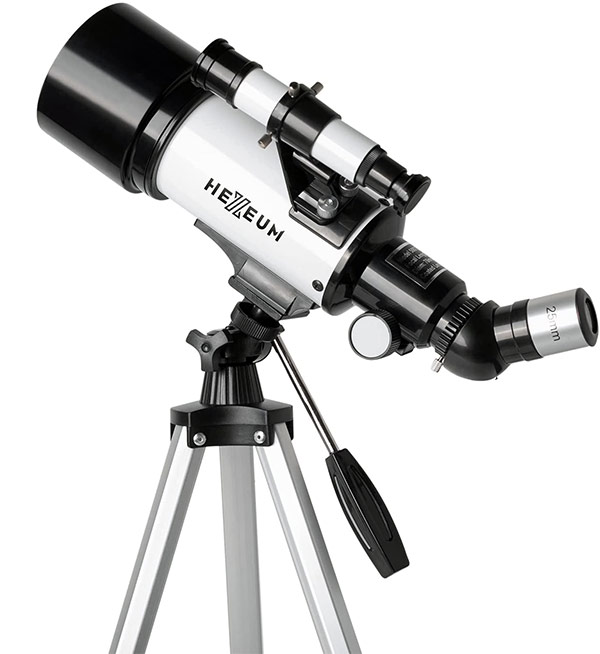 HEXEUM 70mm
Entry level, lightweight telescope that has an excellent price to value ratio. Limited optics but good choice for first time buyers.
| | |
| --- | --- |
| Brand | HEXEUM |
| Telescope type | Refractor |
| Aperture | 70mm |
| Focal length | 500mm |
| Max. useful magnification | 165x |
| Max. limiting magnitude | 11.7 |
| Mount | Alt-azimuth |
If you are looking for a great deal on a limited budget, the HEXEUM 70mm is a solid choice.
HEXEUM is an optical devices brand that focuses on the entry-level market. They only offer low aperture telescopes but that's not a bad thing because it means they have been able to focus on and perfect exactly what their customer base is looking for. This is why they have such good reviews despite their telescopes not being too powerful.
This scope offers an aperture of 70mm which is good enough for a beginner to get started with astronomy. The lenses are well manufactured and after running some tests they didn't produce any major optical errors. The level of detail, brightness, and contrast are all reasonable.
It has a smaller focal length of 500mm which makes it also perfect to double as a travel telescope. It only weighs about 8 pounds total (3.6 kg) when fully assembled.
One of the best things about the HEXUM 70mm are all the accessories it comes with. You are getting a lot of bang for your buck. The box includes two Kellner eyepieces (10mm and 25mm), a 3x Barlow lens, a zenith mirror, and even a smartphone adapter with a remote. There are way more expensive telescopes that don't come with half of that. The only thing I would add is either a 1.5x Barlow lens or a mid-range (15mm-18mm) eyepiece. Those are reasonably cheap so you can get them separately.
While this is not the kind of telescope that will allow you to see detailed images of the Mars surface, it is good enough to get started and check out most of the planets in the Solar system, observe the closer galaxies, nebulas, and take a detailed look at the geology of the Moon. And at that price, it's hard to beat the value you can get out of it.
Best for viewing galaxies – Celestron AstroMaster 130EQ
Top Pick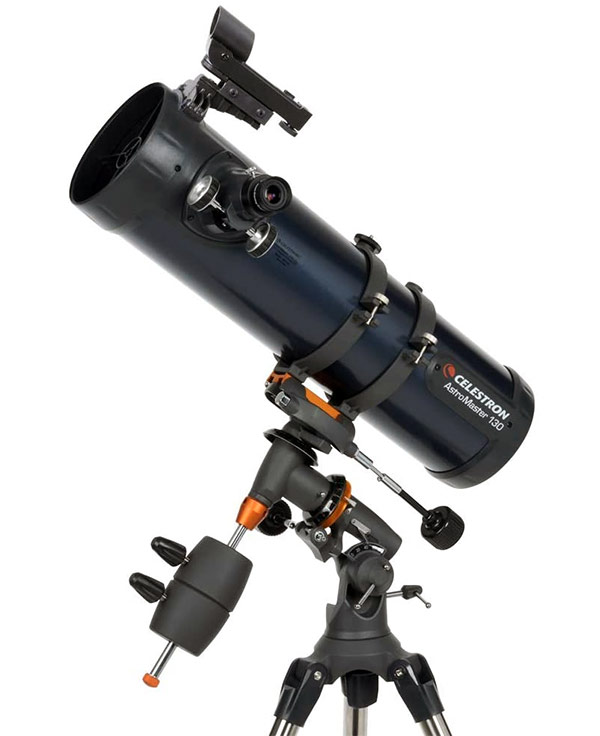 Celestron AstroMaster 130EQ
Powerful mid-range telescope that will grow with the user. Great beginner option to get into astrophotography and deep space observing.
| | |
| --- | --- |
| Brand | Celestron |
| Telescope type | Newtonian (reflector) |
| Aperture | 130mm |
| Focal length | 1000mm |
| Max. useful magnification | 269x |
| Max. limiting magnitude | 12.8 |
| Mount | Equatorial |
Watching deep space objects such as galaxies and nebulas in a high level of detail requires a bit more power. That is why we are choosing the AstroMaster 130EQ which, just like out top pick, is made by Celestron.
This telescope is a Newtonian. These types of telescopes are ideal for deep space observing for several reasons.
They can have larger apertures at a reasonable price
Newtonians fix some color errors that appear in some of the lower-end refractors. This results in sharper and brighter images.
Their shorter focal length gives them a larger field of view. This allows them to fully capture the wider objects.
These are the reasons why we only selected Newtonians for our article on the best telescopes for viewing galaxies. The same logic applies here when choosing a telescope for teenagers.
The AstroMaster 130EQ uses an equatorial mount. Unlike AZ mounts that are "point and shoot" but have limited movement, equatorial mounts offer a higher degree of control and better object tracking. The downside is they are harder to use, but once you get the hang of it, they are the better choice, especially for astrophotography.
Speaking of astrophotography (taking photos of stars). This is a great telescope to start experimenting with this hobby. It is powerful enough that it is worth it to start experimenting with using a DSLR camera instead of just a smartphone adapter. To connect a camera you would simply need a connector and adapter that replaces the camera's lens. Check out our guide on how to take photos with a telescope for the details.
Maintenance is something that must be considered if you want to choose a Newtonian. These telescopes need to be collimated every few months. Collimation simply means realigning the mirrors occasionally. This is done to keep getting sharp images and reduce blur. The process is simple and it takes less than 30 minutes. It basically comes down to adjusting the screws that hold the mirrors in order to keep them centered. While anyone can do it, it seems intimidating the first time and you can damage the mirrors if you aren't careful. If you want to skip this process, you can get telescopes professionally collimated at a local shop or ask for some help at the local astronomy club meeting.
The Celestron AstroMaster 130EQ can be considered a mid-range telescope. It is more powerful than the other options shown in this list and while it is more expensive, is also worth the investment. This is the kind of device that is going to grow with the user as they learn more and they won't feel like it's limiting their viewing experience. It is the kind of telescope that you can use for 15-20 years if you keep it in good shape.
Best for stargazing – Celestron StarSense 102DX
| | |
| --- | --- |
| Brand | Celestron |
| Telescope type | Refractor |
| Aperture | 102mm |
| Focal length | 660mm |
| Max. useful magnification | 240x |
| Max. limiting magnitude | 12.5 |
| Mount | Alt-Azimuth + StarSense Explorer |
Top Pick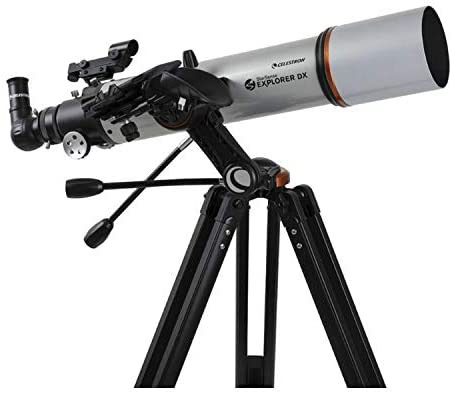 Celestron StarSense Explorer 102AZ
Take a guided tour through the night sky with the automated app and guidance system. The StarSense technology makes the stargazing experience for beginners much easier and helps veterans to save time setting up.
I've been really impressed with the StarSense app ever since I had the chance to review it for our article on portable telescopes. In fact, I recommended the 70mm version of this as the best travel telescope for stargazing.
The StarSense mount and app combine to automatically detect your position as well as the objects in the sky. Then it will tell you which objects are visible that night and guide you so you can easily point your telescope to any star, galaxy, planet, or nebula in the database. Simply connect your phone to the mount, open the app, follow some simple instructions to get everything aligned, and let the app do the rest.
This removes one of the biggest learning bottlenecks for people who are starting to use a telescope which is learning to find and track the objects they want to observe. This technology gives you the option to focus on actually observing instead of having to deal with all the setup.
The optics and lenses are pretty much the same as the other Celestron telescopes. So, in essence, the tube is basically the same as the AstroMaster and offers the same level of high-quality optics.
This model specifically is a large refractor with an aperture of 102mm. This is on the higher end for refractors. They are not usually made in larger sizes because they start to get too expensive. There are 70mm and 80mm models available but if you can afford it, the extra 30mm make a huge difference in the quality of detail you can capture.
The following video shows the StarSense app in action so you can get a better idea of how everything works: