Guion "Guy" Bluford is a retired NASA astronaut who became famous in 1983 when he became the first African American to go to space. His first mission was in the Orbiter Challenger and was codenamed STS-8. Bulford participated as a mission specialist. After that, he was part of the crew in other missions until 1992 when he left NASA.
Guion's accomplishments and career are very impressive and thanks to this he has earned a place in history as one important figure in space exploration. The following fact sheet will give you a quick look at his life and in the following section, we will dive deeper into the details.
Fact Sheet
Full name
Guion Stewart Bluford Jr.
Date of birth
November 22, 1942
Place of birth
Philadelphia, Pennsylvania, U.S.
Astronaut Nickname
Guy
Occupation
Engineer, Fighter Pilot, Astronaut
Military rank
Colonel, United States Air Force
Status
Retired
Education
Bachelor's degree in aerospace engineering, Penn State University
Master's degree in aerospace engineering, Air Force Institute of Technology
Ph.D. in aerospace engineering, Air Force Institute of Technology
Master's degree in business administration, University of Houston–Clear Lake

Total time in space
28d 16h 33m
NASA missions
STS-8
STS-61-A
STS-39
STS-53
Awards
NASA Exceptional Service Medal
NASA Distinguished Service Medal
International Space Hall of Fame
U.S. Astronaut Hall of Fame
The Pennsylvania Society Gold Medal
Defense Superior Service Medal
Legion of Merit
Air Force Meritorious Service Medal
Air Force Commendation Medal
Other ten Air Force Medals
Biography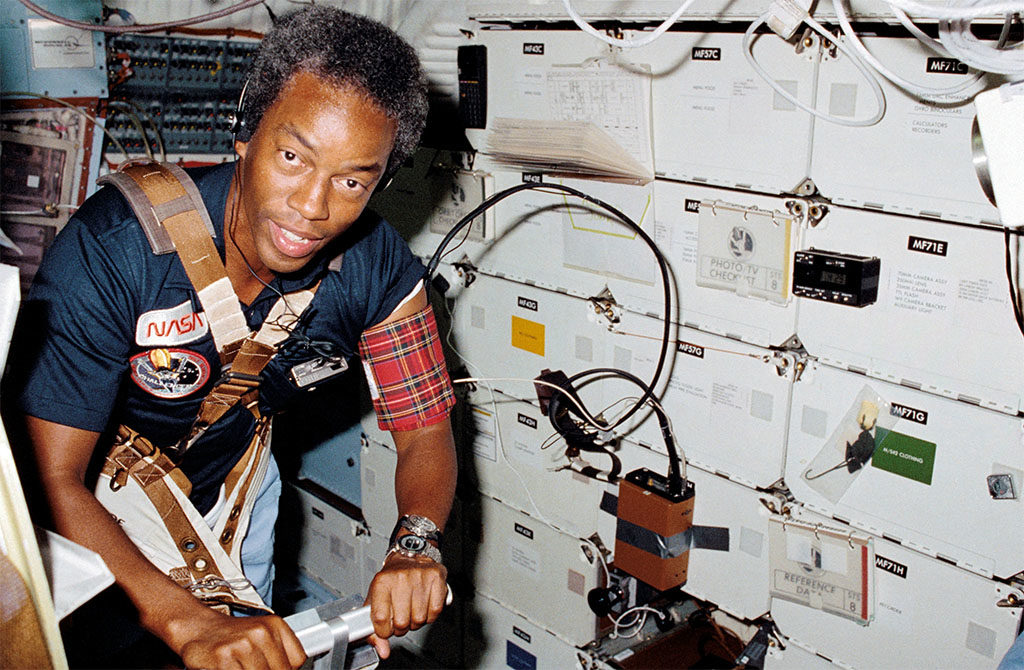 "You are paving the way for many others and making it plain that we are in an era of brotherhood here in our land"

President Ronald Regan talking about Guion Bulford
The full name of Guion Bluford is Guion Stewart Bluford Jr. He was born in Philadelphia, Pennsylvania on November 22, 1942. His mother was a school teacher and his father was a mechanical engineer. This helped him develop an interest in engineering from an early age and seek a career in the field. Guion attended Overbrook High School and he graduated in 1960 to go to Pennsylvania State University.
In college, Bluford was the only African American student in engineering school. This didn't stop him from earning a bachelor's degree in aerospace engineering. After this, he joined the Air Force where he trained to become a combat pilot at Williams Air Force Base.
In 1964, Guion married his wife, Linda Tull. They have two sons together named Guion Bluford III and James Bluford.
Once he earned his pilot wings, Guion was assigned to participate in the Vietnam war where he flew 144 combat missions.
Upon his return from Vietnam, he was assigned to Sheppard Air Force Base in Texas where he served as an instructor pilot, assistant flight commander, and evaluation officer.
In 1972 Guion decided to pursue a master's degree in aerospace engineering at the U.S. Air Force Institute of Technology which he got two years later. Guion was still not done and in 1978 he got a Ph.D., also in aerospace engineering.
He was assigned to other roles in the Air Force until 1978 when he applied to NASA's astronaut program and was selected out from thousands of applicants. One of the other applicants that were selected was Sally Ride who would become the first American woman to go to space. After a few years of training and working various scientific and engineering jobs at NASA, he was finally chosen for the eight space shuttle mission (STS-8) in 1983.
The STS-8 mission launched from Kennedy Space Center in Florida on August 30, 1983. That day Guion Bluford became the first African American person in space. During the mission, the crew deployed a satellite, tested a robotic arm and performed various other scientific experiments in space.
Bluford participated in three other space missions. The details are in the following table:
Guion Bluford Space Missions
| | | |
| --- | --- | --- |
| Date | Mission | Role |
| August 30, 1983 | STS-8 | Mission Specialist 1 |
| October 30, 1985 | STS-61-A | Mission Specialist 3. Red Team |
| April 28, 1991 | STS-39 | Mission Specialist 3 |
| December 2, 1992 | STS-53 | Mission Specialist 1 |
Between all the four missions, Guion was in space for more than 688 hours.
After retiring from NASA in 1993, Guion joined various private companies in the aerospace industry where he still worked closely with NASA as a consultant and support provider. In 2002 he became the president of Aerospace Technology, a consulting firm based in Cleveland, Ohio that does research, development, and application of aerospace technologies. Bluford still works there to this day.
Beyond his career, Guion also has many hobbies like scuba diving, playing golf and reading a lot of books.
On being the first African American in space
In an interview with NASA on the 35th anniversary of his first flight into space, Guion says he feels proud to have opened the door for other African Americans to fly to space, however, he was a bit reluctant at first as he is a private person who doesn't enjoy the attention from the media.
In an interview with the Washington Post in 1983 a few days before the launch of his first space flight, he said the following:
"It might be a bad thing to be first if you stop and think about it, it might be better to be second or third because then you can enjoy it and disappear–return to the society you came out of without someone always poking you in the side and saying you were first."
Guion Bluford Accomplishments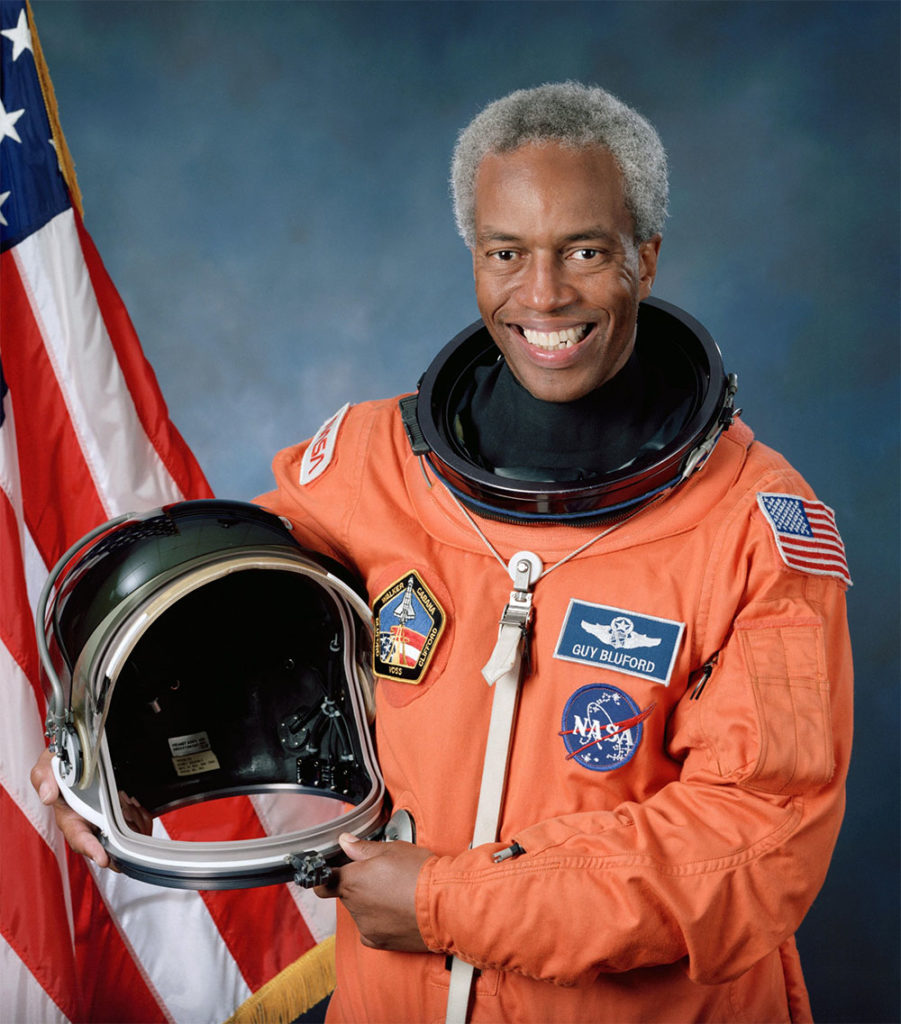 Bluford had a very accomplished career during his time NASA and the Air Force which earned him a lot of well-deserved awards, medals, and the public recognition. The following are some of the most relevant.
Guion has two different masters degrees (aerospace engineering and business administration) and one Ph. D. (aerospace engineering)
On 1978, Guion was chosen from more than 9,000 applicants for the astronaut program thanks to his excellent career record
On 1966 Guion received his pilot wings in the U.S. Air Force
He logged over 6,500 hours as a jet pilot and instructor
On August 30, 1983, Guion became the first African American to fly to space
In 2002 he became president of the aerospace firm Aerospace Technology
During his time in the Air Force, Bluford earned the Meritorious Service Medal, the Commendation Medal, three Outstanding Unit Awards, the Vietnam Service Medal, Vietnam Cross of Gallantry, Vietnam Campaign Medal and ten Air Force Medals.
During his time at NASA, he was awarded the NASA Distinguished Service Medal, NASA Exceptional Service Medal, four NASA Group Achievement Awards and four NASA Space Flight Medals, one for each of the space missions he participated in.
Guion has been inducted to the International Space Hall of Fame and the U.S. Astronaut Hall of Fame
Guion Bulford Quotes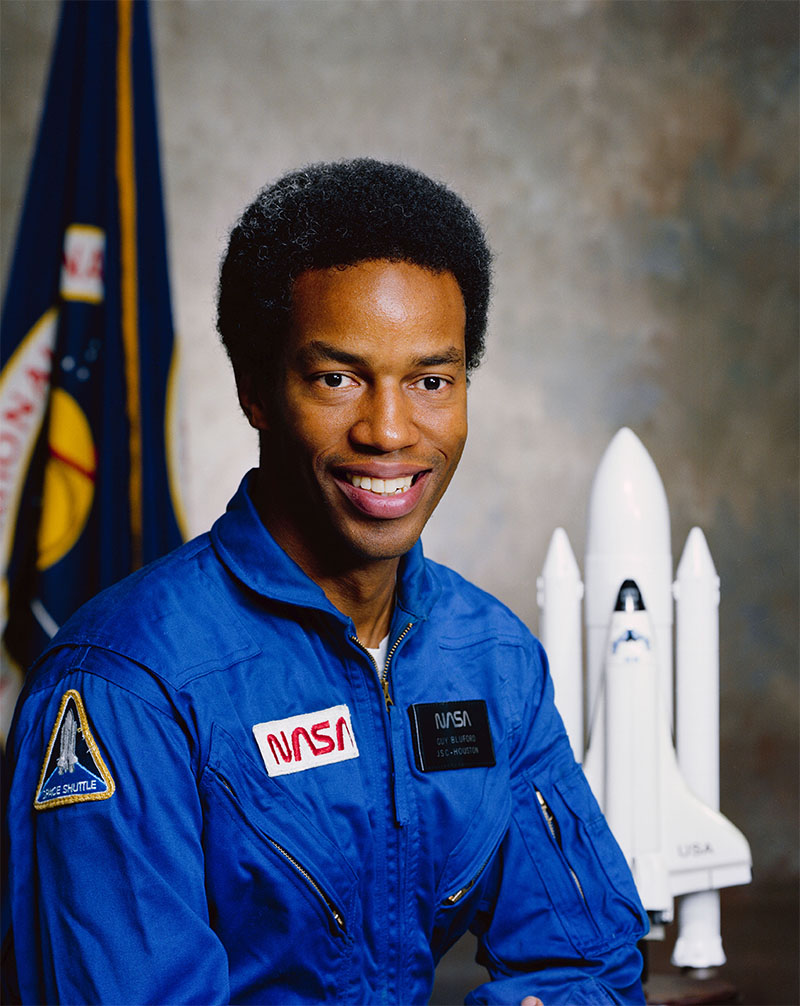 While Guion isn't really a media personality and doesn't give many interviews, he has said some great quotes in his lifetime that are worth remembering. Here are some of our favorites.
"I felt an awesome responsibility, and I took the responsibility very seriously, of being a role model and opening another door to black Americans, but the important thing is not that I am black, but that I did a good job as a scientist and an astronaut. There will be black astronauts flying in later missions … and they, too, will be people who excel, not simply who are black … who can ably represent their people, their communities, their country."
"The sad thing about a shuttle mission is when you hit the point in your checklist when it says 'bring vehicle home.'"
"I've come to appreciate the planet we live on. It's a small ball in a large universe. It's a very fragile ball but also very beautiful. You don't recognize that until you see it from a little farther off."
Where to Learn More
Author Laura Jeffrey wrote an in-depth biography of Guion Bluford. You can find it on Amazon. It's a small 48 pages book written for children.
In the following interview with APB Speakers, Bluford talks about his time at NASA, work ethic and the importance of STEM education.