Sally Ride was an American astronaut who is famous because in 1983 she became the first American woman in space. Sally also holds the record for being the youngest American in space as she was only 32 years old when she went on her first mission. Thanks to her work and extraordinary career, she has become one of the most important figures in astronomy and space exploration, receiving dozens of awards, including having two elementary schools named after her in The Woodlands, Texas and Germantown, Maryland.
Let's take a quick look at some of the most important facts in Sally Ride's career with the following fact sheet.
Fact Sheet
Full name
Sally Kristen Ride
Date of birth
May 26, 1951
Parents
Dale B. Ride
Carol Joyce Anderson

Place of birth
Encino, Los Angeles, California, U.S.
Occupation
Astronaut, Physicist
Education
Bachelor's degree in Physics
Bachelor's degree in English
Masters degree in Physics
Ph.D. in Physics

College
Stanford University
Missions
STS-7
STS-41-G
Time in space
14 days, 7 hours, 46 minutes
Died
July 23, 2012
Awards
National Space Society's von Braun Award
National Women's Hall of Fame
Astronaut Hall of Fame
NASA's Space Flight Medal (2 times)
California's Hall of Fame
National Aviation Hall of Fame
General James E. Hill Lifetime Space Achievement Award
Presidential Medal of Freedom

Biography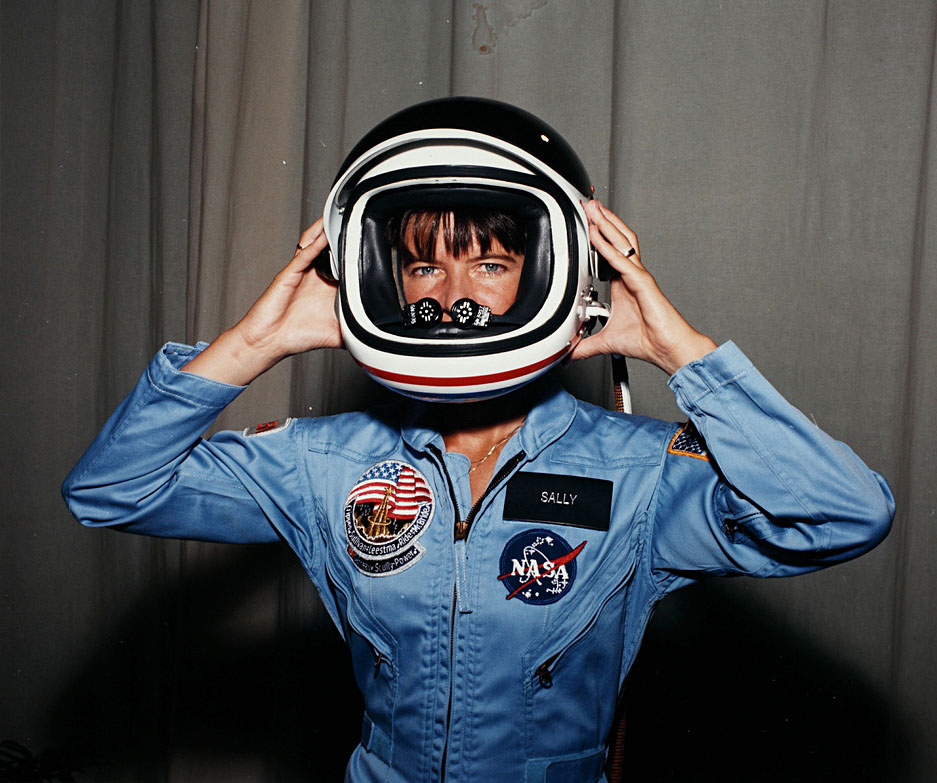 "For whatever reason, I didn't succumb to the stereotype that science wasn't for girls. I got encouragement from my parents. I never ran into a teacher or a counselor who told me that science was for boys. A lot of my friends did."
Sally Kristen Ride was born in Encino, California on May 26, 1651. When she was young, Sally was interested in science and sports. She attended Birmingham High School and then moved to Westlake High School on a partial athletic scholarship as she was really good at playing tennis. After graduating High School, Sally played tennis professionally for a while and then joined Stanford University.
At Stanford, Ride graduated with a bachelor's degree in Physics and English and then earned a masters degree in 1975 and a Ph.D. three years later, both in physics. She studied astrophysics and free electron lasers.
In 1977, NASA opened its astronaut program to women for the first time in history. Sally saw an ad for the program and decided to apply. She was accepted one year later in 1978 and joined NASA's astronaut team officially.
Sally started her career at NASA as a capsule communicator for the second and third shuttle flights. The shuttle missions had the objective of research and Earth to orbit transportation. In 1983, Ride was selected as a mission specialist for the seventh shuttle mission codenamed STS-7. The mission took place on June 19, 1983, and that day Sally Ride became the first American woman to fly to space. As mission specialist, Sally was in charge of operating the Challenger shuttle's robotic arm, deploy a satellite into orbit and perform various science experiments.
While Sally was the first American woman in space, she was not the first woman in space. Two women went into space before her. They were the Russian cosmonauts Valentina Tereshkova in 1962 and Svetlana Savitskaya in 1983.
In 1984 she went back into space for the STS-41-G mission. In total for both missions, Sally spent a bit more than 343 hours in space or more than 14 days and 7 hours.
NASA had planned to send Sally Ride back for a third mission, STS-61-M, but an accident with the Challenger shuttle canceled the flight.
Sally retired from NASA in 1987. After that, she kept on trying to encourage women to pursue the study of math and science. She joined the University of California San Diego as a professor and started the EarthKAM program. She also wrote seven children's books that looked to get kids interested in science, some of which became very popular.
In 2001, she founded the company Sally Ride Science. The company's mission was to create and promote entertaining science shows and publications for middle school students. The company underwent a re-organization in 2015 after Sally's death and is now run as a nonprofit organization by the University of California San Diego.
Sally Ride's Accomplishments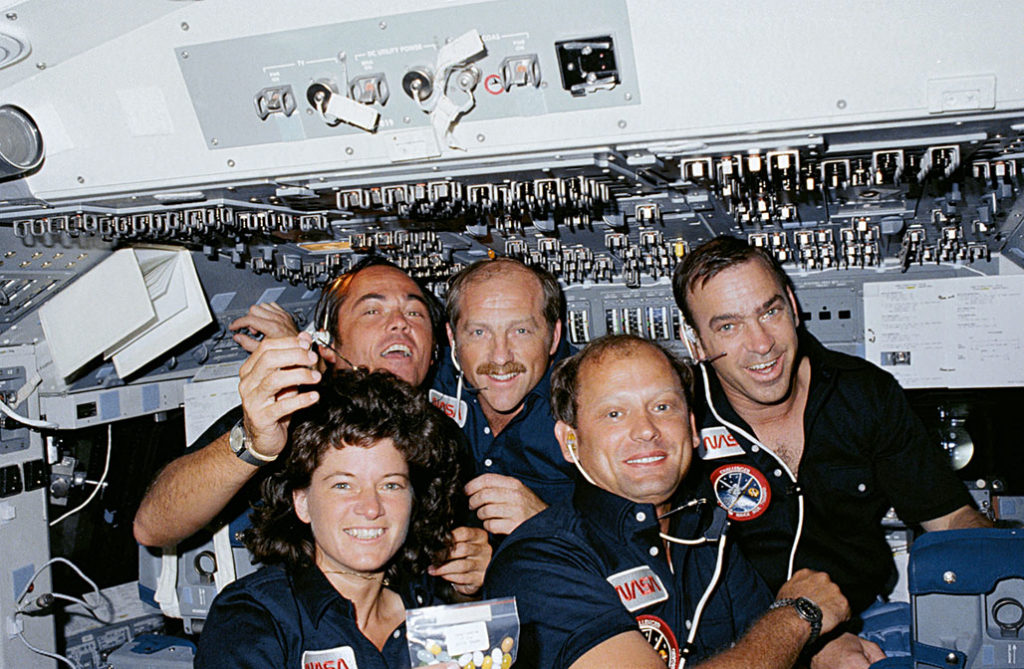 Sally Ride is one of the most accomplished and iconic women in space exploration and science. Her work at NASA opened the door for many other women and inspired a lot of girls to get interested in space, math, and sciences.
The following list shows some of her accomplishments and records.
On 1978, Sally became one of the first six women ever selected for NASA's astronaut program.
On June 19, 1983, Sally Ride became the first American Woman to go to Space.
On June 19, 1983, she also became the youngest American to go to space at the age of 32. She still holds the record.
Sally earned a Ph.D. in physics from Stanford University, one of the best science programs in the U.S.
She was an entrepreneur and founded her own company at the age of 50, a science communication company called Sally Ride Science.
She was inducted into the Women Hall of Fame, the Astronaut Hall of Fame and the National Aviation Hall of Fame.
Ride also received the Presidential Medal of Freedom and NASA's Space Flight Medal twice.
Sally wrote seven books in her lifetime, mostly directed at children.
She had many other books written about her, including a New York Times Bestseller biography written by author Lynn Sher.
She had two elementary schools named after her in Maryland and Texas.
Sally had a LEGO figure designed after her in the Women of NASA set. The kit became an Amazon's bestseller.
Sally Ride's Books
Sally Ride wrote seven books, most of them co-written with science writer and co-founder of her company, Tam O'Shaughnessy. Most of her books are targetted to children and have the objective of teaching them about certain subjects related to space, Earth, and astronomy.
Here's the complete list of Sally's books.
| | | |
| --- | --- | --- |
| Book | Authors | Year |
| To Space and Back | Sally Ride, Susan Okie | 1986 |
| Voyager: An Adventure to the Edge of the Solar System (Face to Face With Science) | Sally Ride, Tam O'Shaughnessy | 1992 |
| The Third Planet: Exploring the Earth from Space | Sally Ride | 1994 |
| The Mystery of Mars | Sally Ride, Tam O'Shaughnessy | 1999 |
| Exploring Our Solar System | Sally Ride, Tam O'Shaughnessy | 2003 |
| Mission: Planet Earth: Our World and Its Climate–and How Humans Are Changing Them | Sally Ride, Tam O'Shaughnessy | 2009 |
| Mission: Save the Planet: Things YOU Can Do to Help Fight Global Warming! | Sally Ride, Tam O'Shaughnessy | 2009 |
Quotes
Sally Ride was a really smart woman. It would be wise to pay attention and listen to some of the phrases and tidbits of knowledge she left us. Here's a selection with some of her best quotes.
"Even though NASA tries to simulate launch, and we practice in simulators, it's not the same – it's not even close to the same."
"Studying whether there's life on Mars or studying how the universe began, there's something magical about pushing back the frontiers of knowledge. That's something that is almost part of being human, and I'm certain that will continue."
"I think it's important for little girls growing up, and young women, to have one in every walk of life. So from that point of view, I'm proud to be a role model!"
"All adventures, especially into new territory, are scary."
Where to learn more
There are many great resources online and offline where you can learn more if you want to dig deeper into the life of Sally Ride and what she means to women in science.
First, the best long-form resource to really learn about Sally's life is the biography Sally Ride: America's First Woman in Space (View on Amazon), an NYT bestseller written by Lynn Sherr. In this 400 pages long book, Sherr interviews Ride's family and even gets access to letters and diaries that help her paint a rich picture of her life story.
NASA's official biography in PDF format includes a lot more details about her career at NASA.
In the following interview made in 1984 for the PBS Nova show, she talks about her motivations to become an astronaut, how they are trained and her experiences in space.