Selecting a new telescope always seems a bit intimidating, especially if you are not familiarized with all the terminology and the meaning of the tech specifications. Stop worrying! I am here to help you understand everything you need so you can make an informed choice.
On this occasion, I got the chance to test the GSkyer 600x90mm AZ. A popular entry-level model in recent years due to its high aperture for a refractor telescope and reasonable price.
Gskyer is an optics company that has been making telescopes for over 30 years. They are based in Zhejiang, China, and since they started selling internationally a few years ago, they have carved a place for themselves in the U.S. and western market.
I tested the 600x90mm AZ in 3 different viewing sessions with a variety of climate and sky conditions so I could make a good assessment of its performance. I directly compared it to the Celestron Astromaster 102AZ which was the refractor with the most similar specifications I had access to at the time.
The Verdict
Here's the short version of the review.
What you are getting with the GSkyer 600×90 is an easy-to-use, reasonably powerful telescope that is a really good beginner's choice. It requires no maintenance, and the learning curve is minimal.
The optics are good, the build quality is ok, and it comes with all the accessories you need to get started like 3 eyepieces, one Barlow lens, and a smartphone adapter.
When compared to telescopes in the same aperture category it performs right in the middle. It's not the best, but it's also far from the worst. It's especially great value if you can find it on sale (which consistently happens).
If you are looking for a beginner's scope that "just works", go for it. It's a solid choice.
Just be aware of a couple of things. First, You might outgrow it fast. And second, it's not very cost-effective when it comes to raw power.
If what you want is a telescope that is going to grow with you as you learn, and that has more power, there are Newtonian telescopes in the 130mm range of aperture for almost the same price as the Celestron AstroMaster 130EQ. Just note that Newtonians come with a steeper learning curve and they require maintenance every 12-24 months.
Here are some ratings for every specific area reviewed:
| | |
| --- | --- |
| Optics | 8/10 |
| Build quality | 7.5/10 |
| Accessories | 7.5/10 |
| Ease of use | 9/10 |
| Portability | 8/10 |
| Price | |
Technical Specifications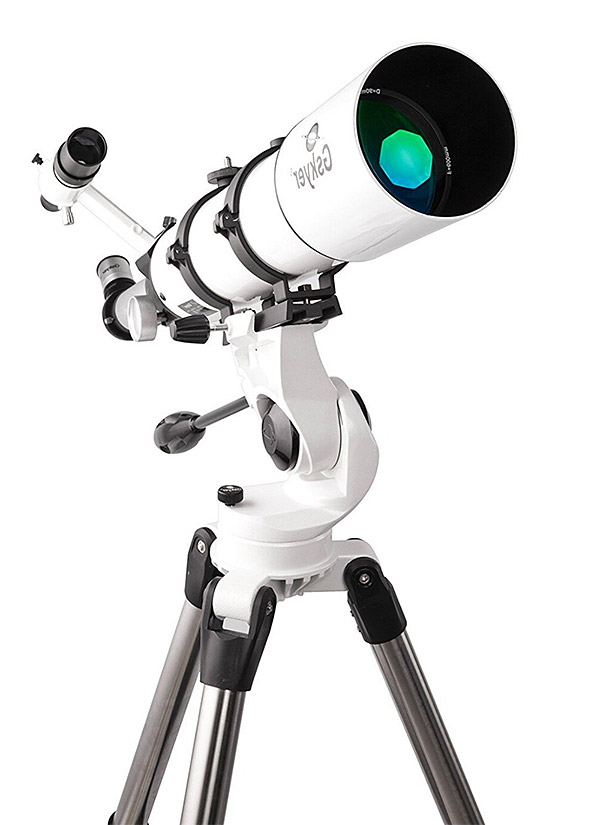 The tech specs for the Gskyer 600x90mm are pretty standard for its category, which is the 70mm-100mm refractors. The materials keep it light enough to carry, it's easy to put together, and the materials and finish are good enough without being spectacular.
| | |
| --- | --- |
| Name | GSkyer 600x90mm |
| Telescope type | Refractor |
| Aperture | 90 mm (3.5″) |
| Focal length | 600 mm (23.6″) |
| Focal ratio | f/6.7 |
| Weight | 17.9 lb (8.1 Kg) |
| Finderscope | 6 x 30 |
| Eyepiece slot | 1.25″ |
| Maximum magnification | 360x |
| Included eyepieces | Kellner 5mm,Kellner 10mm, Kellner 25mm |
| Tripod | Aluminum |
| Mount | Altazimuth |
| Other included accessories | 3X Barlow lens, Smartphone adapter |
In-depth Review
Let's start by explaining what the number in the product's name means.
The 600 is the focal length of the telescope. In a refractor telescope like this one, it is pretty much equal to the length of the tube. It is given in mm, so it is 600mm which is equal to a little bit less than 24″.
The focal length helps determine the magnification and the field of view. The first is not that important because it can be modified with eyepieces and accessories, the field of view matters a bit more. 600mm is a short focal length. This can be good, as it gives you a greater field of view, which is better for observing deep space objects.
The 90 refers to the telescope's aperture. The aperture is the diameter of the front lens and this is the most important number in any telescope as it determines the amount of light it is able to capture. It is also given in millimeters.
An aperture of 90mm is fairly good for an entry-level telescope and is close to one of the larger sizes you can find for refractors before they start becoming too expensive. When it comes to aperture larger is always better, however, if you prefer a refractor because they are easy to use, the 80mm-100mm range is what you should be looking for as a beginner. After that, you will mostly only find Newtonians, or other types of telescopes. Check out this comparison of photos taken with telescopes of different apertures so you can see how much of a difference the aperture makes.
If this is your first telescope and you don't know if 90mm is a good aperture size for you, check out our article on what to expect from 100mm telescopes. The difference is minimal and in fact, our pick in that article is a 90mm device.
In terms of optics, the GSkyer 600×90 performs well. The mirrors are carefully manufactured and don't present imperfections. If you have a trained eye you can find small optical errors when comparing it to a premium mirror, but it's one of those things you won't notice unless you know what you are looking for.
Even though the build materials are solid, the tube is not too heavy. The shorter focal length also keeps it compact, making it a good choice to take camping or to take back and forth between the house and the backyard. It is also relatively easy to assemble and disassemble which is always nice, but If the user will be a small child, they will still need help from an adult to set it up.
The mount is made of aluminum. Very standard for this type of telescope, and while I personally prefer the stainless steel mounts, it is pretty solid and sturdy. It is an AZ mount, which stands for Altazimuth. Altazimuth mounts allow for movement in both horizontal and vertical axis. They are easy to use, and basically "point-and-shoot". The disadvantage of these mounts is they are not made to track moving objects, which makes it harder to use for shooting stars or to take photos with an exposure longer than one hour. For everything else, Altazimuth's are great.
One area where the GSkyer 600x90mm falters a little is the included eyepieces. Even though you get 3 eyepieces in a good variety of sizes where most refractors only include 2, the ones they include are Kellner eyepieces. Kellners are serviceable and good enough for a beginner, but as you learn more, you will want to replace them with higher-quality ones like Plossl eyepieces. We have done a full article comparing Plossl vs Kellner EPs if you want the details. The included eyepieces are 25mm, 10mm, and 5mm which is a good range, but I would have preferred to see them include only two Plossl instead if the issue was the cost.
The rest of the included accessories are fine. It comes with a 3X Barlow and a smartphone adapter. Maybe the 3X Barlow is a bit of an overkill for this telescope's specs and you might want to get a 1.5X too. Here's what a Barlow lens is and does in case you need some help to understand it.
The price might look like a big jump if you compare it to a 70mm telescope. The cost of refractors scales quickly as manufacturing larger mirrors for it is a complex process, this is why there aren't many refractors above the 100mm range, because producing the mirrors becomes too expensive. Newtonians and other designs use lenses instead of mirrors and that's why they can keep the cost down for larger apertures.
The cost is on par with other refractors in the same 90mm-100mm range. Check the price below.
Conclusions
Who is it for?
Complete beginners looking for an easy-to-use telescope
A kid's first telescope.
People looking for a compact second telescope for camping/travel
Who it isn't for?
People looking to upgrade their current telescope
People looking for advanced features
Is it a good buy?
It's a solid buy if you understand what you are getting and you want it as an entry-level telescope.
If you are looking for a more advanced, powerful telescope, look elsewhere.
Alternatives
The Orion Astroview 90mm has similar specs, but a much larger focal length which is slightly better for planetary viewing.
The Celestron AstroMaster 130EQ is a Newtonian with advanced features for almost the exact same price.