More than 56% of people live in large cities. The U.N. estimates that number will continue to grow in the next few decades. And while living in urban areas comes with many benefits like easy access to entertainment, jobs, and services, it also means that fewer people even know what a sky full of stars even looks like.
This is why every year more and more Americans loos for the best places for stargazing in the US. In these spots, you can have a relaxing weekend away from the noise, the traffic, and the pollution and enjoy the stars.
We have selected our favorite spots from all around the country based on several factors detailed in the next section. If you are not interested in knowing how and why we curated this list, skip to the list.
How to choose a stargazing spot
There are a few things to consider when selecting a stargazing spot. It is not enough that it is away from light pollution, you also need to consider where are you going to stay? are you camping or do you want to rent a cabin or a house? is there easy access to food and supplies? etcetera.
Let's take a look at the most important factors:
Light pollution
The reason why only a few stars are visible in cities is called light pollution. This simply means that in large cities, lights are so bright and so numerous that they light up the sky and overwhelm the star's light, creating the illusion that the sky is almost empty.
This is similar to the reason why we don't see any stars during the day besides the Sun. The light of the Sus is so strong that it makes the light of the stars fade away, but they are still there.
Using a telescope does not solve this problem. While a telescope does allow you to see a lot more objects than what your eyes can perceive, they are still affected by light pollution, and their effectiveness is diminished.
Less populated areas have less light pollution and therefore are considered better places for stargazing.
Below you can see a map of light pollution in the US so you can get a better idea of which areas are more heavily affected and how far away from cities you need to go to get a good view of the sky. (source)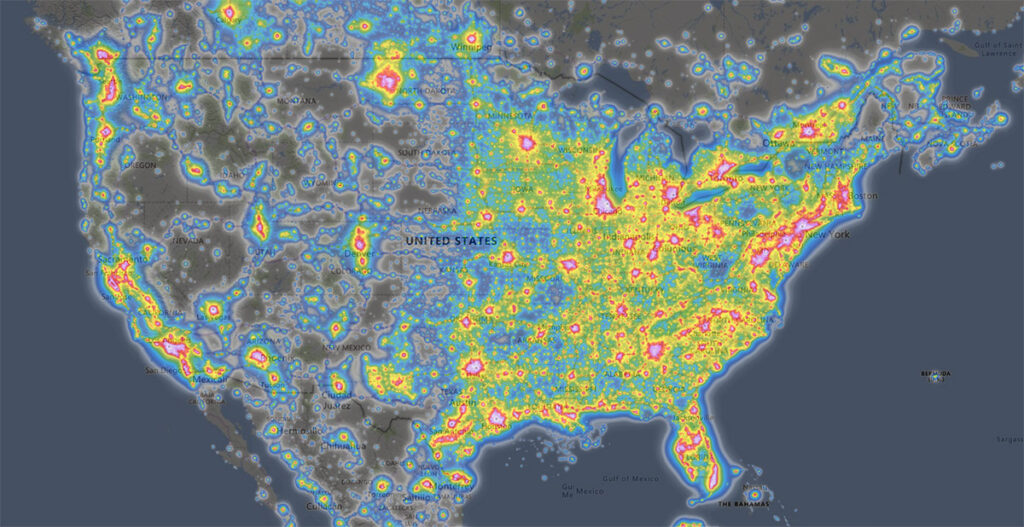 Altitude
There's a reason why observatories are built atop mountains. High altitudes are better for stargazing because there's less air which means that the light coming from the stars isn't distorted as much. This results in clearer views of the sky, especially for sensible instruments such as telescopes.
This is the same reason why space telescopes can get much better images despite being relatively close to Earth's orbit and being smaller than some telescopes on Earth. Light is distorted in Earth's atmosphere, so, space telescopes receive much better images.
Access to services
Logistics play an important role in choosing a place for stargazing. If you are planning a session that will go late into the night, you will probably want a place to camp out, a cabin, or something similar. If you are planning a multi-day trip then you might need access to restaurants, stores, gas stations, etc.
There are locations that have almost no light pollution and where you can get beautiful views but are difficult and uncomfortable to visit. These kinds of things can really take away from a really great stargazing experience so it is a good idea to plan for them.
This makes National Parks a great option. You can mostly get away from civilization, but there's still enough infrastructure and information to make your trip enjoyable.
With all this in mind, it is time to get to our picks.
Dark sky parks and reserves
The good news is that there are parks and reserves all over the US (and the world for that matter) that have been named protected dark sky reserves. These parks are in specific locations that are optimal for stargazing and are actively protected to minimize the amount of light pollution in the area.
In some of these parks, there are also activities for amateurs to learn and borrow a telescope if they don't already have one.
As you will see in the list below, most of the places we have chosen belong to this list.
Best places for stargazing in the US
I have not ordered these places from worst to best because all of them offer a great experience and it would be very difficult to rank them. Instead, you will find them ordered from West to East.
That being said, I did reserve the top two spots for the ones that I consider the very best.
10. West Coast, California/Nevada. Death Valley National Park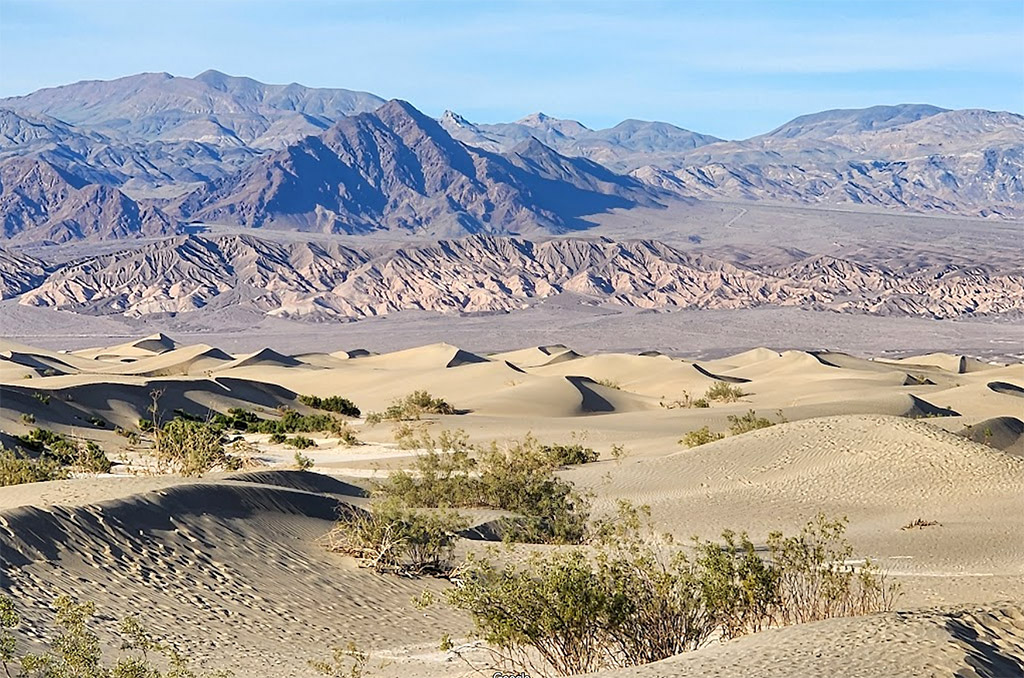 Located on the border of California and Nevada, Death Valley National Park is a captivating destination for stargazing enthusiasts. As one of the largest national parks in the United States, it boasts a unique desert environment and minimal light pollution, making it an ideal spot to witness the wonders of the night sky.
Death Valley National Park offers various activities for stargazing, allowing visitors to immerse themselves in the celestial spectacle above. Popular locations within the park for stargazing include Mesquite Flat Sand Dunes, Harmony Borax Works, and Badwater Basin.
Spring and fall are the best seasons to visit Death Valley with spring being particularly popular for hiking because you might get to see the spring wildflowers in full bloom. Summer can be extremely hot and even dangerous so make sure to check the weather alerts. I mean, remember the place is called Death Valley for a reason.
Death Valley National Park has not been officially designated as a Dark Sky Park. However, it does have very stringent lighting regulations and the park is committed to preserving the natural darkness to provide optimal stargazing opportunities.
Official website: https://www.nps.gov/deva/learn/nature/lightscape.htm
Map: https://goo.gl/maps/ZzUdfPrpbwDfKPhBA
9. California, Joshua Tree National Park
Situated in Southern California, Joshua Tree National Park is a renowned destination for stargazing enthusiasts. Its unique desert environment and minimal light pollution make it an ideal place to watch the skies.
Within Joshua Tree National Park, several areas offer excellent opportunities for stargazing. Key locations include Hidden Valley, Jumbo Rocks, and Keys View. There are nine campgrounds where you can spend the night if you want (for a small fee).
Make sure to plan your visit because there is no running water or many places to buy food so you will have to bring your own.
The park's rangers regularly offer guided strolls and visits specifically for stargazing so make sure to check out their calendar.
Official website: https://www.nps.gov/jotr/planyourvisit/stargazing.htm
Map: https://goo.gl/maps/rr9Hm6bY5cKZJXD37
8. Colorado, Great Sand Dunes National Park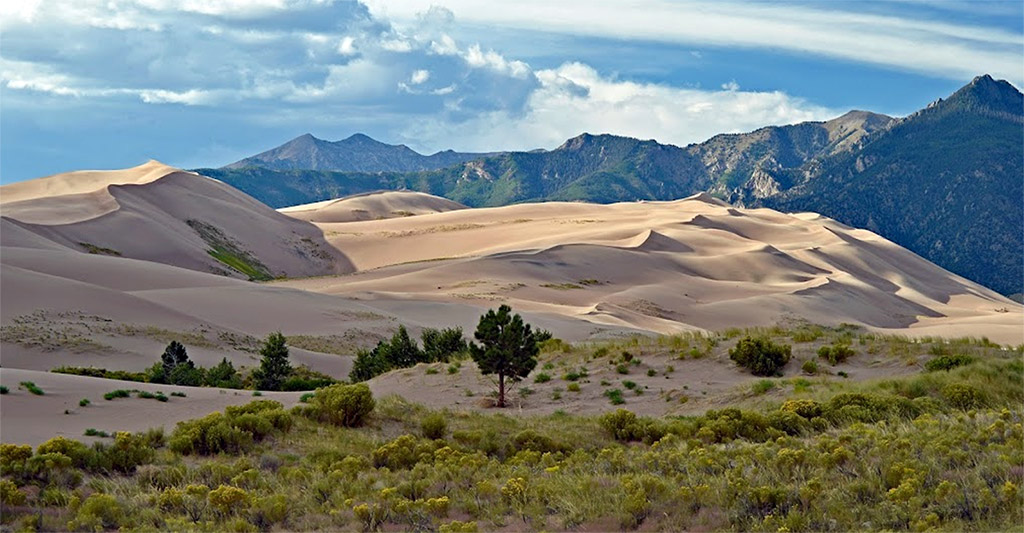 Located at the foot of the Sangre de Cristo Mountains, in Colorado, the Great Sand Dunes park's unique combination of vast sand dunes and pristine skies creates an ideal setting for stargazing.
The high elevation of Colorado makes it an excellent choice to enjoy the views, especially if you bring a reasonably powerful telescope. This park offers many other dune-related activities such as sand sledding, swimming at the creek, horseback riding, and fishing, making it a great place to spend a whole day or even a weekend.
Due to the high elevation and the dunes, the weather in this park can be volatile so make sure to check the alerts on their website before going. The best (but most crowded) months to visit are May and June.
Official website: https://www.nps.gov/grsa/planyourvisit/conditions-to-expect.htm
Map: https://goo.gl/maps/xCqcaCGnEAWnS32T8
7. Utah, Natural Bridges National Monument
Aptly named after the Owachomo natural bridge that connects the White Canyon and the Armstrong Canyon in Utah, the Natural Bridges National Monument was the first "International Dark Sky Park" in the world.
Popular seasons for visiting are seasons are spring (April through May) and fall (mid-September through October), when daytime highs average 60° to 80°F and lows average 30° to 50°F. This park is part of the Colorado Plateau which is considered a high desert. Temperatures during the summer months can be too high and uncomfortable.
The Natural Bridges National Monument is also a good place to hike and enjoy the site's geology, but there aren't many other activities besides that. It is a place you go to specifically for stargazing.
Official website: https://www.nps.gov/nabr/index.htm
Map: https://goo.gl/maps/keXYMsmbPHqDjaRz5
6. Texas, Big Bend National Park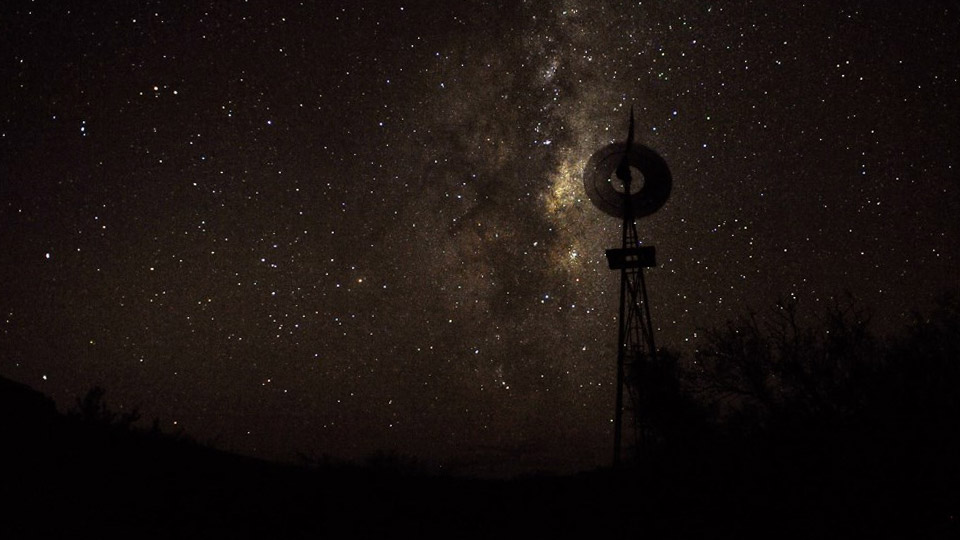 The Big Bend National Park in western Texas is a popular destination not just for stargazing, but for bird-watching, scenic driving, and hiking. It is probably the most well-known destination on this list.
When visiting Big Bend National Park, make sure to explore the Chisos Basin, which is known for its stunning vistas and prime stargazing spots. From the basin, you can witness the night sky come alive with an impressive array of constellations and shooting stars.
The weather in Big Bend can be really hot with temperatures over 110 during the summer months. Make sure to check out their website for extreme weather alerts so you can plan your trip.
To enhance your stargazing experience, consider attending one of the park's ranger-led astronomy programs. Especially if you are just starting out in the hobby.
Official website: https://www.nps.gov/bibe/index.htm
Map: https://goo.gl/maps/RrJNaNYUQpwqTn1b8
5. Montana, Glacier National Park
The National Parks in northern states are great because if you are lucky, on top of looking at the stars and the Milky Way, you might also get a chance to see the aurora borealis, also known as the northern lights. The Glacier National Park, situated in the remote wilderness of the northern Rocky Mountains is great for that.
To make the most of your stargazing experience, head to Logan Pass, the park's highest point accessible by road.
Glacier is one of the best spots when it comes to lodging options. While there are a few campgrounds, the weather can be really harsh, especially during winter which is why there are hotels, a chalet, and even resorts where you can spend the night.
Official website: https://www.nps.gov/glac/index.htm
Map: https://goo.gl/maps/3NjDtFdNpzq2gJaH7
4. Pennsylvania, Cherry Springs State Park
Named after the black cherry trees in the area, the Cherry Springs State Park is as remote today as it was two centuries ago. But the best part is that the whole park has been renovated and preserved with stargazing in mind, making it one of the best places in the US to look at the stars.
There are two areas in the park. One is the Night Sky Public Viewing Area which is open every day of the year to everyone but does not allow overnight stays.
The Overnight Astronomy Observation Field and the campgrounds are also available if you want to spend the night but they require a registration process. There are also lots of events for beginner astronomers at least a couple of times per month.
Make sure to check out their site and plan your visit carefully in advance as this is one of the most strict parks when it comes to following the conservation rules. For example, open campfires and drones are not allowed.
Official website: https://www.dcnr.pa.gov/StateParks/FindAPark/CherrySpringsStatePark/Pages/default.aspx
Map: https://goo.gl/maps/gSGAhEV8WKxEiHAy9
3. Maine, Acadia National Park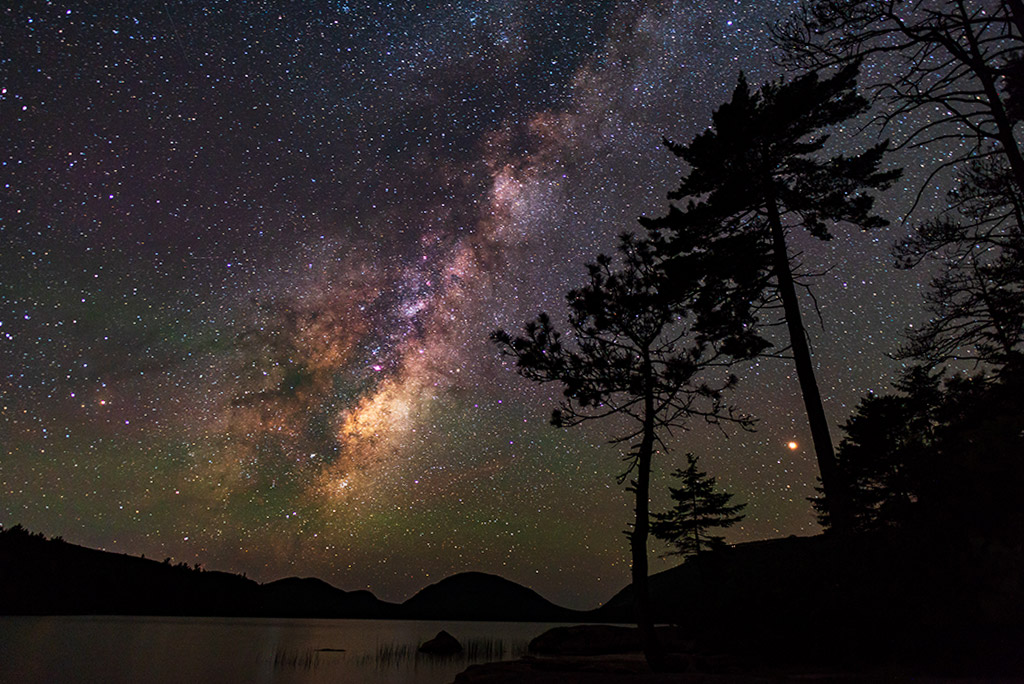 This is one of the most unique stargazing spots in the US because it is located along the Atlantic coastline. As a result, you can see the stars while also getting a great view of the ocean.
The park is quite busy compared to other spots on this list. It receives 4 million visits a year and it's one of the top 10 most-visited national parks in the US. It has 27 miles of historic motor roads, 158 miles of hiking trails, and 45 miles of carriage roads.
The best spot for stargazing is the Cadillac Summit, however, the road that leads there is closed during winter due to safety concerns so plan your visit accordingly. Just staying by the beach is also an option and some people actually prefer it.
Official website: https://www.nps.gov/acad/index.htm
Map: https://goo.gl/maps/bcapehuAziwgK6mC8
2. Alaska, Denali National Park
As I mentioned above, we have saved the best two stargazing places in the US for last. There is a small catch, tough. Neither of them are in the mainland US.
First, we have the Denali National Park in the south of Alaska. This huge preserve spans across six million acres of wild land that include the tallest peak in North America. There are many things to do at Denali besides just stargazing, from snowmobiling to camping, hiking, and fishing. It is also an amazing place if you are into nature photography.
But the reason why I selected it as the number two spot is that it is probably the best place in the US (that is not completely covered by ice) to see the northern lights. You will need a bit of planning to make sure they are predicted to appear on the dates that you want to go, but they are a common occurrence.
The whole area is mostly rid of light pollution so pretty much the whole park offers an excellent view of the night sky. There are also plenty of lodging options for your stay.
While the trip to Denali will be harder to make for most people in the US, it is definitely worth it if you are a serious sky observer, and could give you the pretext you needed to finally visit Alaska.
Official website: https://www.nps.gov/dena/index.htm
Map: https://goo.gl/maps/KG5Ex1Wv5Uw6c5aaA
1. Hawaii, Mauna Kea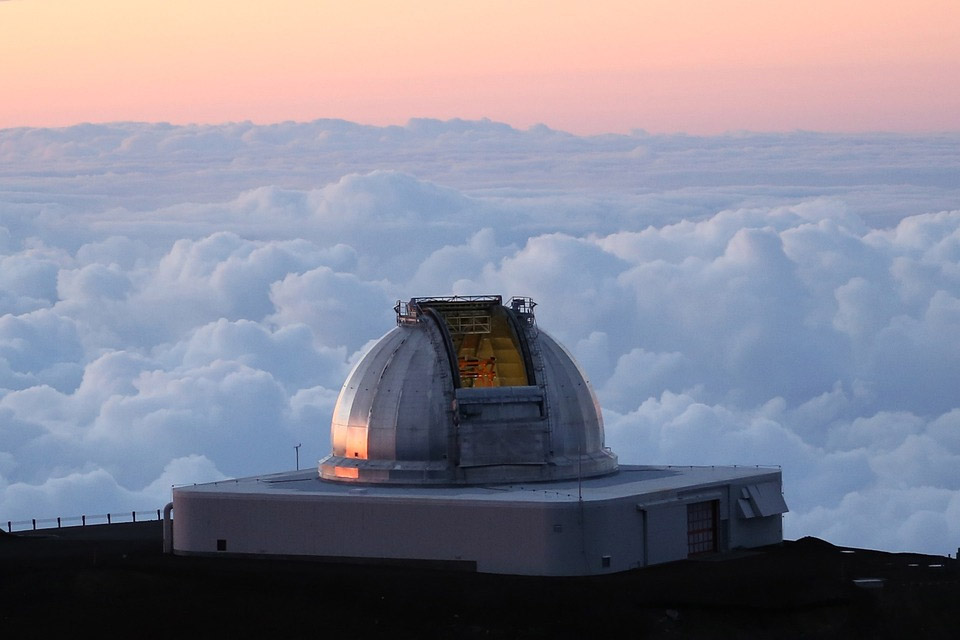 Remember that we mentioned above that both altitude and low light pollution matters a lot in stargazing? well, the Mauna Kea region on the main island of Hawaii meets both requirements. This is such a good spot for stargazing that it is the home of many professional observatories, including NASA's infrared telescope facility, the James Clerk Maxwell Telescope, and Caltech's submillimeter observatory. Some of these, are even sometimes open to visitors for tours, making it the ultimate destination for astronomy enthusiasts.
Mauna Kea is situated approximately 6,500 feet above sea level. Overnight stays at the park's bunkhouse facilities are allowed but a permit is required. It is open every day of the year and also offers a children's playground, a cabin area, and stargazing tours presented by professional astronomers that even include a supervised session with a solar telescope to see sun spots and solar flares.
While a trip to Hawaii is not cheap, the experience is absolutely worth it if it is within your means.
Official website: https://hawaiicounty.ehawaii.gov/camping/all,details,57934.html
Map: https://goo.gl/maps/hwnWwHAyERmgsq8i6
Related