Binocular viewers, or binoviewers for short, are the most underused telescope accessory out there. I really can't understand why they aren't more popular when they are probably the easiest and most effective way to improve the images you get from your scope without spending thousands of dollars.
Why get a binoviewer
Improved detail – Some optic tests suggest a good binoviewer can improve the detail of your images by 40%-60%.
Improved contrast – Same as above, the contrast of your image can be greatly improved simply by connecting one of these.
3D-effect – Using both eyes and splitting the image adds perception depth wich results in a subtle tridimensional effect. But don't worry, it is different and asofter than a movie theater 3D effect and it doesn't cause motion sickness.
Reduce eye strain – Using both eyes helps reduce fatigue for longer stargazing sessions
Requirements
Before you rush to buy one, first let's take a look at the setups that can benefit from using a binoviewer.
Binoviewers work best on telescopes with plenty of back focus. How do you know if your telescope has a large back focus? simple, if the eyepiece of your telescope goes in the opposite side to the lens, you are good. Examples of this are refractor telescopes or catadioptric telescopes like Schmidt-Cassegrains and Maksutov-Cassegrains. If the eyepiece connects in the middle or in the upper half of the body of the telescope (like most reflectors/Newtonians), your telescope has a low back focus and you might not benefit much from a binoviewer. If you have one those those latter telescopes, you can artificially extend your back focus using a lower magnification Barlow lens (there are 1.5x and 1.6x ones) or a lens extender. The Orion 52054 featured as the best high-end pick below, also promises that it doesn't has this limitation and can be used with any telescope, including Newtonians (reflectors).
Because you are converting your eyepiece slot into two eyepiece slots, you will now need two eyepieces instead of one. These eyepieces must have at least equal focal length, but it is recommended that they are identical, which means you would need to get a second copy of each eyepiece you want to use with the binoviewer. Some binoviewers already come bundled with a matching set of eyepieces to save you some work and money.
Now that you know if a binoviewer is a good fit for you, let's get right into our best pick:
Best Binoviewer: William Optics Binoviewer Package Review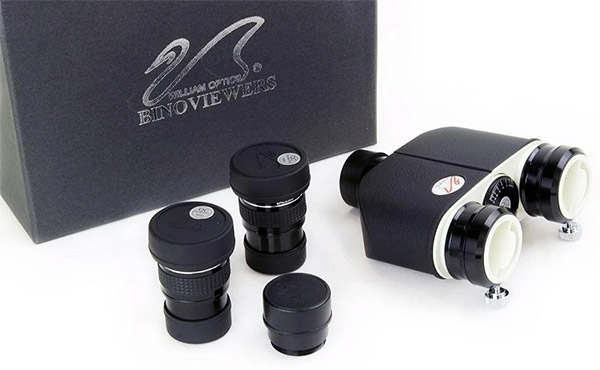 | | |
| --- | --- |
| Barrel Size | 1.25″ |
| Optical Path | 4″ (100mm) |
| Clear Aperture | 20.2mm |
| Includes eyepieces | Yes |
| Includes Barlow Lens | Yes |
| Rating | |
| Price | |
William Optics is one of the manufacturers with the best optical devices in the market, but they are sometimes forgotten because they are a small company and sometimes it is hard to find their products on stock.
Still, their binoviewer has the best value to price ratio of all the devices I have tested. They managed to keep the features and optics quality of the higher-end ones, but kept the price in a reasonable range by keeping the prism size and field stop small.
They have an optical path of 4 inches (100mm) that is more than enough so you don't get any trouble focusing.
The build quality has all the goodies you would expect: anodized aluminum finish, chromed thumbscrews, and anti-marring brass compression rings to keep the eyepieces in good condition.
Because of the limited prism size, you might not want to use it with eyepieces bigger than the included 20mm pair, but anything below that looks great.
We tested the Williams Optics binoviewer with a Meade 10″ ACF LX90, a Explore Scientific 127mm Air-Spaced ED APO, and a Celestron NexStar 6SE. In all three cases the improvements in detail and contrast were significant even though these are already mid to high end telescopes. The visual gains in entry level devices should be even better.
You really can't go wrong with the William binoviewer. If you have never used a binoviewer before, you'll be amazed by the change in how your image looks.
The fact that it already comes bundled with a decent set of eyepieces and a Barlow will also save you the trouble of buying even more additional accessories.
Pros
Cons
– Long optical path
– Exceptional value for the price
– Includes eyepieces and a Barlow
– We did notice a little bit of lost brightness, but that's going to happen with every accessory you add to your setup and it's not too significant.
Best Binoviewer Brands
While there are not many options when it comes to binoviewers, most major telescope brands make at least one version of these handy devices. Our favorites, are the usual companies that tend to make other great optic devices.
William Optics – Based in Taiwan, but founded by an American entrepreneur, William Optics is a small company that makes very specialized and high-quality astronomy gear. Their products are consistently on low stock outside of Asia because enthusiasts are always looking for them.
Baader Planetarium – Here's a little secret. We were actually going to make the Baader Maxbright our pick for the best binoviewer as it is slightly better than the one we went it, however, we didn't do it because it's almost impossible to find one. It's been out of production for quite a while and it doesn't look like Baader is going to start making it again, but if you manage to get your hands on one at a reasonable price, go for it. You could even go for a slightly used one if you don't mind taking the risk.
Orion – If you have been following the site for some time, you already know we are big fans of Orion's products. Their products are consistently good and you just know you can't go wrong with them in the mid and mid-high price ranges.
How to pick a binoviewer
There are a few thing you should consider when choosing a binocular viewer that will help you in making the correct decision. Here's how we choose which one is the best fit for each telescope.
Barrel size.
This is an obvious one, and in 99% of the cases you don't need to worry about it, but it must be mentioned. Most binocular viewers are made for the standard 1.25″ size. Again, 99% of telescopes out there use that same barrel size for the eyepiece slot, but there are a few out there with 2″ slots or bigger. If you have one of those, the viewers on this list are not going to fit. You can use an adapter (which you probably already own if you have one of those scopes), but your results might vary and you'll probably lose a bit of brightness in the exit image.
Is it a good investment?
We wouldn't recommend a binoviewer for a telescope with an aperture below 114mm (4.5″). Those are generally entry-level telescopes that already have a very limited amount of light going into the tube. Would it improve your images? for sure, but that amount of money would probably be better used in saving for a telescope with a bigger aperture and additional features that would give you a better stargazing experience out of the box.
Binocular viewers are they type of accessories that are better suited for mid to high end telescopes.
What technical specifications should a binoviewer have?
There aren't really any specification you need to look out for when researching binocular viewers. What you should be looking out for is the quality of the optics inside, and that is really something that is hard to put in numbers. That's where the reviews in this article should help.
The comfort and quality of life features will come in second and depend on the budget you are willing to invest.
What eyepieces should you use with a binoviewer?
For the most part, you can use any eyepiece that would work well with your telescope without the viewer. In the lower end options, there might be a useful limit due to the prism size, but anything below the 20mm range should be fine. In higher-end binoviewers, this shouldn't be much of a problem.
Best Budget Pick: Astromania Stereo Bino Viewer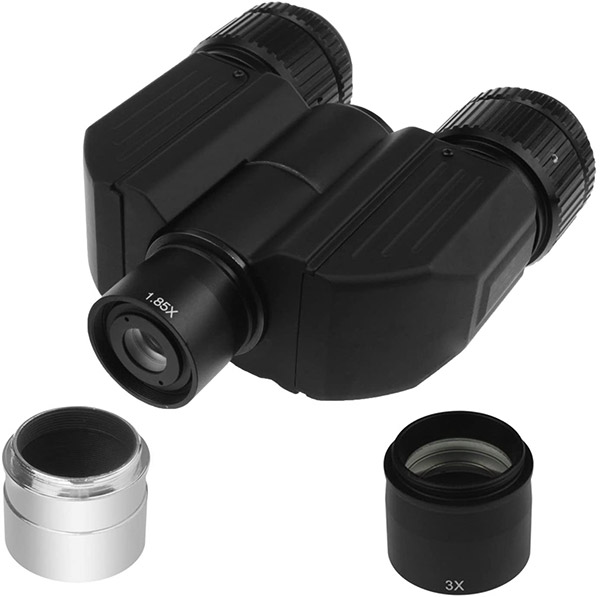 | | |
| --- | --- |
| Barrel Size | 1.25″ |
| Prisms | Multicoated BAK-4 |
| Adjustable interpupillary distance | Yes |
| Includes eyepieces | No |
| Includes Barlow Lens | Yes |
| Rating | |
| Price | |
If you are looking for an entry level viewer that won't break the bank, Astromania has a really good option.
Astromania Optics is a new-ish brand that focuses on budget products and they have been gaining some popularity lately.
After testing their binoviewer with three different telescopes, we found it to be the best in its price range where it competes mostly with Chinese brands.
The optics in the device improve the detail of your images. It does lose more brightness than the other options in the list, but it still improves the contrast.
The 3D effect is the most notorious out of all the products we reviewed. I'm not sure if this is due to the type of prisms they are using. If you have any trouble with motion sickness or you dislike the 3D effect in movies, you might want to look somewhere else, but if you like the effect, it looks pretty cool.
My favorite feature of this viewer that is not even found in some of the higher end ones is the adjustable interpupillary distance which means you can tweak the distance between your eyes to make them more comfortable.
The Astromania Stereo Viewer also comes with two Barlow lenses included. One of 1.8x and one of 3x, which greatly increases the value you get for the purchase.
Pros
Cons
– Excellent price
– Adjustable interpupillary distance
– Includes 2 Barlow lenses
– Images lose brightness
Best High-End Pick: Orion 52054 Premium Binoviewer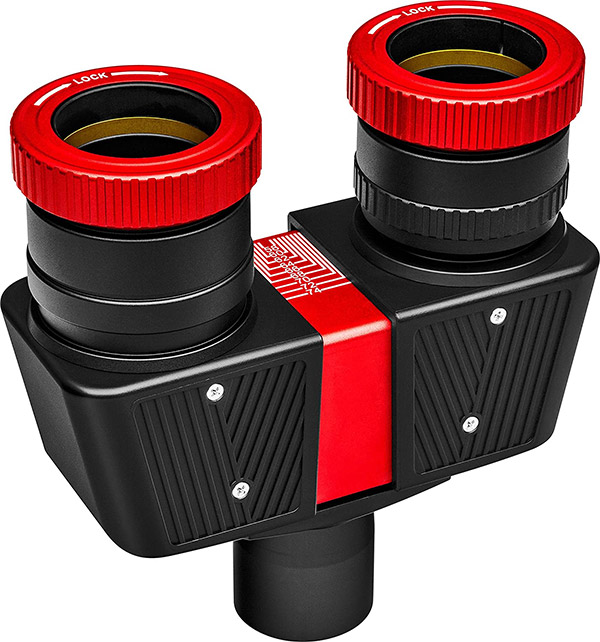 | | |
| --- | --- |
| Barrel Size | 1.25″ |
| Mirror | Dielectric-coated beam-splitting |
| Adjustable interpupillary distance | Yes |
| Includes eyepieces | No |
| Includes Barlow Lens | Yes |
| Rating | |
| Price | |
If you are really looking to maximize the details in your images and you are willing to spend the money to get it, this is the options for you.
Orion is one of the highest quality brands in optics and they prove it again with this product.
The Orion 52054 has two features that distinguishes it from the lower end devices.
First, and most importantly, it promises to work with any telescope. Traditional binoviewers had the limitation of requiring a higher back focus, meaning they couldn't be used with many Newtonian telescopes.
We obviously had to go and test this to know if this is true, so we borrowed the telescope with the smallest back focus we had access to, an Orion Skyquest XT8 and the results were quite amazing. It does work with it while the other binocular viewers show blurry, out-of-focus images.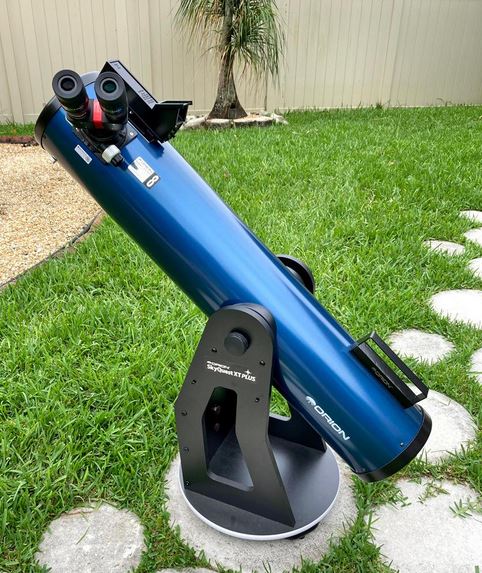 The other feature of the Orion 52054 is what they call a sliding "linear" housing, which auto-centers the eyepieces to remove the need to adjust the interpupillary distance to remove double images and is more comfortable on the eyes.
Finally, the eyepiece lock is very high quality and has the same twist collars than high-end telescopes which always helps in keeping the eyepieces in good shape and helps a lot when you are using them with gloves during the winter nights.
Pros
Cons
– Works with any telescope
– Build quality is excellent
– Requires almost zero adjusting
– The stereo (3D) effect feels a bit "flat" compared to other viewers. This can be a plus if you don't like the effect.
– This is a bit of a strange con, but it can be a bit uncomfortable to use if you have a big nose.