Outer space has inspired artists from the beginnings of humankind. This includes of course jewelry makers. And why not? a lot of the genuine materials we can get here on Earth are pieces of rock (meteorites) that have fallen from the sky.
I mean, think about it. It is actually possible to own a piece of real space jewelry that actually came from out of this world. How cool is that?
In this guide, we are going to take a look at the best pieces you can find and purchase online. Here are the rules we followed to select the items:
The center rock or main component must be made out of space components
No radioactive materials allowed
Must be legal to purchase (lunar rocks brought by the Apollo belong to the U.S. Government). More on the legality of buying meteorites here.
– But wait, don't all precious metals technically come from outer space?
Well, that is correct. Most elements in the periodic table, including precious metals like gold, silver, platinum or palladium were at some point created in the core of a star through a process called stellar nucleosynthesis.
When we refer to rocks or materials that come from space, we are talking about specific meteorites that weren't found previously on Earth. There's a certain magic to owning something that spent millions of years traveling across the vastness of the universe and found its way here.
A piece of jewelry with meteorite pieces contains an implicit message. It talks about everlastingness, progress, and about finding your way to the places you are meant to be in.
They make excellent gifts for significant others, family members, or even yourself. One of the great things about jewelry is the meaning that lies behind it and there's a lot of meaning to these pieces.
With all that being said, let's get to our list of the best space jewelry.
Starborn Moldavite Pendant
| | |
| --- | --- |
| Metal | 925 Sterling Silver |
| Gem | Moldavite |
| Pendant size | 0.75 inches |
| Price | |
Moldavite is a mysterious looking silica green rock. It has been found only in small areas, specifically, around southern Germany and the Czech Republic.
Scientists believe moldavite is a byproduct of a meteorite impact that happened 15 million years ago. This was probably the same impact that created the Nördlinger Ries crater in Germany.
The purest samples of moldavite are so rare they are usually reserved for museums or research. They can be distinguished because their color is a brighter shade of green and is generally more translucent than other pieces. The pieces with the highest grade after that are the ones used for jewelry like this pendant.
We don't really know how much moldavite really found its way to Earth but it isn't much for sure. No other meteorite that contains it has been found so far.
Muonionalusta Sterling Silver Pendant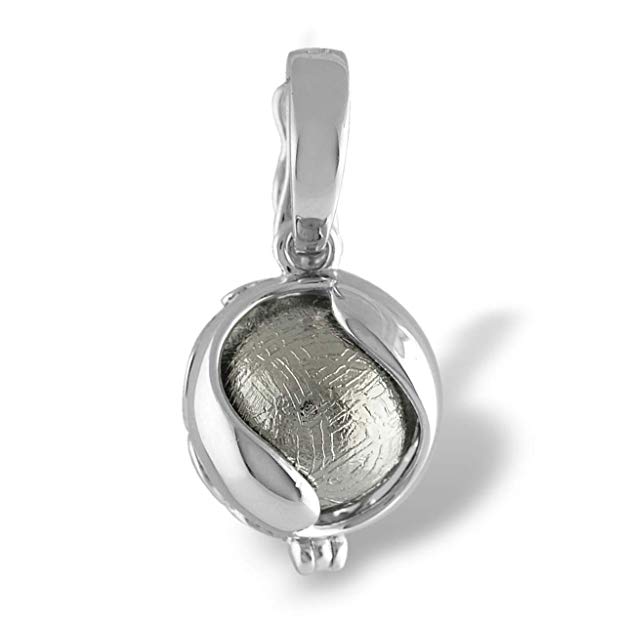 | | |
| --- | --- |
| Metal | Sterling Silver |
| Stone | Muonionalusta |
| Certificate of authenticity | Yes |
| Price | |
As of today, the Muonionalusta meteorite is the oldest meteorite impact in the world that we know about. Scientists believe it impacted Earth around one million years ago and it was discovered in 1906.
Muonionalusta crashed around the area that is now the border of Sweden and Finland. Only about 40 large pieces of it have been recovered, making its pieces quite rare. It is mostly made out of iron and nickel, but a small percentage of its constitution is rare elements like gallium, germanium, and iridium. These rare metals have made the pieces more desirable for collectors, which in turn has made its price go up in comparison to other similar meteorites.
The design of this pendant reminds is very fluid. It has some themes of balance, water, and protection.
It comes with a certificate of authenticity and is made by Starborn, a company that has a good reputation and uses genuine materials in their jewelry.
Campo del Cielo Meteorite Bracelet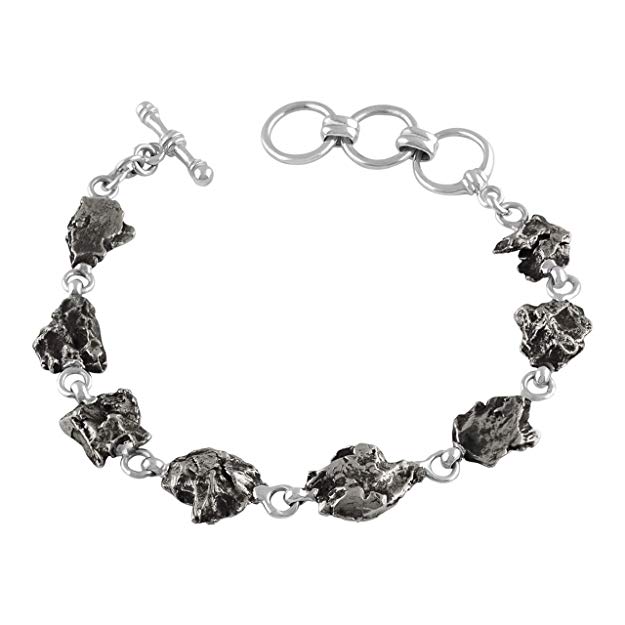 | | |
| --- | --- |
| Metal | Sterling Silver |
| Stones | Campo del Cielo meteorites |
| Certificate of authenticity | Yes |
| Price | |
In Spanish, Campo del Cielo means Sky Field.
This is the name of a place in Northern Argentina that is known for having been hit by dozens of small iron meteorites only 4 or 5 thousand years ago. At least 26 craters exist in the area. The largest one is almost as big as a football field.
With the force of the impacts, fragments of these meteorites scattered across a vast area that includes multiple countries. Meteorite hunter is a real profession for some people in the area. What they do for a living is seek these pieces day in and day out to sell them to collectors, museums, and jewelry manufacturers.
Like many similar meteorites, the Campo del Cielo fragments are mostly made out of iron with a small percentage of nickel. Trace amounts of rarer elements like Iridium and Germanium have been found in some cases.
This bracelet is made of many small meteorite pieces lined by a sterling silver bracelet. It makes for a wonderful, memorable gift.
Source – Campo del Cielo on Wikipedia
Stainless Steel Gibeon Meteorite Watch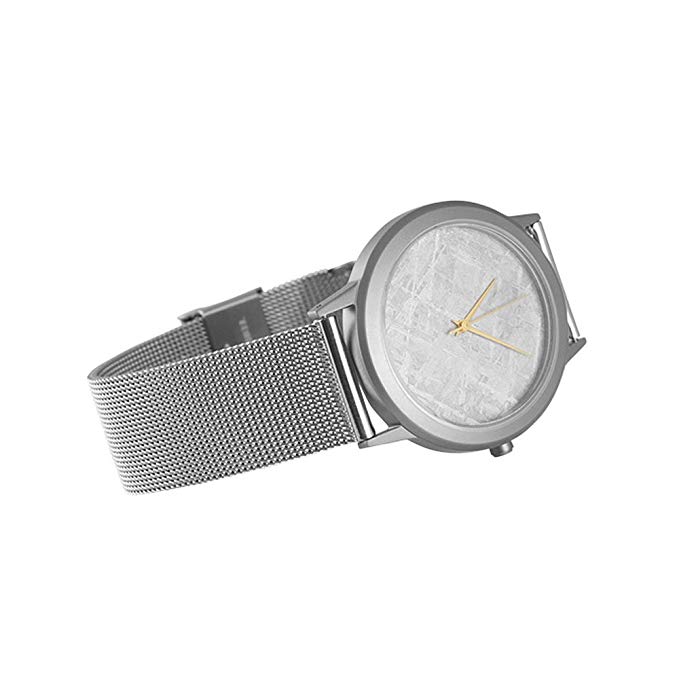 | | |
| --- | --- |
| Metal | Titanium body |
| Meteorite | Gibeon meteorite |
| Certificate of authenticity | Yes |
| Price | |
The Gibeon meteorite is one of the oldest meteorites that have been found on Earth. It fell in the prehistoric era in the area that is now Namibia, in Southern Africa. It was named Gibeon after the closest town to where it was found.
About 33 fragments of the meteorite were found in the early 1910's and they weighed about half a ton. Some fragments made it out of Namibia after it was found, but in the 1970s the Namibian government changed the laws to protect the asteroids as national monuments. It is now illegal to extract and commercialize any new fragments that are still being found today. That means only the pieces that had already left the country are available to collectors and jewelry manufacturers.
The story of this meteorite is quite interesting, you can read more about it here. Its pieces are becoming rarer and more expensive as time goes by.
This watch has a minimalistic design that fits very well the texture of the faceplate which is made out of a piece of the meteorite.
There is a women's version of the same style with a lighter, thinner design.
Moldavite Faceted Sterling Silver Earrings
| | |
| --- | --- |
| Metal | Sterling silver |
| Meteorite | Moldavite |
| Comes with gift box | Yes |
| Price | |
We already talked about moldavite on the first pendant presented in this list, but here's another piece that shows why are these rocks so popular.
Moldavite pieces are one of the one few meteorites that have the reflective properties necessary for polishing it and shaping it on a diamond-like rock.
These 5mm earrings have a classic butterfly back. The small bubbles of gas and water trapped in the moldavite plus the faceted design give it a unique and mysterious texture.
The company makes these pieces by hand and they are located in Pennsylvania.
Agoudal meteorite spiral cage pendant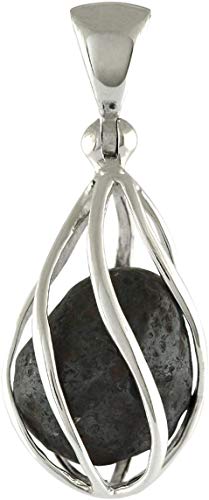 | | |
| --- | --- |
| Metal | Sterling silver |
| Meteorite | Agoudal meteorite |
| Comes with gift box | Yes |
| Certificate of authenticity | Yes |
| Price | |
In ancient times, it was believed amulets made out of meteorites enhanced the wearer's balance, strength, and good luck.
The Agoudal meteorite, also known as the Imilchil or High Atlas Mountains meteorite reminds us of these stories with its black, deep, tones. It was found very recently – in geological terms – in the mountains of Morocco in the year 2,000.
A huge fragment weighing almost 60 kg (about 132 pounds) was recovered. The rest of the pieces were small pieces like the ones used for this elegant pendant.
The curious lack of nickel in comparison to other similar meteorites is what gives it its profound color.
Gibeon meteorite fire pendant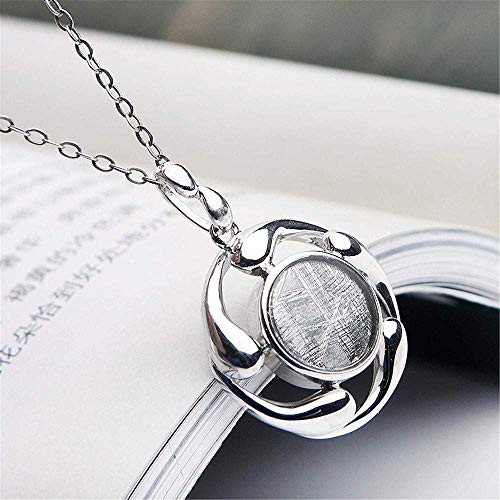 | | |
| --- | --- |
| Metal | 925 Sterling silver |
| Meteorite | Gibeon meteorite |
| Bead size | 19x5mm |
| Price | |
You will see a few pieces in this list are from the Gibeon meteorite. That is because its composition and size allow jewelry makers to make all types of pieces with the fragments.
The almost steel-like, scratched texture of the meteorite blocks gives the jewelry unique textures that would be hard to find on iron blocks found on Earth.
The circular design of this pendant reminds us of planets orbiting a star or fiery balls circling something. It projects balance, protection, and movement.
Also, check out the other designs by the same seller. Even though they don't use space rocks in many of their designs, they are still worth taking a look at.
Sterling Silver Moldavite, Muonionalusta, and Campo del Cielo Meteorite Pendant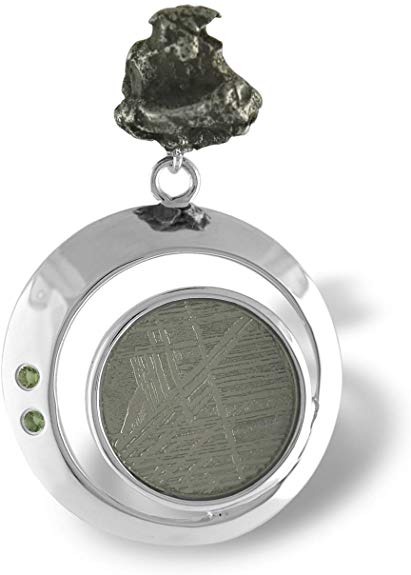 | | |
| --- | --- |
| Metal | Sterling silver |
| Meteorite | Moldavite, Muonionalusta, and Campo del Cielo Meteorites |
| Certificate of authenticity | Yes |
| Gift box | Yes |
| Price | |
Here's one of our favorite pieces on the list.
It combines fragments from three different meteorites we have already mentioned. The centerpiece of the pendant is made out of the Muonionalusta meteorite, the top rock is from Campo del Cielo, and the little "jewels" that tie everything together are made out of moldavite.
This is for the kind of people that really want to have a story to tell when they get asked what their pendant is made out of. Learn a few of the facts that we have presented about each rock and you'll impress at least someone at the next party you attend.
The design is great. It uses the strengths in texture and shape of each of the pieces. It is a risky design because they could have easily overdone it but it came out very elegant.
JTV Green moldavite pendant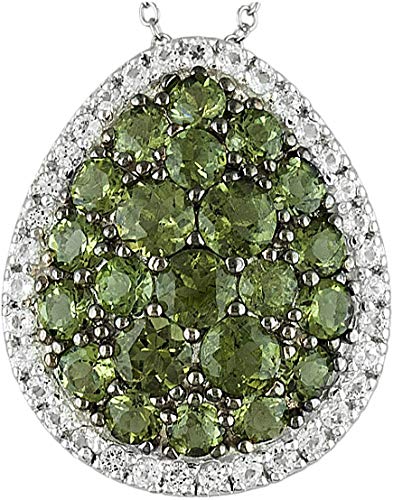 | | |
| --- | --- |
| Metal | Sterling silver |
| Meteorite | Moldavite |
| Gift box | Unknown |
| Price | |
Talk about impressive designs.
This moldavite pendant isn't scared of having a bold design. It is drop-shaped and made of white topaz stones surrounding a bunch of moldavite droplets and a few golden accents.
It is truly a beautiful piece of jewelry with a weight of 6.6 grams. If you are looking for something with a lot of impact, this pendant is an excelent option.
10. Men's Starry Night Goldstone Ring
| | |
| --- | --- |
| Metal | Titanium |
| Glass | Glodstone |
| Gift box | Yes |
| Price | |
Most of the items in the list so far are for women so we thought adding something for the guys might be fair.
Goldstone is a type of glass that can be polished to get a beautiful glittering finish that looks just like a starry night. It has a certain elegance to it that goes well with the enclosing tungsten carbide band they chose for this ring.
The ring is very elegant and makes for an incredible present for a man that likes space but also has to show up to the meeting with the clients.
Tateossian Campo Del Cielo Meteorite Black Rhodium Plated Cuff Links

| | |
| --- | --- |
| Metal | Black Rhodium |
| Meteorite | Campo del cielo |
| Gift box | Yes |
| Price | |
A list featuring the best pieces of space jewelry wouldn't be complete without an awesome pair of cuff links.
These cuff links by Tateossian have a very interesting. The cuff links hold the rocks with 5 arms that resemble a star. The rocks come from the Campo del Cielo meteorite. Cuff links tend to be more subtle and plain, but these still manage to keep a certain air of elegance while trying something different.
They also make a great conversation starter.
Space Dust Necklace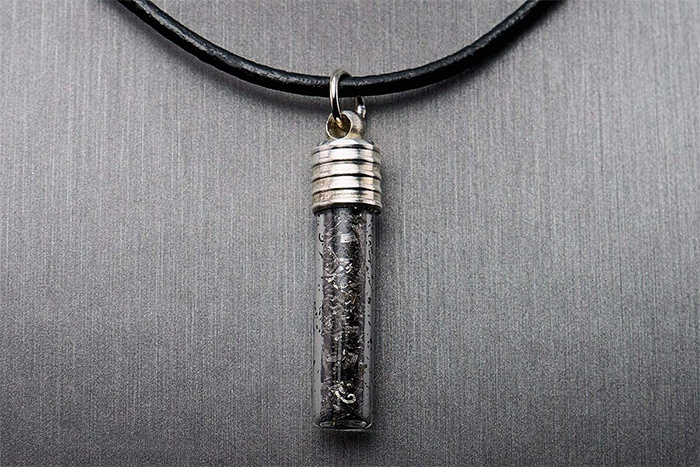 | | |
| --- | --- |
| Material | Carbonaceous chondrite |
| Price | |
Not everything has to be rock fragments when it comes to space jewelry. Sometimes meteorites collide with Earth so hard or break up in the atmosphere and all that remains is a handful of dust.
This space dust can be collected and used to make this beautiful – and very affordable – vials filled with stardust.
The specific dust for this comes from a carbonaceous chondrite asteroid. It was found in Northwest Africa and is some of the oldest known matter on Earth.