In this post, we'll learn more about Dr. Mae Jemison, an astronaut and historical figure in the field of space exploration due to her accomplishments. It was hard trying to pick only 10 interesting facts about Mae Jemison because she has led a very impressive life, but hopefully, this will give you a better idea of the importance of her role to break stereotypes and pave the way for more people to do the same.
1. Mae Jemison was the first black woman in space
On September 12, 1992, Mae Jemison became the first black woman to go to space. She joined the crew of the STS-47 mission aboard the now-retired Space Shuttle Endeavour.
The objective of the mission was to perform research in space on multiple scientific fields that included biotechnology, fluid dynamics, and experiments on materials like glass, ceramics, metals, and alloys. Her background in chemical engineering and medicine made her a great candidate for this job.
The STS-47 crew was in space for 8 days and included another woman, Jan Davis whose background was in mechanical and aerospace engineering.
After Jemison, four more black women have gone to space, they are Stephanie Gibson, Joan Higginbotham, Sian Proctor, and more recently, Jessica Watkins who became the first black woman on the International Space Station.
2. Mae Jemison went to Staford University at the age of 16
After graduating from Morgan Park High School in Chicago at the young age of 16, Mae was accepted at Stanford University in California.
This was certainly a big challenge as she was younger than most of the other students and she had to be away from home but she proved to be up to the task.
In an interview, she mentioned that it was difficult to go to Stanford at 16 but that her youthful arrogance may have helped her.
She graduated from Stanford 4 years later in 1977 with bachelor's degrees in chemical engineering, African, and African-American studies.
3. She is also a doctor
Even after graduating from Stanford at age 20, Mae decided she wanted to go to medical school. She enrolled at Cornell University right away.
During her training, she was sent to East Africa and Cuba where she worked at refugee camps and small villages.
She graduated in 1981 with a Doctor of Medicine degree and worked as a general practitioner for a while.
4. Mae Jemison is also an author of children's books
Mae has published five books throughout her career.
Her first book is an autobiography titled Find Where the Wind Goes which is written as a memoir for her kids. In this book, she tells stories about her life that could serve as life lessons and inspiration for young people.
After that, she has written a series of four children's books. The series is titled A True Book. Some of the books are out of print now so they have become collector's items.
5. She was part of the Peace Corps
The Peace Corps is a program created by the US government to train and deploy volunteers to countries in need of international assistance.
Given her background in medicine, Mae Jemison decided to join them in 1983 and served as a medical officer in Liberia and Sierra Leone. Her job consisted of providing medical help and teaching people about health so they'd have the tool to take better care of themselves and even helping develop vaccines.
Her time in the Peace Corps lasted for two years.
6. Mae was chosen out of 2,000 applicants to become an astronaut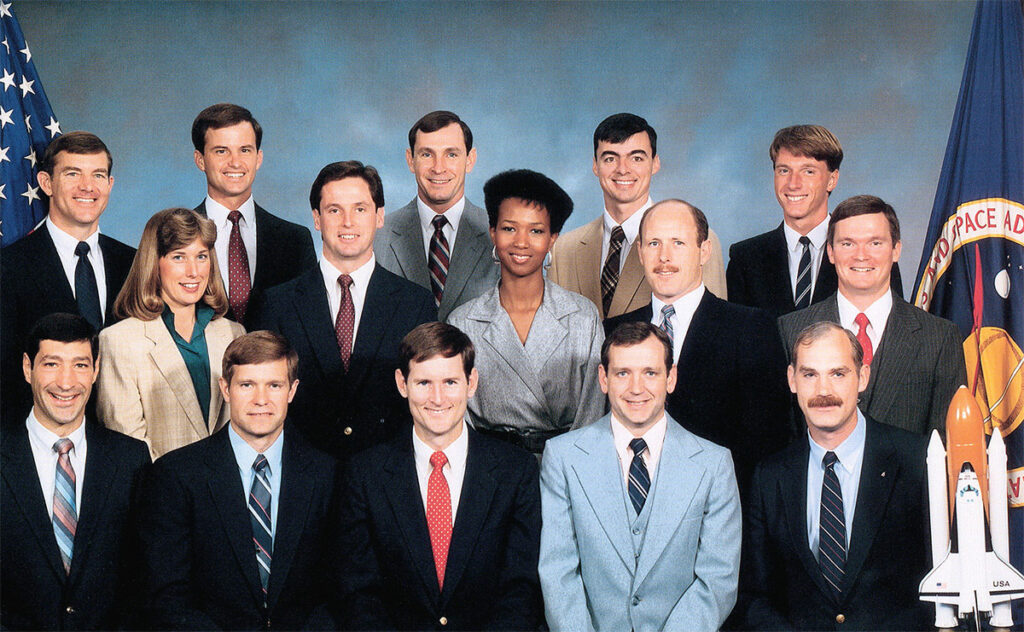 After Sally Ride became the first American woman to go to space, Mae Jemison was inspired to apply for NASA's astronaut program.
She got her chance in 1987 when applications opened up and more than 2,000 very qualified people applied for it.
Out of those 2,000 people, only 15 were selected, including Mae. This group called NASA Astronaut Group 12 and nicknamed The GAFFers also included notable astronauts like Michael Foale and Curtis Brwon who would go on 6 flights to space each.
7. She was a Star Trek fan and appeared on the show
Mae has said that one of her inspirations as a child to become an astronaut was the science fiction show Star Trek.
In 1993, after her flight to space, LeVar Burton, one of the stars of the show, invited her to appear on the sequel series that was running at the time called Star Trek: Next Generation.
She became the first real astronaut to appear on the show, playing the role of "Lieutenant Palmer" on the 24th episode of the sixth season.
8. Mae Jemison has her own LEGO figure
In 2017 LEGO released a set called "Women of NASA" to celebrate the groundbreaking achievements of women in science.
This medium 231-piece set included 4 figurines of women who have made great contributions to space exploration. These figures were of Sally Ride (the first American woman in space), Nancy G. Roman (NASA's chief of astronomy in the 60s), Margaret Hamilton (developer of the software for the Apollo program), and Mae Jemison.
9. She is also an entrepreneur
After leaving NASA in 1993, Mae Jemison has kept busy. She started her own company called Jemison Group Inc, a technology consulting firm with a sociocultural impact twist.
She also founded a medical devices and services company called BioSentient Corporation.
On the non-profit side, Mae started the Dorothy Jemison Foundation for Excellence which she named after her mother.
10. She is leading the 100 Year Starship project
Through her foundation, Mae won a contest to lead the 100YSS (100 Year Starship Project). This joint effort by NASA and DARPA studies sustainable models (from both scientific and investing standpoints) to make interstellar space travel feasible.
The study lasted one year but thanks to its success, it continues in the form of occasional conventions.