It is always at a very early age when people develop an interest in watching the sky and knowing what's out there waiting for us to explore in outer space. It is very important as a parent to start nurturing this curiosity to help children understand our place in the universe and give them a sense of fraternity to the rest of the human race.
If you have a small kid that is only around the 3 to 5 years old range you might be wondering if it is a good idea to buy them their first telescope and if so, which one? is it going to be expensive? can they use it by themselves or do they need supervision?. We have all those answers and more for you in this article that will guide through the whole process. You don't need any experience yourself with telescopes, we will keep it simple and understandable.
If you want to directly skip to the telescope recommendations for five year old kids, click on one of the following sections:
Should kids 3 to 5 years old get a telescope?
Short answer: It depends.
While there are telescopes specifically designed for children, most of the "real" telescopes are designed for 8 years old and up as they will have the ability to set them up, they can understand how to use them and they know how to take better care of their stuff. For kids in the 5-year-old range and younger it gets a bit more complicated as you have two possibilities:
If you want them to use them by themselves then you are looking more in the category of toys rather than telescopes because there will be safety considerations to take. For example, the telescope can't be too heavy or have too many moving or small parts. Telescopes that are designed with this simplicity in mind will be very limited in what they can do.
Another thing to consider is the useful life span of the telescope. Kid's telescopes are cheap and are designed specifically so they can learn but they can be outgrown very quickly as they don't have enough aperture or magnification to really look at objects beyond the moon and maybe a couple planets. For this reason, we would recommend you to not invest too heavily at this point and stay in the under $100 range. Once your kid grows a little bit more, if they are still interested in learning more then you can consider getting a better telescope that will last you for a decade.
So, should you get your five-year-old a telescope?
If you are interested in astronomy yourself and you have the time to supervise them and learn with them, go for it. Get one of the telescopes in the "real telescope" section. It will last you for a long time and you will be able to appreciate plenty of cool things in the night sky with it.
If your kid is only 3 or 4 years old we'd actually recommend you to wait it out a couple years. Get one of the telescopes in the toy section or the scopes section. The exception to this is you want to get one for yourself and share it with them.
How to choose a telescope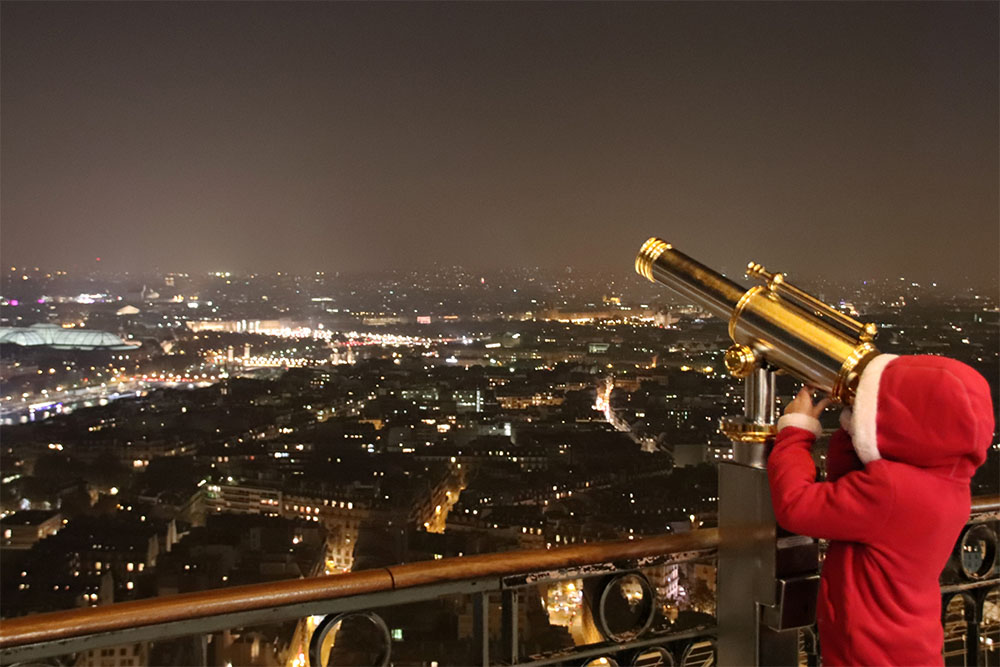 If this was a guide for any other age range we would start talking about features like aperture and magnification and mirrors vs lenses but to be honest none of those matters too much at this level. The focus at this age should be in learning, safety and having fun so kids can develop their interest in space.
To pick a good telescope for your five years old here are the considerations you must take into account.
Learning curve: How long do you want the telescope to be useful? Toy telescopes might be better for entertainment purposes but it will only have a useful life of two or three years before they outgrow it. A real telescope, on the other hand, will be more useful and it will last longer, but it does have a bit of a learning curve that some kids might not enjoy. You need to asses if the interest of the kid is really into astronomy or is just curiosity for telescopes.
Aperture: If you do decide to go for a real telescope, the most important feature you need to consider is the telescope's aperture. The aperture is the diameter of the main lens or mirror at the front of the telescope's body. This defines the amount of light your device can capture and magnify. The simplest rule is "the bigger the better", but if you want to delve deeper into the details we have a complete aperture guide you can check out.
Telescope type: There are three types of telescopes: refracting, newtonian and compound. Without getting into too many details for this age we recommend refracting telescopes because of one single feature. Refracting telescopes have the eyepiece at the end of the body which makes it more accessible for kids as the can use it more comfortably by standing on top of something. Taller children might even be able to reach it without help. The eyepiece in Newtonian telescopes is located higher making it harder to reach so it is not recommended.
Binoculars: The entry-level alternative to telescopes
If you are not familiar with astronomy you might not know telescopes are not the only device that people can use to enjoy the astronomy hobby.
A lot of people who just want to dip their feet into astronomy for the first time and don't want to invest a lot of money into a highly specced telescope start with only binoculars.
Some binoculars have high enough magnification to be useful for some basic stargazing like watching the Moon, Mars, Venus, meteor showers, comets, and constellation identification. Binoculars that are used in other hobbies like bird-watching can be used for this purpose too.
While there are some really cool binoculars with great lenses and magnification, for children you have to take weight and comfort into account as some of those might be too heavy for them. For this reason, we recommend binoculars with a magnification of 7 to 9. The magnification is the first number you will see listed in the binocular's specification. For example, 7×42 binoculars have a magnification of 7 times.
Binoculars with a magnification higher than that are harder to handle, weight a lot more and it is more difficult to keep them focused on something because even the slightest move in your hands can mean losing the object you were watching. If you really want to go for a higher magnification, for example, a 12x, an option to avoid this is to get a tripod for them.
Safety considerations
For the most part, telescopes are very safe for kids to use on their own even at an early age.
The only real danger, especially with small children is telling them not to point the telescope directly at the Sun as it can severely hurt their eyes. Some amount of supervision is always a good precaution anyway.
In the case of actual telescopes they will need help setting up the tripod and if it is too tall, they will need a stable surface to stand on top of in order to use it. Make sure they don't just climb into any chair or an unstable object because their eyes will be busy watching the sky and they might forget to pay attention to the ground and they could fall.
Telescope recommendations
We have divided our recommendations into four different categories and selected two products for each. This way we can cover telescopes in different price ranges and brands. We have also included a category for binoculars which as mentioned above are also a great entry-level option for beginners and kids.
Note that for most of the products our recommended age will be lower than the manufacturer's recommended age range. This is based on some experimentation with the products and the reviews of other users that also believe they are ok for younger children.
Toy telescopes
Educational Insights MoonScope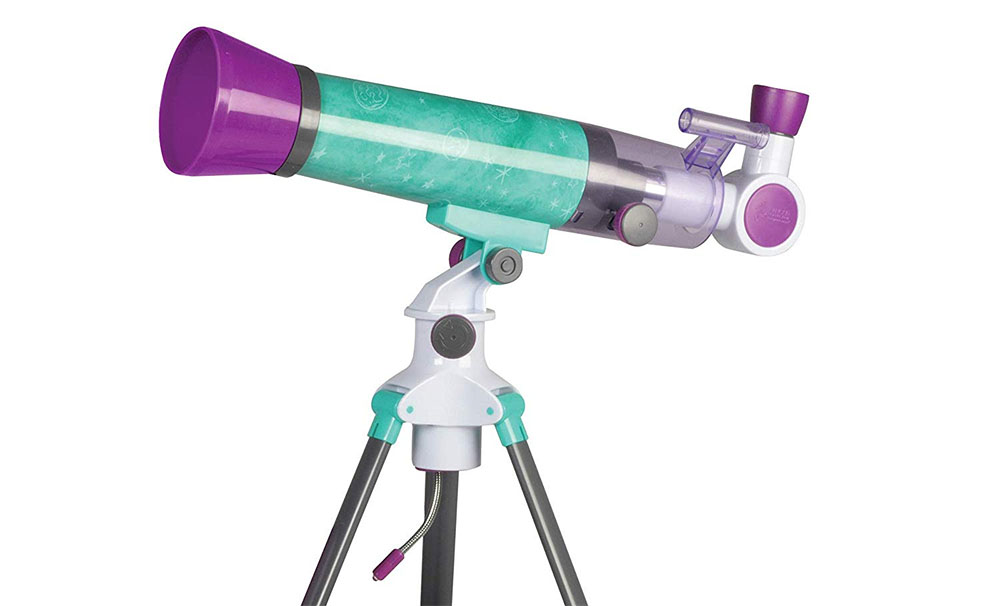 This is the best "toy" telescope you will find out there and probably the only one that has some real capabilities to resemble a telescope so we are putting it first in our list. The MoonScope by Educational Insights is part of the Nancy B's Science Club line that builds products to introduce children to STEM learning in a fun and interactive manner.
The MoonScope includes two different eyepieces with 18x and 90x magnification and while the lenses are not of the best quality, it should be enough to take a good look at the Moon's geography and some of the closest planets maybe up to Jupiter. It comes with a tabletop tripod making it light enough to carry around and a 22 page activity book that helps a lot like one of the more common questions asked when getting a telescope for the first time is "now what do I do with it?".
While it is a great first telescope for younger kids, don't expect the MoonScope to last for too long as it is still built out of "toy" materials and it doesn't feel very sturdy.
The manufacturer's recommended age is 8-11 years old but we believe at that point a more advanced telescope is the way to go and this is just an entry-level product so we are putting it in a lower age range.
The telescope doesn't require any batteries, but the optional light does.
Pros
An actual telescope.
Multiple eyepieces.
The activity book is very well done and full of information.
Cons
The lenses are not high quality
Made of plastic
Recommended age range: 5-8 years old
GeoSafari Jr. Talking Telescope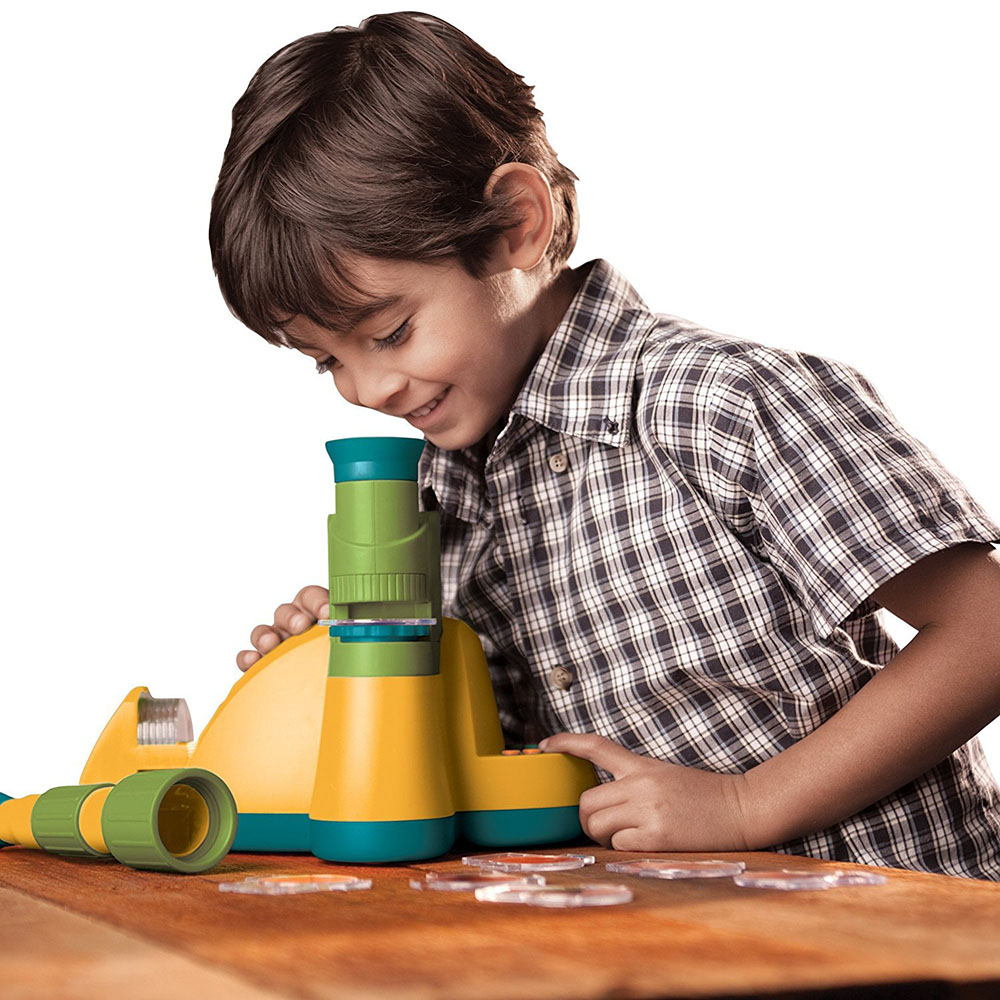 Another product by Educational Insights, this one is for the much younger astronomers. The GeoSafari Jr. Talking Telescope falls more in toy category but that's not necessarily a bad thing as it makes it perfect for children who still can't read. It works by inserting some slides and looking into the vertical viewport. As you do that, you can press the buttons to listen to facts and learn about what you are looking at in the slides. Some of the slides are NASA photographies.
The "telescope" part of it is a small detachable scope which honestly is more like a magnifying glass as it only has 4x magnification and a cheap lens but it should be fun for kids to play with and look at some plants or bugs up close.
The interesting part about this product is really the slides and the listening functionality. Don't take the telescope too seriously or you will be disappointed. It uses four AAA batteries so make sure to get a set of rechargeable ones if you don't have one yet.
Pros
Great for learning, the facts are fun.
The slides functionality is cool
A good introduction to scientific tools
Cons
Not a real telescope
Not all the slides and facts are about space. It covers other sciences and while those are interesting too it's not what we do here so we thought it would be worth to mention.
Recommended age range: 3-5 years old
Portable telescopes
In this section, we are going to take a look at a couple portable telescopes. These are particularly great for small children as they don't require any setup in a tripod. They can also be carried anywhere and are generally lightweight.
HABA Terra Kids Children's Spyglass Telescope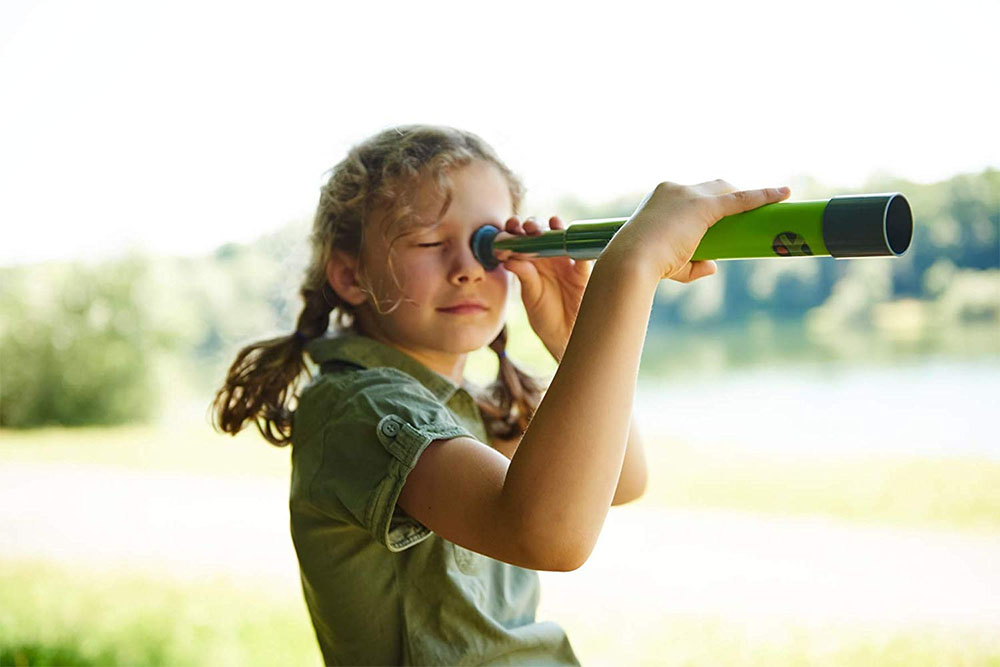 This Spyglass Telescope by HABA has a pretty good magnification for its size and weight at 30x. When tucked away, it is only 7 ½" long and has a diameter of 1 ½". The outer metal piece can be extended to 14 ¾" and weights about 5.9 ounces or 160 grams.
While not specifically built for astronomy, it can be used to take a good look at the Moon and explore its geography. Other objects will be pretty difficult to focus on due to the lack of tripod but its practicality makes up for this.
One big advantage of these types of scopes is they can double as a toy for other activities, especially playing to the pirates of the Caribbean.
Pros
Decent magnification for its size
Lightweight
Sturdy build
Cons
Lens quality
Small aperture for the magnification
Recommended age range: 4-6 years old
Actual Telescopes
Emarth 70mm Astronomical Refracter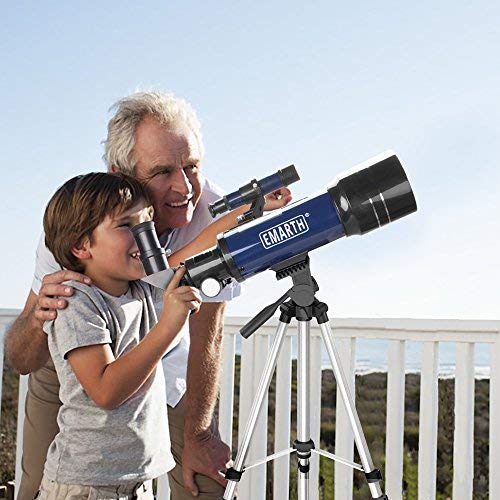 If you are looking for a telescope that is going to last a lot more let's take a look at some of the options in this space starting with this Emarth telescope.
This refractor (or refracting) telescope by Emarth has an aperture of 70mm (2.7 inches) which starts to be enough to capture details in the Moon's craters and to capture color and patterns in the closer planets instead of just seeing a smudge.
This telescope is specifically designed for children as it requires no tool to set up in the tripod. The included tripod also retracts and is small enough so they can use it comfortably or it can even be made small enough to use it on top of a table. It shouldn't be too hard to replace the tripod with a bigger one later on.
Emarth includes two eyepieces in the box. A K10mm and a K25mm with 51x and 128x magnification respectively.
In general, it offers really good value for the price and despite being a small scope it doesn't make compromises in terms of quality.
Pros
High-quality lenses
Easy to setup
Built specifically with kids in mind
Cons
Setup could be easier
Aperture is still relatively small so don't expect to see details in Jupiter
Recommended age range: 5+ years old
Twin Star 60mm Refractor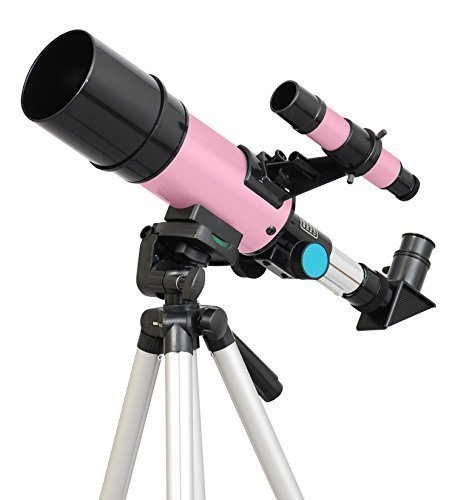 Another good option in the same range in terms of quality is the Twin Star 60mm. While the aperture is smaller, this "point-and-shoot" is even easier to set up than the Emarth above. It is also a refracting telescope with an aperture of 60mm (about 2.32 inches) and weighs a bit over 5 pounds.
This Twin Star comes with two different eyepieces, a 15x and a 50x and comes in three different color options.
The optics are a bit limited. You might be able to see Saturn's ring under good weather conditions but you won't see much details on the planets beyond that as the aperture and the eyepieces are just not built for it. This telescope compensates for that with a very accessible price. We wish the tripod was a bit better quality as well and while it can be replaced with a better one you might as well go with a higher quality scope from the start if you were going to do that.
If you have the choice between these two options we are presenting you, the Emarth is definitely the one to go with unless you plan to upgrade soon, in that case, the Twin Star would be a good choice.
Pros
Really easy to use
Comes in multiple colors
Comes with a little activity book
Cons
Limited optics
A bit heavy for its size
Recommended age range: 5+ years old
Binoculars
Nikon Prostaff 7S 8×42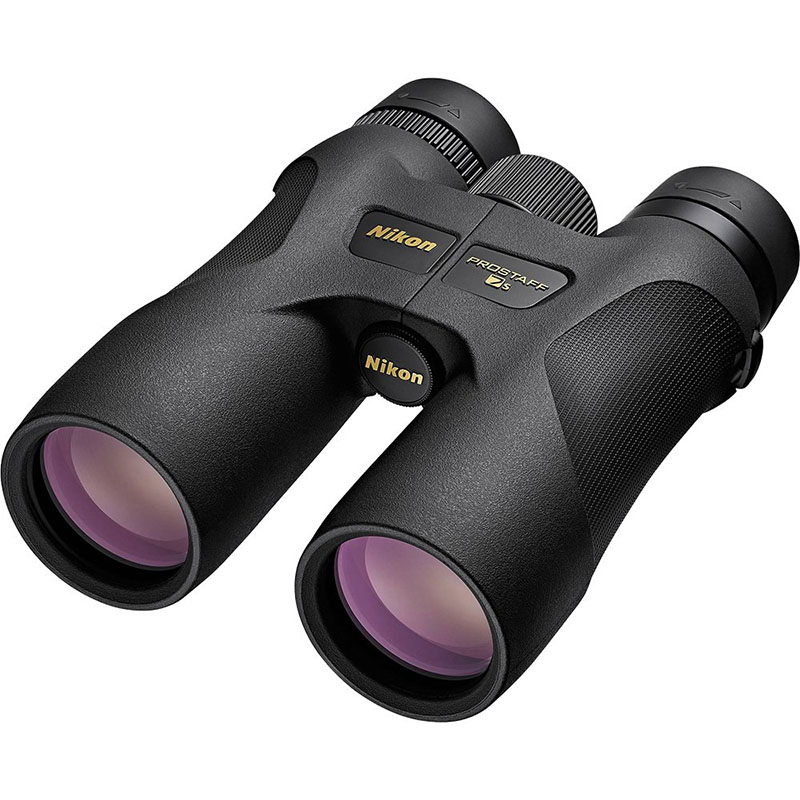 As mentioned above, binoculars can sometimes be a superior choice for beginner stargazers. For this recommendation, we are choosing a very high-quality product that will last you for a long time. While the Prostaff 7S are not specifically designed for kids they are small enough they should be able to use without much problem with a bit of adult supervision.
With an 8x magnification lens and 42mm in aperture, the Nikon Prostaff are surprisingly powerful for binoculars. Nikon is one of the world leading companies when it comes to DSLR camera so they know what they are doing when it comes to lenses and optics. The model is also waterproof and fog proof so it's ok to bring them camping with you.
On top of the usual accessories you can expect like the lens covers, the Prostaff also come with their own cleaning kit and a really cool smartphone adapter you can use to plug in your phone and capture photos with it. Using a tripod is recommended if you plan to use that or the photos might be too blurry if you hand shakes at that level of magnification.
These binos also come in 10×30 and 10×42 models. While those have better optics they might be too big and heavy for small children so we recommend that you stick with the 8×42.
Pros
Great optics
Smartphone adapter and cleaning kit included
Waterproof is always a good feature when it comes to products kids will use
Cons
Limited aperture but that's to be expected from any binoculars